No, it's not the literal midway point of the season, but we're going to use the four-day All-Star break to review the Yankees' performance to date. We're handing out letter grades this year, A through F. We start today with the A's.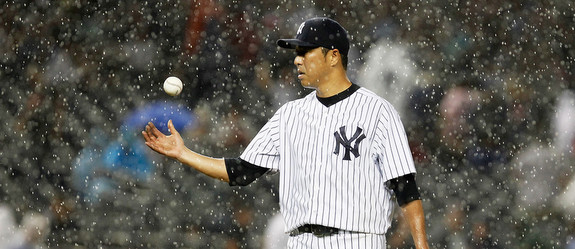 Let's not kid ourselves here — not a whole lot has gone right for the Yankees this season. Not only have they dealt with a ton injuries, but they've also dealt with a ton of re-injuries as well. Mark Teixeira (wrist), Kevin Youkilis (back), Curtis Granderson (forearm, hand), and Derek Jeter (ankle, quad) all got hurt against almost immediately after coming off the DL. It's pretty amazing when you think about it.
Despite all that, the Bombers sit seven games over .500 and just three games back of a playoff spot. They're probably further back than they would like, but they are definitely still in the hunt despite all those injuries and re-injuries. The performance of the guys in this post is a big reason why. Here are the Grade A's.
Robinson Cano
All of the injuries mean Cano has to be The Man, and that is exactly what he has been overall. Robbie is hitting .302/.386/.531 (143 wRC+) with 21 homers while starting every single game this year (91 of 95 at second base). He's played 807.1 of 849.1 possible defensive innings (95.1%), which is nuts. Dude is an iron man. That offensive performance is right in line with what he's done the last three years, and in fact his OBP is a career-high because he's started taking walks when pitched around. Cano went through a stretch where he was flailing at pitcher's pitches for a while. Thankfully that has ended. Robbie has been an absolute rock for the Yankees this season and deserves to be in the MVP conversation at this point.
Hiroki Kuroda
Remember when there was concern about how Kuroda, an older pitcher coming from a big park in the NL to a small park in the AL, would transition to pinstripes? That seems silly now. Kuroda has pitched like a legitimate ace this year, posting a 2.65 ERA and 3.62 ERA FIP in 118.2 innings. Among qualified AL starters, he ranks second in ERA behind only Felix Hernandez (2.53). That's pretty remarkable considering his home ballpark. Kuroda was a huge All-Star snub — seriously, they took Chris Tillman (!) before him — but I'm totally fine with him getting four days to recharge the batteries for the second half. The Yankees are going to need him. Kuroda has been brilliant since coming to New York and especially this year. What a stud.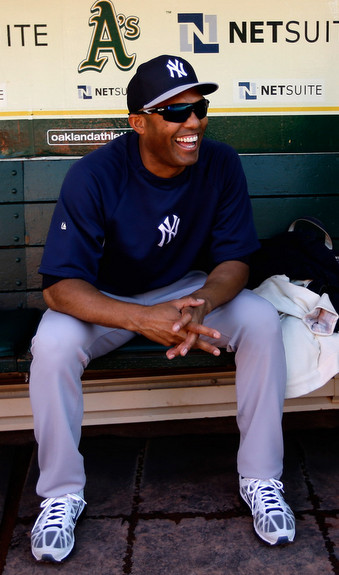 Mariano Rivera
Forty-three years old? Missed almost all of last season with a knee injury? No big deal. Rivera has been as good as ever in 2013, going 30-for-32 in save chances with a 1.83 ERA and 2.65 FIP in 34.1 innings. He's actually giving up more hits than usual, but it seems like most have been weakly hit bloopers that just find some outfield grass. Hopefully his .333 BABIP returns to his .264 career average in the second half. The Yankees have relied on their pitching staff heavily this year, and Rivera has been there to shut the door and preserve every lead time after time. I can't believe he's retiring after this season; it looks like he could pitch forever.
David Robertson
Rivera can't do it all himself, of course. Robertson continues to be elite as his setup man, pitching to a 2.11 ERA and 2.51 FIP in 38.1 innings. The control-challenged right-hander cut down on his walks in the second half last season and that has carried over to this year — his 2.82 BB/9 (8.0 BB%) is far better than his 4.10 BB/9 (10.8 BB%) career average. Robertson and Rivera are arguably the best setup-closer combination in baseball, and the Yankees are lucky to have such an elite end-game duo. They've leaned on these guys a ton this year and they continue to get the job done.
Joe Girardi
Yes, every manager makes questionable pitching changes and calls for weird double-steals from time to time. It comes with the territory. But think about the job Girardi has done controlling what could have been a very chaotic situation. Players are getting hurt seemingly non-stop and the Yankees have played just about .500 ball since the calendar flipped to May, but things around the team remain relatively calm and orderly. This season could have very easily spiraled out of control, but Girardi has prevented that from happening. He deserves a lot of credit and should get Manager of the Year consideration in a few months.