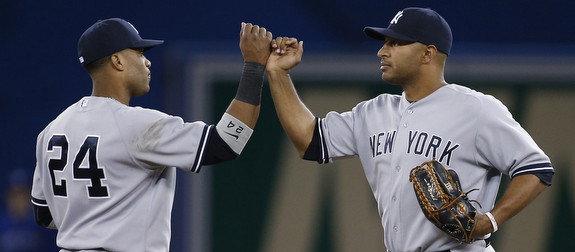 The Yankees are in an unfamiliar spot during the All-Star break. They sit in fourth place in the AL East at 51-44, a .537 winning percentage that is their worst at the traditional midpoint since 2008 (.526). I think we all remember what happened that season. The Bombers are five back of the Red Sox in the loss column for the top spot in the division, and they're three back of a wildcard spot. The second half will be an uphill climb, that's for sure.
Because of the current standings and their many injuries, it's fair to wonder if the Yankees are better off adding players at the deadline to make a run at the playoffs or selling off pieces and building for the future. I team like the Yankees, who are generally well run and have mountains of cash, should be able to turn things around relatively quickly and avoid a painful, multi-year rebuild. Then again, rebuilding is not in this team's DNA. They tend to retool on the fly. I think there's a strong argument for both buying and selling at the deadline, so let's hear them out.
The Case for Buying
Despite the injuries (and re-injuries) and the offensive offense, the Yankees are still only three games back of a playoff spot. It's not ideal but it's not exactly a disaster either, especially with nearly 70 games left on the schedule. They could make up a three-game deficit in a weekend. Heck, they still have 13 games left against the Red Sox. That six-game deficit in the AL East is makeup-able as well.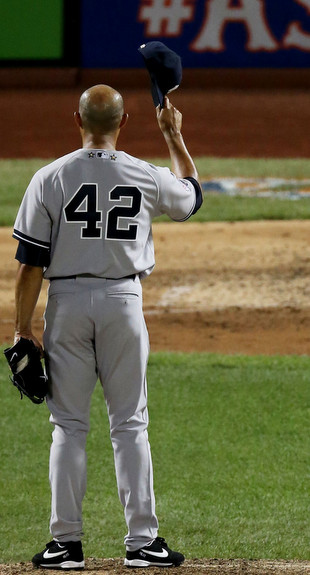 The Yankees have their own internal help on the way. Derek Jeter is back from his ankle fracture(s) and should return from his quad strain relatively soon. Alex Rodriguez seems likely to return from his hip surgery early next week. Those two will improve the left side of the infield in a big way even if their production is down from last year. Curtis Granderson (hand), Frankie Cervelli (hand, elbow), and David Phelps (forearm) are on the rehab trail as well. There is much-needed help on the way.
There's also this: it's Mariano Rivera's final season, and it would be pretty damn disappointing if he didn't get to pitch in the postseason one last time, especially after last year's knee injury. Remember how disappointing it was that the Old Stadium didn't go out with a playoff series? This would be like that, only a million times worse. There is a definite incentive to get to the postseason one last time with the greatest reliever in the history of the universe.
The Yankees will need some help to do that, beyond the guys they have coming back from injury. Adding a right-handed platoon bat for Lyle Overbay figures to be on the deadline agenda, ditto finding a more competent utility infielder who can adequately rest Jeter and A-Rod after they return. A catcher, an outfield bat, a DH, a reliever … all of that stuff makes sense at the deadline.
The Case for Selling
This team does stink as presently constructed. On most nights the bottom three of the batting order is completely non-competitive, and the guys in the top six spots have yet to all get going at once. New York's stinkiness shows up in their run differential (-2), in their bottom-four offense (85 wRC+), and even in their much ballyhooed rotation (one starter with a sub-4.00 ERA, min. ten starts).
Yes, the injured guys are all due the return in the coming weeks, but in case you haven't noticed, the injured guys have all had trouble staying healthy once they do return. Jeter got hurt in his first game back, Granderson and Mark Teixeira (wrist) landed on the DL about two weeks after returning, ditto Kevin Youkilis (back). Even Cervelli had a setback recently. The Yankees have had trouble with setbacks in recent years, which could be a product of having an older roster or inadequate training staff (or both). Who knows? Whatever the reason, they've been counting on the injured guys all year and have been let down every time.
At the same time, it appears there are just too many holes to fill right now. Adding that right-handed first base bat and a better utility infielder and a catcher and an outfielder and a DH and on and on is too much for one trade deadline. Remember, the Yankees' rivals will also be making upgrades at the deadline as well. In fact, both the Red Sox (Matt Thornton) and Orioles (Scott Feldman) have done that already. The Bombers are playing one big game of catch-up.
The Yankees don't have a ton of a tradeable pieces, but they do have some. Some contender would make an offer for Robinson Cano, I'm sure of it. He's an affordable impact player at a hard-to-fill position. David Robertson, Boone Logan, and Shawn Kelley would all have suitors, and so would Brett Gardner and a healthy Granderson. Could the Giants, who are losing three starting pitchers to free agency and will have a ton of free cash to spend in the offseason, convince CC Sabathia to waive his no-trade clause so he could pitch close to his hometown? Maybe. Selling won't be easy with this roster, but it's doable.
* * *
The non-waiver trade deadline is just 13 days away now, meaning the Yankees don't really have much time to decide whether to buy or sell. Their upcoming schedule — three at the Red Sox, four at the Rangers, three at home against the Rays, then a West Coast trip — is an absolute nightmare, and their performance during that time could make the decision for them.
Should the Yankees buy or sell at the trade deadline?