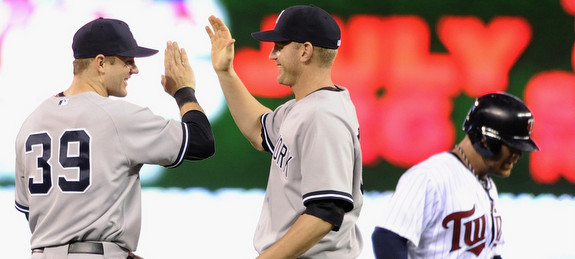 With exactly four weeks to go until the non-waiver trade deadline, the Yankees' needs have become crystal clear thanks to their various injuries and underperforming replacements. The team's needs go something like this:
A bat.
Another bat.
One more bat.
Another bat just in case.
That's the nuts and bolts of it. They don't need one bat to improve the offense, they need bats. Plural. Middle of the order bats, top of the order bats, bottom of the lineup bats … you name it and the Yankees could use it.
Since "bats" is a rather vague term and could mean a bunch of different things, let's narrow it down the team's needs to specific positions and whatnot. Here are the team's biggest priorities leading up to the trade deadline, at least at this very moment.
1. Right-Handed Hitting Corner Infielder
Good news! Alex Rodriguez started a minor league rehab assignment yesterday and is theoretically 19 days away from rejoining the team. Bad news: the Yankees still need a platoon partner for Lyle Overbay at first base at the very least.
Considering the nature of A-Rod's injury, however, it's reasonable to expect him to spend a lot of time at DH immediately after he returns. Joe Girardi always errs on the side of caution with his veterans, so don't expect Alex to come back as a seven days a week third baseman. He hasn't done that in about three years now even when healthy. They always squeeze in a few DH days.
David Adams (43 wRC+) has been a disaster at third and Jayson Nix has tried admirably (65 wRC+), but New York needs to do better. They need someone who could step in and play the hot corner pretty regularly while also spotting Overbay at first. A right-handed hitting Eric Chavez, basically. The Yankees are said to have interest in Michael Young and he fits this role perfectly.
2. Utility (Middle) Infielder
This one may seem kind of weird because the Yankees already have like, three utility infielders on the roster. None of them are particularly good though, with Nix representing the best of the bunch. At some point Derek Jeter will actually return the Yankees to help out the middle infield, but he has yet to begin playing minor league rehab games and is still a ways away from returning. Eduardo Nunez is playing rehab games and should be back just before the All-Star break, but he's not exactly a difference maker.
Like A-Rod, Jeter is very likely to see a bunch of time at DH right after he comes off the DL. In fact, the team's original plan back in April was to DH him against lefties as a way to get him off his feet regularly. I can't imagine that plan has changed following the setback. Finding someone better than the current utility infielders will make it even easier for the Yankees to ease Jeter back into things. I don't think they'll actually replace Nix at this point, but that doesn't mean it shouldn't be something they explore.
3. Catcher
Since Frankie Cervelli went down with his broken hand, the Yankees have gotten a meager .205/.268/.265 batting line out of the catchers. Chris Stewart, the nominal starting backstop, has hit .234/.301/.298 since Cervelli went down. Good defense only goes so far, I think Stewart's reputation as a very good defender is up for debate after watching him everyday for the last two months.
Like the utility infielder spot I just talked about, I would be surprised if the Yankees went out and sought a catching upgrade. They seem perfectly happy with the Stewart-Austin Romine tandem until Cervelli comes back, at which point he is sure to be nails given his long track record they'll hope he'll continues his early season performance. New York has already passed on backup catcher upgrades like Ramon Hernandez and Kelly Shoppach, so don't expect them to seek out more help. The position is still a problem though.
4. Corner Outfielder (Preferably Right-Handed)
About a month ago, adding a corner outfield bat appeared to be the team's biggest need. Vernon Wells and Ichiro Suzuki were performing terribly and Curtis Granderson had just gone back on the DL, meaning he wasn't going to return anytime soon. Ichiro has picked up the pace a little bit, but more than anything, Zoilo Almonte's solid performance (134 wRC+) since being called up has lessened the team's need for a corner outfield bat.
Now, that doesn't mean they don't need one. Granderson has yet to swing a bat and is still several weeks away, plus Wells is still awful and Adams is a friendly reminder that rookies have a tendency to stop hitting for no apparent reason at a moment's notice. Brennan Boesch apparently is not close to returning from his groin injury either, so he remains a non-option. If the Yankees have a chance to add a corner outfield bat at the deadline, particularly one they could control next year and beyond, they should jump all over it. It's not longer the "must need" it was a month ago, however.