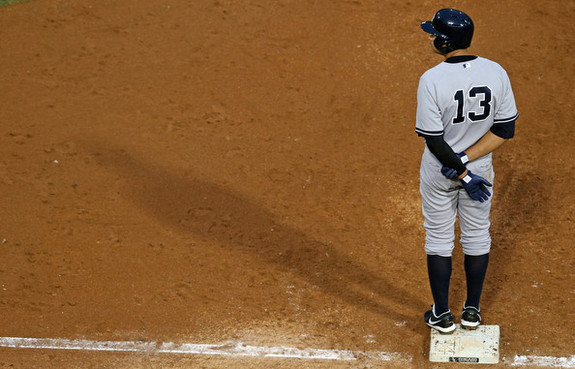 The Yankees are finally back in the Bronx after a nearly two-week road trip, and that's a good thing because they need every little bit of help they can get right now. Even if that's just sleeping in their own beds for a change.
Of course, tonight's game isn't so much about the Yankees coming home. It's about Alex Rodriguez's first game in Yankee Stadium since his hip surgery being suspended a record 211 games for his part in the Biogenesis scandal. I've seen an awful lot of people wondering how we will be received by the home crowd, but isn't it obvious? He'll get booed with a smattering of cheers mixed in. Remember, we're talking about a guy who was booed during MVP-winning seasons and the year after playing a huge role in a World Series championship. How will be be received? C'mon now. Has anyone been paying attention?
Here is the lineup that will face the New Jersey born and raised Rick Porcello:
CF Brett Gardner
RF Ichiro Suzuki
2B Robinson Cano
DH Alfonso Soriano
3B Alex Rodriguez
LF Curtis Granderson
1B Lyle Overbay
SS Eduardo Nunez
C Chris Stewart
And on the mound is right-hander Ivan Nova, who has pitched exceptionally well since rejoining the rotation five starts ago. He's got a 1.66 ERA (2.57 FIP) in 38 innings during those five starts while holding opposing batters to a .182/.248/.263 batting line. Nova has turned batters into something slightly less than David Adams (.194/.257/.271) over the last month or so.
The weather forecast is not great — cloudy with rain later — and I have Bill Murray saying "it's gonna be cold, it's gonna be gray, and it's gonna last you for the rest of your life" stuck in my head. The rain is supposed to hold off until later tonight, so let's hope that's the case. These two teams don't meet again this year, and no one wants a doubleheader or to lose an off-day. First pitch is scheduled for 7:05pm ET and can be seen on YES locally and MLB Network nationally. Enjoy.
Update (6:43pm): The game will not start on time due to the weather. A tentative start time has not been announced.
Update (7:18pm): They're saying it'll be a 7:50pm ET start time. Tarp is coming off now.