Five questions and four answers this week. If you ever want to send us anything, mailbag questions or links or comments, use the Submit A Tip box in the sidebar.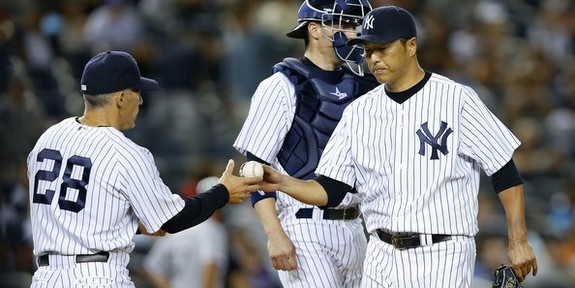 Dylan asks: If the Yankees re-sign Hiroki Kuroda next year, could they not have him start the season until end of May so he doesn't hit a wall? They could have him get ready for the season in Extended Spring Training games. Has this ever happened in the league before for an older pitcher (besides when Andy Pettitte came out of retirement, but that wasn't intentional for the Yankees)?
Although they didn't sign over the winter with the intention of joining the rotation at midseason, this is basically what 2007 Roger Clemens, 2009 Pedro Martinez, and both 2012 and 2013 Roy Oswalt did. They didn't find many offers in the offseason and waited until injuries struck and some contender needed pitching help in the middle of the year. Kuroda won't have that problem this winter.
I do think there is some merit to the idea of holding him back until May — there was some talk of doing with Stephen Strasburg last year since everyone knew he was going to be shut down at some point — but games in April are just as important as games in September. Do you prefer to tack on the wins early or play catch-up late? The guy replacing him in April probably won't be all that good, so I prefer the former. I think the solution would be lighten Kuroda's workload from April through July by using off-days to skip or push back starts and take advantage of the All-Star break to give him close to two full weeks off. A phantom DL trip, basically.
Either way, I don't like the idea of having one of the team's best starters intentionally skipping a full month or two of the season. I'd rather just take my chances and hope he doesn't hit a wall in that case. If you're planning on getting say, 25 starts out of him instead of 32, I would prefer to get the 25 as soon as possible — you could always trade for pitching help at the deadline — and not run the risk of an injury turning those 25 starts into 12 starts or something.
JCK asks: If Phil Hughes dominates out of the bullpen down the stretch, do the Yankees have a chance to bring him back as a reliever in 2014? It would be nice to have 2009 bullpen Hughes in a post-Mariano Rivera world.
I think the chances of the Yankees re-signing Hughes as a reliever are small but still better than they are of them bringing him back as a starter,  which are basically zero. There are only 22 games left in the season and I don't think that's enough time for Phil to show he can be truly dominant out of the bullpen like he was in 2009, especially since each game is so important and guys like Preston Claiborne and David Robertson will soak up the more crucial innings. Hughes might just be a mop-up man this month. Heck. Joe Girardi went to Joba Chamberlain over him last night. So yeah, I do think there's a chance he'll come back of a reliever, but that chance is still very small. Hard to see Phil returning to the Bronx next year in any role.
Tarik asks: Can you put Greg Bird's season into perspective? Is he a legitimate hitting prospect? Is 20 too old for Low-A? Thanks.
Marc asks: Is there any chance Greg Bird could fake the corner OF and spot starts at catcher? Like a poor man's Ryan Doumit, cause his bat is legit and it would be great to get the most value outta him.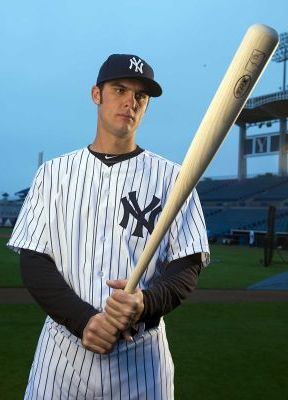 Going to lump these two together. First things first: 20 is absolutely not too old for Low-A. It's perfectly age appropriate if not slightly young for the level (he turns 21 in November).
Secondly, Bird hit .288/.428/.511 in 573 plate appearances this year, a 170 wRC+ than was the eighth best in all of minor league baseball among players with enough plate appearances to qualify for their league's batting title (not counting the unaffiliated Mexican League). Four of the seven guys ahead of him were in short season leagues with fewer than 260 plate appearances (including Gosuke Katoh at 172 wRC+), another was a 29-year-old journeyman in Triple-A (Chris Colabello at 196 wRC+), and the other two were two of the best prospects in the game (George Springer at 174 wRC+ and Miguel Sano at 172 wRC+). So, simply put, Bird was one of the absolute best hitters in all of minor league baseball this year regardless of age and level. He mashed.
Tyler Austin hit .322/.400/.559 (~163 wRC+) last season, which actually might be more impressive than Bird's season considering he was promoted from Low-A Charleston to High-A Tampa at midseason. The talent pool in the second half of full season leagues tends to get watered down because all the best performers get promoted and replaced by guys coming up from a lower level. Jesus Montero's best minor league season was 2009, when he hit .337/.389/.562 (~169 wRC+) between High-A Tampa and Double-A Trenton as a 19-year-old. That's definitely more impressive than what Bird this year in my opinion considering his age and the levels. Before that, you have to go all that way back to the holy grail of minor league offensive seasons to find a better performance in the Yankees system: 1999 Nick Johnson, who hit .345/.525/.548 with Double-A Norwich. Minor league wRC+ data doesn't go back that far, but I think it's safe to say that was close to if not above 200 wRC+. So yeah, Bird mashed in a way very few others have in recent years.
Earlier this week, Jim Callis said Bird has "legitimate power" while Keith Law added "he does have plus raw power," so we have some consensus there. The Yankees would have tried him in the corner outfield before sticking him at first base if he was capable of doing it, but the back problem that moved him out from behind the plate might be making his mobility an issue. Bird has to prove he can hit at the upper levels of the minors, which makes him no different than every other Single-A prospect in the history of the universe. The offensive bar is very high for first base prospects though — it takes Prince Fielder or Eric Hosmer potential to be a truly elite first base prospect — so Bird will continue to get the short end of the prospect stick. He hit way more than was reasonably expected this season, now let's just sit back and see what we does next year with High-A Tampa before we start worrying about where he fits into the team's long-term plans. To be honest, Doumit pretty much sucks and I'm hoping Bird is something much better than that. Versatility is overrated.
Jon asks: With Pete O'Brien being an error machine at third, do you think he could still move to RF? He should have the arm and his bat should easily profile right?
O'Brien runs like a catcher, so I don't see how a corner outfield spot would work. Most likely, he'll be a first baseman/DH who can fill in at third or catcher in a real pinch. He's a prospect because of his big right-handed power, which is something that is in very short supply these days. Righty hitting/righty throwing first baseman is not the sexiest profile in the world, especially considering there are concerns about O'Brien's approach at the plate. The best right/right first basemen in recent history — Albert Pujols, Paul Goldschmidt, Paul Konerko, Allen Craig, Derrek Lee, Kevin Youkilis, Richie Sexson — all had disciplined approaches that upped their offensive production. More than a few of those guys (Pujols, Lee, Youkilis, Sexson) were top notch defenders as well. The only member of that recent right-right first base group who has stuck in the big leagues despite a poor approach is Mark Trumbo. Trumbo is a flawed hitter and an mediocre player overall because of his defense, but I would be thrilled if that's what O'Brien turned into. I'd sign up for it today.