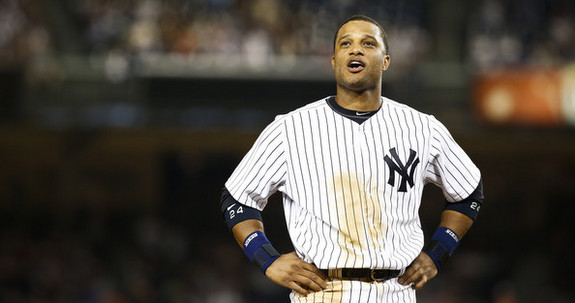 The Red Sox beat the Cardinals to win the World Series last night, meaning the offseason is now underway. At 9am ET this morning, all eligible players officially became free agents. Robinson Cano, Hiroki Kuroda, Curtis Granderson, Phil Hughes, Joba Chamberlain et al technically are not Yankees right now. They're aren't anything. They're unemployed. They can't sign with new teams just yet, but they're not Yankees either.
Now that the offseason has started, I figured it was worth putting together a list of important dates. There are a lot of them, some more important than others. Here's a look at what lies ahead in the coming weeks and months:
Next Monday, Nov. 4th: Deadline to make free agents a one-year, $14.1M qualifying offer and also the deadline for option decisions. The Yankees need to hear from Derek Jeter about his $9.5M player option for 2014 (still no word) and they'll make the qualifying offer to Cano and Kuroda. Maybe some others.
Next Tuesday, Nov. 5th: End of the exclusive negotiating period. As of 12:01am ET, free agents can negotiate and sign with new teams.
Nov. 11th: Last day for free agents to accept or reject qualifying offers. Players who reject will net their team a supplemental first round draft pick if they sign elsewhere.
Nov. 5-14th: Awards season. The announcements are spread out to keep people interested.
Nov. 11-13th: GM Meetings in Orlando. Not a ton of exciting stuff happens at these — a bunch of rumors and maybe a transaction or two, but these meetings deal mostly with business items.
Nov. 20th: Deadline to set rosters for the Rule 5 Draft. OF Slade Heathcott and C Gary Sanchez are the team's most notable Rule 5 Draft eligible players. They have to be added to the 40-man roster.
Dec. 2nd: Deadline for clubs to offer contracts to players with less than six full years of service time, otherwise known as the non-tender deadline. A fresh new batch of free agents will hit the market on this day. Jayson Nix and Chris Stewart are New York's most notable non-tender candidates.
Dec. 9th: Last day to open a 40-man roster spot(s) prior to the Rule 5 Draft. Teams without open spots can not make any picks.
Dec. 9-12th: Winter Meetings in Orlando. All hell breaks loose during the first three days (the fourth day is kind of a bore). There will be rumors and trades and signings galore. Most of the biggest offseason moves will happen here.
Dec. 12th: Rule 5 Draft. This is the unofficial end of the Winter Meetings — everyone leaves after the draft is over, the place turns into a ghost town — and the start of what amounts to a holiday recess. Baseball news tends to slow to a crawl after this date and usually doesn't pick back up until January.
January: Deadline for each side to submit arbitration filing figures. Eligible players submit one salary, the team another. The exact date is unknown but it's usually in the middle of the month. The Yankees have seven arbitration-eligible players, most notably David Robertson, Brett Gardner, and Ivan Nova.
February: Arbitration hearings throughout the month. The two sides can agree to a contract at any point prior to the hearing, even after submitting figures. The Yankees haven't gone to an arbitration hearing since beating Chien-Ming Wang in February 2008.
Mid-February: Pitchers and catchers report to Tampa.
It's also worth noting that at some point before March 10th, the Yankees have to send someone to the Mariners as the player the be named later in the Brendan Ryan trade. I wouldn't expect it to be a significant (or even an actual) prospect and the deal will probably be completed long before that date. Should happen relatively soon. Just a loose end that needs to be tied up.
Jeter's option decision is the most immediate and pressing item for the Yankees. I expect him to exercise it after what even he called a nightmare season. It'll also be interesting to see how the club weighs potential draft picks against staying under the $189M luxury tax threshold when they make (or don't make) qualifying offers. Are they willing to risk getting saddled with a player they don't want/can't afford? Considering all the money the team has coming off the books and the overall disappointment of 2013, I expect this to be one of the busiest offseasons in the Bronx in a long time. I just have no idea what to expect.