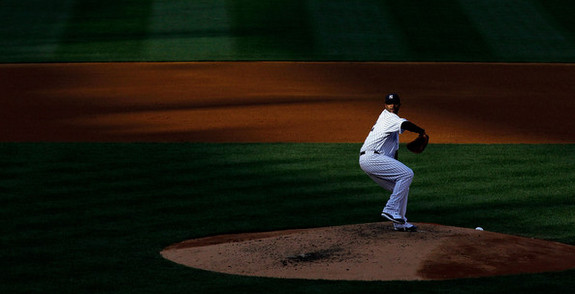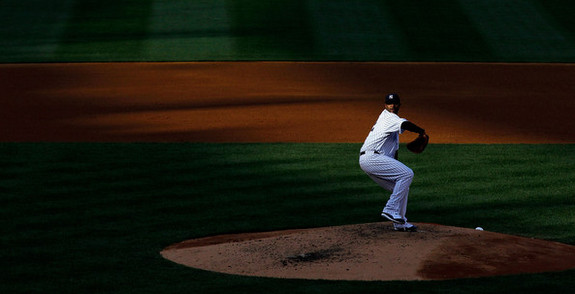 A little less than a year ago, CC Sabathia had surgery to remove a bone spur from his left elbow. Apparently he had been pitching with the spur since his days with the Indians, but it wasn't until just last season that it started to bother him. The human body is weird like that. The spur was removed with a relatively minor arthroscopic procedure and that was that.
There really is no such thing as a minor surgery though, is there? I've never had one, but surgery changes stuff. It changed Sabathia's elbow last October, but it also changed something else. Something that went mostly overlooked: his offseason routine. Sabathia couldn't throw on his usual schedule because he was rehabbing, and in fact the rehab process took so long that he was on a modified schedule in Spring Training. We're talking about a 12-year veteran here. A guy who is presumably set in his ways.
"I didn't really notice the difference until we got into the middle of April," said Sabathia to Andy Martino, referring to how the change in his offseason routine affected him in actual games once the season got underway. "My arm strength just wasn't where it needed to be. It wasn't hurting or anything. I just didn't have the strength … I usually start throwing in November, so I kind of never stop throwing. That keeps my arm strength, and that's something I was really missing over the year. Being able to get back to that routine, I think it will help a lot."
I guess this is where I insert the obligatory velocity graph, huh? Okay, fine: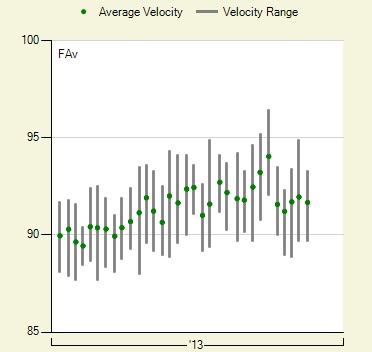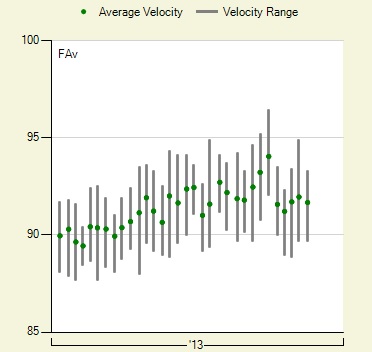 So yeah, Sabathia's velocity was way down early in the season before gradually climbing back into the 92-94-ish range as the weather warmed up. You knew that already. At his age and with all those innings on his arm, I'm not even sure getting back to his typical offseason routine will help his velocity all that much. It might slow down the decline — in case you haven't noticed: once a guy starts losing velocity, he tends to keep losing it — but it won't stop it and it sure as hell won't reverse it.
I'm not really interested in what a regular offseason routine will do for Sabathia's velocity, however. I'm curious to know what it will do for his command. That seemed to be the bigger issue last season. A 90-91 mph fastball is more than enough to get hitters out, especially as a left-hander with a good changeup and knockout slider, but Sabathia really seemed to struggle with his location this season. Lots of pitches were left up the zone or out over the plate or on the inner half. In the wheelhouse, basically. That's why batters slugged .445 (!) against him.
Does throwing all winter help Sabathia maintain his mechanics better throughout the season? I don't think there's any possible way to know that, at least not from a fan's perspective. Pitching coach Larry Rothschild mentioned Sabathia was dropping his arm at times this summer and that was causing his pitches to flatten out, but is that something throwing more over the winter can correct? Arm strength doesn't just refer to velocity, it could refer to stamina and being able to keep your arm in the proper slot for 100+ pitches instead of say, 75 pitches.
"We're going to do some stuff earlier. Next month, build into a long-toss program as soon as [the Grade II hamstring strain] heals, and then go from there," said Rothschild. "He's going to have to probably hit it a little bit harder than normal, where last winter he couldn't at all. We've talked about it, and he's going to do some stuff earlier, and try to build some arm strength, and correct some problems that he has had. Whether he gets back to the full velocity that he used to have or not, he is still going to be able to pitch at a pretty high rate."
Pitchers … well, baseball players in general, really, are creatures of habit. They've all got their set routines during the season and that carries right over into the offseason. They like to do things a certain way. Sabathia's offseason was disrupted by his surgery last offseason and outside of the whole arm strength/lack of velocity thing, there's no telling how (or if) it impacted his mechanics and command. The raw stuff CC showed this year — the fastball(s), changeup, slider combination — was plenty good enough, but not without improved location. That has to be the focus going forward, not the radar gun.