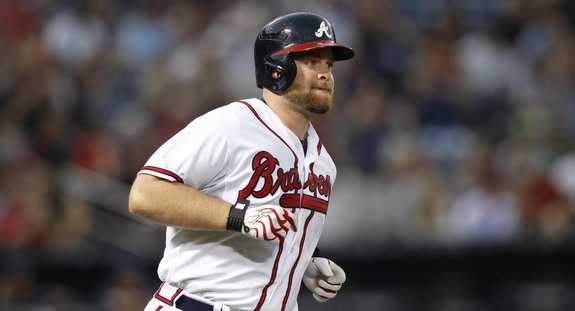 Last night, the Yankees made the single biggest upgrade they could have made this winter by agreeing to sign Brian McCann. They got close to nothing from their catchers last season and now they have one of the four or five best in baseball. McCann still has to pass a physical before the deal becomes official, and while that isn't expected to be much of an issue, he did have surgery to repair his left shoulder last October. The team needs to take a good look at that. Here's some other stuff I have to add.
1. Five years and $85M is pretty much exactly what I expected McCann to receive and probably a bit of a bargain in the current market. I mentioned in the Scouting The Market post that the bidding could get so out of hand — lots of big market teams need catching help (Yankees, Red Sox, Rangers, etc.) — that it could take a sixth guaranteed year to land him, but the Yankees were able to avoid that. There is a vesting option, however. This is the third largest catcher contract in history behind Joe Mauer (eight years, $184M) and Mike Piazza (seven years, $91M), but it's the largest free agent catcher contract ever. The previous free agent record was Jorge Posada's four-year, $52.4M deal prior to 2008. Good catchers are never available. This is also the largest contract the Yankees have given out since signing Mark Teixeira. As for the draft pick … who cares? I have no problem giving up a first rounder for a player of McCann's caliber. The full no-trade clause bothers me more than the pick, but whatever.
2. The contract will count as $17M towards the luxury tax threshold these next five years, so, based on my most recent (unofficial) payroll breakdown, the Yankees still have about $27M left to spend this winter. They have to re-sign Robinson Cano with that money, so it's not as much as it seems. Of course, that $27M would become roughly $61M if Alex Rodriguez is suspended for all of next season, but that's hardly a guarantee at this point. If he's suspended only 50 games, it still jump to $35.5M or so. The McCann contract means one of three things: a) the plan to get under the luxury tax threshold went out the winter, b) they're going to let Cano walk, or c) they're confident A-Rod will get suspended. After adding McCann, I don't see how they can realistically re-sign Cano and stay under the threshold without Alex getting suspended. I mean, it could be done, but they would have very little to spend the rest of the winter. Some payroll shenanigans are afoot.
3. Although I think the Yankees should hang onto their catching prospects unless they get an overwhelming offer, I certainly understand the idea of trading one to help the team elsewhere. Gary Sanchez is the best prospect of the bunch but I actually like J.R. Murphy more as a no-doubt long-term catcher and think he is the best bet to take over behind the plate whenever McCann makes the transition to first base/DH. Assuming Frankie Cervelli serves as the backup next season, Murphy could spend the year with Triple-A Scranton (only played 59 games there last year) before starting a Joe Girardi/Jorge Posada-esque apprenticeship in 2015. That would make Austin Romine trade bait even though he probably has the lowest trade value of the trio. Still, young catching is hard to find and the Yankees should have no trouble finding a taker for Romine if they indeed decide to move one of their young backstops. I'd hang onto them just a bit longer though. None are sure things and catching depth can disappear in a hurry.
4. I've been messing around with batted ball distances these last few weeks — wrote this recently — because I think it's pretty interesting, but I'm not quite sure what to do with it yet. I'm not sure how predictive it is or anything like that. It is fun to look at though. Courtesy of Baseball Heat Maps, here is every ball McCann has hit in the air since 2007, when the data started being recorded:
The vertical clusters are individual seasons (2007-2013 from left to right) and each red dot is a batted ball hit in the air, meaning a fly ball, a line drive, or a pop-up. Doesn't matter if it went over the fence, fell in for a hit, or was caught for an out. If it was hit in the air, it's in the graph. As you can see, McCann's average batted ball distance (the black line) has been relatively unchanged over the years. I did add the blue line at 350 feet to show he didn't hit the ball that far as frequently as he once did these last two years. That coincides with his right (front when hitting) shoulder problems, and there is some evidence suggesting an injury to the front shoulder can sap a hitter's power for a few years or, in some cases, permanently. This doesn't mean McCann is doomed or anything, he was a very productive hitter this past season, I just thought it was interesting.
5. So what's next? Aside from getting Cano locked up, of course. The Yankees still need help at third base and in right field, but I think pitching is the biggest item on the agenda right now. Brian Cashman said they're looking to add two starters this winter and that's easier said than done. It doesn't sound like Masahiro Tanaka will be posted anytime soon, but they could target a cheap-ish second or third tier guy to at least get the ball rolling. I've come around quite a bit on Scott Feldman (3.86 ERA and 4.03 FIP in 181.2 innings in 2013) and think he'd be a real solid pickup at the right price. The FanGraphs crowdsourcing and Jim Bowden (who's been ridiculously accurate so far) both expect him to sign a deal worth right around $9M annually this winter, which is more than fair (and probably a bargain) for a number three-ish starter in this market. Landing someone like that solidifies the rotation while leaving enough money (assuming A-Rod is suspended) for Tanaka or Hiroki Kuroda or someone like that. Either way, pitching stands out as the biggest need now.