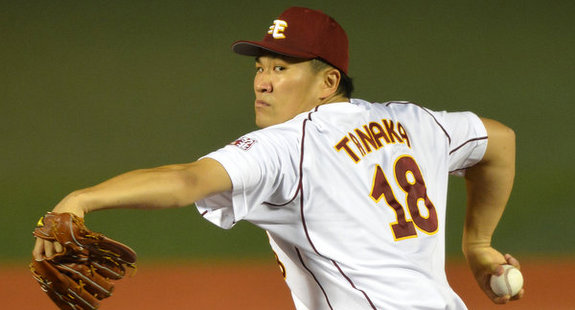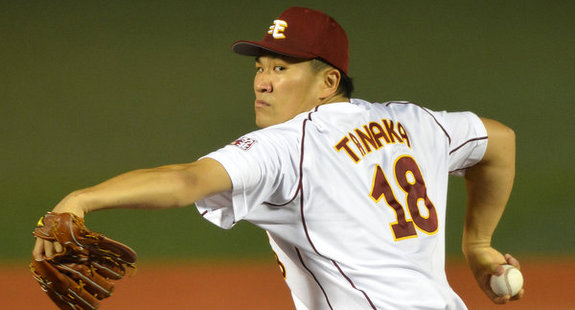 Wednesday: The posting period officially begins tomorrow morning and ends at 5pm ET on January 24th, reports Anthony McCarron. The contract must be signed and made official within the 30 days, not just agreed to. Tanaka will reportedly be represented by Casey Close, who also represents Derek Jeter and Mark Teixeira.
Tuesday: After weeks of conflicting rumors, there is finally resolution to the Masahiro Tanaka posting saga. The Rakuten Golden Eagles have indeed decided to post their ace right-hander and make him available to MLB clubs this winter, team president Yozo Tachibana announced on Tuesday. Tanaka is widely considered to be the offseason's best available pitcher, it just wasn't clear if he would actually be made available.
"After evaluating Tanaka's contributions in the seven years since joining the franchise, owner Hiroshi Mikitani accepted his wish to challenge himself in the Major Leagues and decided to petition for him to be posted," said Tachibana in a statement. "As a team which has valuable players, there's no change in our view that this is an extremely unfair system."
Now, just to be clear, there is no bidding under the new posting agreement. Tanaka is essentially a free agent with a $20M surcharge. He can negotiate with any team for a 30-day period — I'm not sure when that period begins, it might not be immediately due to the holiday — and whoever signs him has to pay an addition $20M "release fee" to the Golden Eagles. In the highly unlikely case that Tanaka fails to agree to a contract within the 30 days, he'll return to Rakuten and have to wait until next winter to be posted again.
Tanaka, 25, has been one of the best pitchers in Japan for several seasons now and the best pitcher since Yu Darvish left two years ago. It hasn't been particularly close either. His gaudy 24-0 record garnered a ton of attention this year — his 30-start unbeaten streak, which came to an end during Rakuten's postseason run to the Japan Series title, is a professional baseball record — but his appeal extends far beyond win-loss record. Here are the obligatory stats:
Yr
Age
Tm
W
L
ERA
GS
CG
IP
H
R
ER
HR
BB
SO
WHIP
HR/9
BB/9
K/9
K/BB
'07
18
Rakuten
11
7
3.82
28
4
186.1
183
83
79
17
68
196
1.347
0.8
3.3
9.5
2.88
'08
19
Rakuten
9
7
3.49
24
5
172.2
171
71
67
9
54
159
1.303
0.5
2.8
8.3
2.94
'09
20
Rakuten
15
6
2.33
24
6
189.2
170
51
49
13
43
171
1.123
0.6
2.0
8.1
3.98
'10
21
Rakuten
11
6
2.50
20
8
155.0
159
47
43
9
32
119
1.232
0.5
1.9
6.9
3.72
'11
22
Rakuten
19
5
1.27
27
14
226.1
171
35
32
8
27
241
0.875
0.3
1.1
9.6
8.93
'12
23
Rakuten
10
4
1.87
22
8
173.0
160
45
36
4
19
169
1.035
0.2
1.0
8.8
8.89
'13
24
Rakuten
24
0
1.27
27
8
212.0
168
35
30
6
32
183
0.943
0.3
1.4
7.8
5.72
7 Seasons
99
35
2.30
172
53
1315.0
1182
367
336
66
275
1238
1.108
0.5
1.9
8.5
4.50
According to Ben Badler (subs. req'd), Tanaka boasts a four-seam fastball thats sits anywhere from 88-96 on a given day. He locates his heater well but tends to pitch up in the zone with it, which gives some scouts pause. His 6-foot-2, 200 lb. frame makes it tough to drive the ball downhill as well. Tanaka's mid-80s splitter is a legitimate out pitch that falls right off the table, and his low-80s slider is a quality third offering. He also throws a soft low-70s curveball. Badler says scouts project Tanaka to be a number two starter in a Major League rotation pretty much right away. Here is the obligatory video:
The Yankees, who need another starter, are expected to be very much involved in the bidding for Tanaka. The Cubs, Dodgers, and Mariners are viewed as their primary competition while clubs like the Rangers, Giants, and Angels could get seriously involved as well. Pretty much every team will at least check in since it costs nothing to talk. The $20M release fee will not count against the luxury tax but Tanaka's eventual contract, which could top six years and $100M, will. That hurts every big market team but especially the Yankees and Dodgers, who figure to be over the $189M luxury tax threshold in 2014.
The pitching market has been handcuffed in recent weeks due to the Tanaka indecision. Interest in guys like Matt Garza, Ubaldo Jimenez, and Ervin Santana has been minimal as clubs waited to see if Rakuten will post their ace simply because they want to do their due diligence and look at all available options. The pitching market as a whole should pick up now but the Yankees are expected to focus primarily on Tanaka. If they don't land him, I don't think it will be because they made a low-ball contract offer. They're going to be serious players for him.