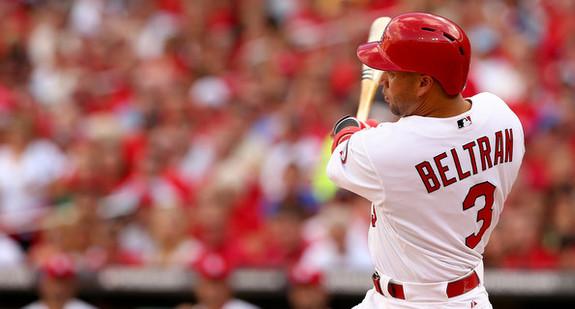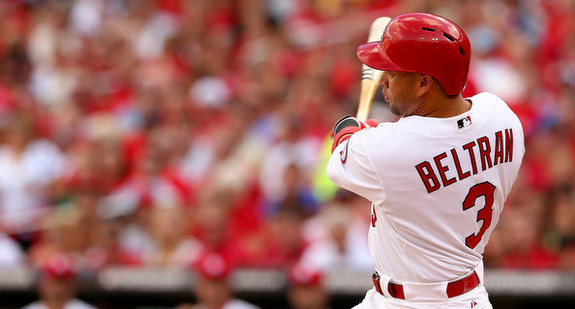 Carlos Beltran will finally get to wear Yankees pinstripes. The veteran outfielder has agreed to a three-year contract worth $45M with New York, report Mark Feinsand and Tim Brown. The contract is pending a physical. The Yankees will surrender their last remaining supplemental first round pick as compensation for the signing. Their second rounder will be their first selection in next June's draft unless they sign another qualified free agent.
Over the last decade, the 36-year-old Beltran has made it very clear he wants to be a Yankee. Before joining the Mets in 2005, he approached the the Bombers and offered to sign at a discounted price, much to the dismay of agent Scott Boras. Then, before signing with the Cardinals prior to the 2012 season, Beltran gave the Yankees a chance to match the two-year, $26M pact he was about to take from St. Louis. New York passed both times but the third time is a charm. Hopefully it will be worth the wait. Cliche, cliche.
In 145 games and 600 plate appearances this past season, Beltran hit .296/.339/.491 (132 wRC+) with 30 doubles and 24 homers. That includes a .315/.362/.509 (144 wRC+) line against right-handers and a .252/.281/.448 (102 wRC+) line against left-handers. Everything you need to know about Beltran's game is in our Scouting The Market post from a few weeks ago, so make sure check that out. He fits the lineup perfectly as a switch-hitter with power and patience, but he is not without his red flags at this point of his career.
The Yankees were reportedly holding the line at two years with Beltran, but they obviously changed their mind after Robinson Cano agreed to a ten-year contract with the Mariners on Friday. Beltran joins a revamped outfield that will also include new center fielder Jacoby Ellsbury. The club could use Alfonso Soriano as the everyday DH with Brett Gardner in left, or they could use Soriano in left and trade Gardner. They could also keep everyone and rotate. Lots of options and lots of time to figure it out. There's nothing the Yankees can do to replace Cano but Beltran and the rest of the club's additions will help pick up some of the offensive slack.