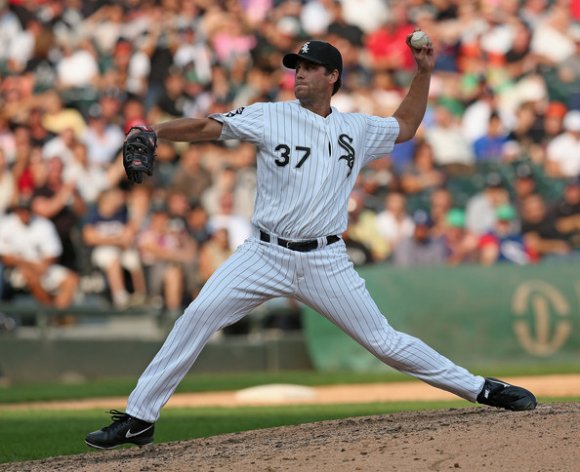 Jack Curry of YES reports that the Yankees have signed left-handed reliever Matt Thornton to a two-year, $7 million contract. It might seem as though he replaces Boone Logan, who recently signed a three-year deal with the Rockies, but Thornton probably isn't the setup man we saw the past few years in Chicago. Today his value is more as a lefty specialist.
A former first-round pick (Seattle in 1998), Thornton struggled upon promotion to the big leagues. In Spring Training 2006 the Mariners swapped him for fellow first-round disappointment Joe Borchard. The White Sox easily got the better of that deal, as Thornton blossomed into an effective reliever who worked his way into late-inning roles.* From 2008 through 2010 Thoronton threw 200 innings with a 2.70 ERA, which amounted to the third-highest bWAR in that time frame among relievers (Mariano Rivera, of course, was first).
*White Sox GM Rick Hahn, then the assistant GM, spoke to a room of FanGraphs writers in 2010; Mike and I were both in the audience. In talking about why Thornton succeeded in Chicago after failing in Seattle, Hahn said that they didn't try to make Thornton into a pitcher he wasn't. Paraphrased, Hahn said, "He told us he wanted to throw the ball as hard as he could right down the fuckin' middle, so we let him." It sure seemed to work.
In recent years Thornton has slipped quite a bit. At a time when strikeout rates have risen his has fallen, from a peak of 12 per nine in 2010, to 6.2 per nine last year. That production dip has come mostly against right-handed hitters. After holding them to a .254 wOBA in 2010, he grew worse in each of the last three years, all the way to a .370 wOBA against righties in 2013. It is pretty apparent now that Thornton is a lefty-only guy, making him a bit less versatile than Logan, who played more of a full-inning setup role during his final two years in New York.
Through the years Thornton has remained durable, serving just two DL stints since suffering a herniated disc all the way back in 2003. The first was for forearm soreness in 2010, which is always cringe-worthy. Obviously he's avoided the dreaded Tommy John Surgery that often follows such a diagnosis. His other stint was last summer, with an abdominal strain. They happen, though it can't be encouraging. The Yanks will need Thorton at full strength to make a difference.
This signing will not end the Yankees' search for bullpen help. Joel Sherman notes that they also want to add a late-inning reliever. Given the risk with the Thornton signing, they might prefer Joaquin Benoit to the injured Jesse Crain. Who knows: maybe they'll go nuts and sign both. But whatever the case, as with Roberts, Thornton is a complementary signing. They still have a ways to go, even as far as bullpen construction goes.