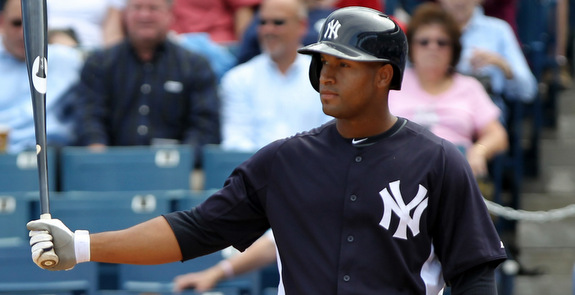 Every offseason I put together a post looking at the projected Triple-A Scranton roster even though it's almost completely unpredictable. So much can and will change between now and the start of the season that it's impossible to pin down more than a few spots. At the same time, the Triple-A club is just an extension of the MLB club, so I think it's important to look at. We'll see a lot of these guys in the show next summer.
From the looks of it, the Yankees are planning to hold three competitions in Spring Training: one for the fifth starter's spot, one for the extra infielder, and one for the bullpen in general. That last one will be a bunch of smaller competitions, really. Injuries could open up even more spots, as we learned last year. For now, here's an early breakdown of who figures to head to Northeast Pennsylvania at the end of camp:
| Infielders | Outfielders | Rotation | Bullpen |
| --- | --- | --- | --- |
| Russ Canzler | Zoilo Almonte | LHP Manny Banuelos | RHP Jim Miller |
| Corban Joseph | Slade Heathcott | RHP Bruce Billings | RHP Mark Montgomery |
| Zelous  Wheeler | Antoan Richardson | LHP Nik Turley | RHP Y. Tateyama |
| ST Comp. Loser 1 | | ST Comp. Loser 1 | RHP Chase Whitley |
| ST Comp. Loser 2 | | ST Comp. Loser 2 | ST Comp. Loser 1 |
| | Utility Guys | | ST Comp. Loser 2 |
| Catchers | Ronnie Mustelier | | ST Comp. Loser 3 |
| J.R. Murphy | Jose Pirela | | |
| Austin Romine | Yangervis Solarte | | |
Barring injury, Frankie Cervelli will back up Brian McCann this summer, leaving Murphy and Romine for Triple-A. Murphy should get playing time priority but they'll both get plenty of at-bats, including some at DH. I wouldn't be surprised if Murphy sees some time at third base, as he has in the past. I also wouldn't be surprised if the team carried a third catcher (Jose Gil?) if the plan is to regularly DH those guys on the days they aren't catching. If so, Solarte or Wheeler could wind up with Double-A Trenton or released.
The infield is pretty straight forward. Canzler, Joseph, Pirela, and Wheeler will get an opportunity to win that last bench job with the big league team but they are at a disadvantage for various reasons. Eduardo Nunez, Scott Sizemore, and Dean Anna seem to have the best chance of winning that spot. The other guys will be there for show. The two losers of that competition (ST Comp. Loser 1 & 2) will wind up with the RailRiders. If I had to bet, I'd bet on Nunez and Anna landing in Triple-A with Sizemore in the big leagues. That's just a guess though.
The outfield is mostly set. I do believe both Tyler Austin and Ramon Flores will return to Trenton to at least start the year. Midseason promotions are always possible, but Austin has to stay healthy and Flores has to hit before moving up becomes a realistic possibility. The biggest outfield wildcard is Almonte, who is the odds on favorite to take over as the MLB team's extra outfielder should Ichiro Suzuki get traded. If not, he'll play everyday in Triple-A and await the inevitable call-up due to injury. Mustelier, Solarte, and Pirela are utility men with experience all over the field, so that position player crop features quite a bit of versatility.
Billings was picked up last week to be the team's veteran innings guy. Every minor league team needs one. That non-prospect you can run out there for 110 pitches every five days just to save the bullpen and lighten the load on the actual prospects. Turley pitched well enough last year to move up from Double-A and Banuelos is finally healthy after missing close to two full years. It's possible he may start the season down in Tampa with the warm weather, however. The organization could ease him back into things that way, and no, I do not think he has a realistic chance of winning the fifth starter competition. He missed too much time and wasn't a finished product before blowing out his elbow anyway.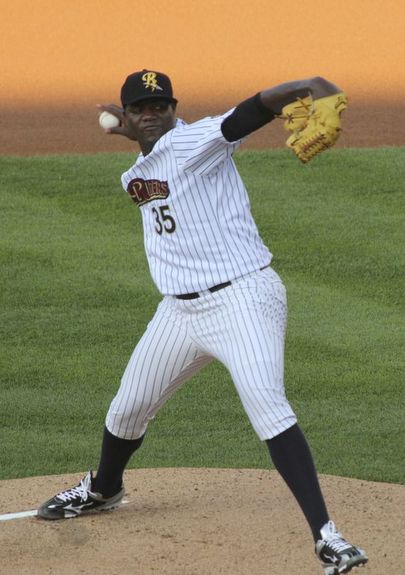 That fifth starter competition will feature David Phelps, Adam Warren, Vidal Nuno, and Michael Pineda. Maybe David Huff as well, though I think he's more likely to be removed from the 40-man roster in the coming weeks than anything. I think Phelps and Warren have to be considered the favorites in that competition and I expect both to be on the Yankees' Opening Day roster. One as a starter and one as a long reliever. That would leave Nuno and Pineda for Triple-A, though Pineda could start the year in Tampa like Banuelos. After two missed years, it wouldn't be a bad idea to bring him along slowly.
Miller, Montgomery, Whitley, and Yoshinori Tateyama are Triple-A holdovers without much of an opportunity to win a big league bullpen job. Getting passed over in the Rule 5 Draft tells us not a single team thinks Whitley can help at the MLB level right now. Montgomery needs to rebound from his injury-plagued year before getting a chance to become a big league factor. I suspect we'll see him at some point in 2014, probably in the second half. He just hit a little developmental speed bump, that's all. The slider is still nasty.
The group of guys expected to compete for a bullpen gig in camp is really long. I count eight pitchers in the running: Dellin Betances, Cesar Cabral, Preston Claiborne, Robert Coello, Matt Daley, Brian Gordon, David Herndon, and Jose Ramirez. We can include Huff in this mix as well, but again, I don't think he is long for the roster. Realistically, there are three bullpen spots open in Triple-A and three open in MLB behind David Robertson, Shawn Kelley, Matt Thornton, and Phelps/Warren. I'd love to see the Yankees sign two starters and push both Phelps and Warren down the depth chart another notch, but I'm not going to hold my breath.
Eight pitchers for six spots means two guys are going to be left hanging, but that's not worth worrying about now. Ramirez could step into the Triple-A rotation if Banuelos and/or Pineda start the year in Tampa and chances are someone will get hurt at some point. There are too many guys listed here to think they'll all make it through Spring Training healthy. Spots will open in the coming weeks, guaranteed. Others like Danny Burawa (42 walks in 66 Double-A innings in 2013) and Pat Venditte (coming off shoulder surgery) figure to return to Trenton to open the year.
Unlike that fifth starter competition, I'm not sure we can handicap the bullpen competition right now. Betances, Cabral, Claiborne, and Daley may seem like they have a leg up, but Coello was pretty awesome before getting hurt last year and Ramirez could show up in Tampa and blow everyone away. Maybe Claiborne is at the front of the line after logging a decent amount of big league innings last summer, but otherwise I don't think there's much of a pecking order in the bullpen. Whoever impresses the most in camp will probably get the job, but either way, I'm willing to bet we'll see a whole bunch of these guys in 2014.
As I said before, this is just a snapshot of the Triple-A Scranton roster. We learned last year just how much things can change during camp. For now it seems like a good chunk of the RailRiders roster is set aside from those competitions, which are vast and numerous. The Triple-A team is basically a taxi squad for the big league club and that will be especially true for the 2014 Yankees. Those competitions are not limited to Spring Training, remember. Those spots will be revolving doors all summer.