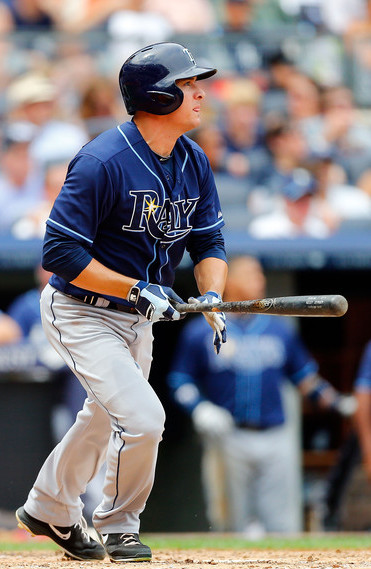 As of right now, the Yankees are heading into the season with only one infielder devoid of injury concerns. Both Mark Teixeira (wrist) and Derek Jeter (leg) are coming off lost seasons while Brian Roberts appeared in only 192 of 648 possible games over the last four years due to a myriad of problems (concussion, hip, hamstring). Even Scott Sizemore, a depth pickup on a minor league deal, is an injury risk after tearing and re-tearing his ACL.
The only infielder who will come to camp without some kind of physical concern is Kelly Johnson, who was signed to be a bench player back in early-December. Now he is expected to hold down an everyday job with Robinson Cano and Alex Rodriguez no longer with the team. Johnson has been on the DL twice in parts of nine big league seasons, once for Tommy John surgery (2006) and again for wrist inflammation (2009). The elbow reconstruction cost him the entire year, the wrist only two weeks. Otherwise he's been healthy and durable.
With Cano in Seattle and the rest of his infield-mates questionable, at least until they show up to camp and prove the injuries are behind them, Johnson is going to have to be Joe Girardi's anchor on the infield. The guy he knows he will be able to trot out there everyday without having to ask him how he feels before each game. The Rays used him as a super utility guy last summer — the role he was initially expected to fill when he signed with New York — but Johnson has been an everyday player before and he'll get the chance to be one again. At age 31 (32 next month), he's the young guy on the infield.
This isn't just a "he needs to stay on the field" thing either. It's not unreasonable to question how much Jeter and Roberts can contribute offensively at their age, ditto Teixeira given the nature of his injury. Jacoby Ellsbury was given a boatload of money to set the table from the leadoff spot and the trio of Carlos Beltran, Brian McCann, and Alfonso Soriano will be tasked with producing from the middle of the order. Johnson won't (or shouldn't, really) be asked to contribute significantly at the plate, but he needs to be something more than a zero from the bottom third of the order.
With the Rays last year, Johnson hit .235/.305/.410 (101 wRC+) with 16 homers and seven steals in 407 plate appearances. That's perfectly representative of his game: low average but enough walks (9.8% from 2011-13) and power (16+ homers in four straight years) to remain league average. He'll even steal some bases (four seasons of 10+ steals). Yeah, Johnson will strike out a bunch (26.3% from 2011-13) and he probably needs a platoon partner (98 wRC+ against righties and 73 against lefties from 2011-13), but what did you expect from a $3M signing? Hopefully Yankee Stadium boosts his offense some.
Given how the offseason has played out and the general uncertainty with the infield, Johnson has already gone from being an excellent part-timer to an important everyday guy. The Yankees and Girardi are going to have their hands full keeping Jeter and Roberts healthy and productive, and in-house alternatives like Sizemore, Dean Anna, and Eduardo Nunez are hardly appealing. The team needs Johnson to stay on the field and provide some offense from the bottom of the order. He's already climbed the depth chart from role player to everyday guy even before the start of Spring Training and there doesn't appear to be any more help on the way.