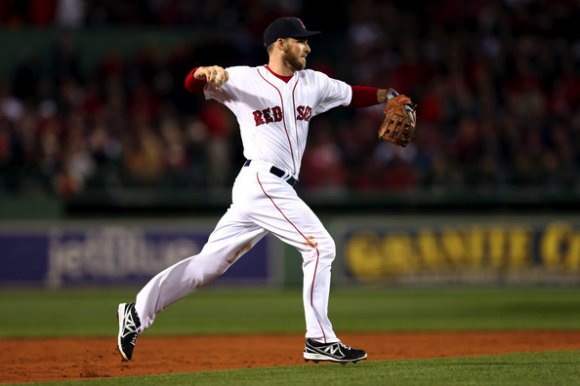 Only one spot remains on the Yankees' bench, and chances are it will go to an infielder. With five outfielders already under contract, and with a questionable infield situation, the Yanks can use any reinforcements they can get at this point. Eduardo Nunez just isn't going to cut it.
A few decent infielders remain on the free agent list, though Stephen Drew stands out as the greatest potential upgrade. He bounced back nicely last year after suffering a rough ankle injury that kept him out for much of 2011 and 2012. Now a free agent, he has seemingly few landing spots. The Yankees remain a logical match.
According to Jon Heyman, the Yankees are indeed internally discussing Drew as an option. Their chance of landing him "depends on the price," but now that they're over $189 million that price matters at least a little less than it did earlier this week.
As a Yankees official said earlier this winter, "We either have to be under $189MM or up over $200MM or more." According to Cot's the Yankees figure to be just a hair under $200 million right now, in terms of actual 2014 payroll (the benefits portion of the luxury tax pushes them over). Given that they've started every season since 2008 over $205 million in actual payroll, they should certainly have some room.
How much will Drew help? Two factors make him a bit more valuable to the Yankees than straight WAR. First is the team's potential need at shortstop, not just this year but next year as well. If Jeter can't cut it, they probably don't want to fall back on Brendan Ryan as an every day guy. If Jeter is done after this year, Drew becomes even more valuable since he can man shortstop everyday in 2015.
Mike mentioned the second factor in his reflection on the Tanaka signing. A win might be going for $6 or $7 million on the open market, but where the Yankees stand right now each additional win is worth so much more since it brings them closer to the postseason. There isn't any other player on the market that can more dramatically tip the scales for the Yanks.
Drew does come with his negatives. Most notably, as Mike mentioned when making the case for Drew, he isn't rated very high defensively, and he doesn't hit lefties well at all. With Jeter around, the Yanks can mitigate the latter. One point Mike didn't mention was Drew's extreme home/road splits in 2013 (.687 OPS on the road and .859 at home), but it's not as though Drew's moving from Fenway to PETCO. Yankee Stadium is plenty hitter friendly, and as Mike noted it might suit Drew's swing very well.
As of right now, it appears Drew has few options. The Mets think he's too expensive and only want a one-year deal. If that's the case, we can rule them out because both the Yankees and the Red Sox would offer a similar deal. Then again, the Yankees might not be willing to spend that kind of money.
That would be a mistake. The Yankees have an opportunity to strengthen one of their weaknesses, adding valuable wins in their quest for a postseason berth and World Series Championship No. 28. They're already over the luxury tax, and there appears no way they'll slide under it next year or any time in the near future. Why not go all out at this point?