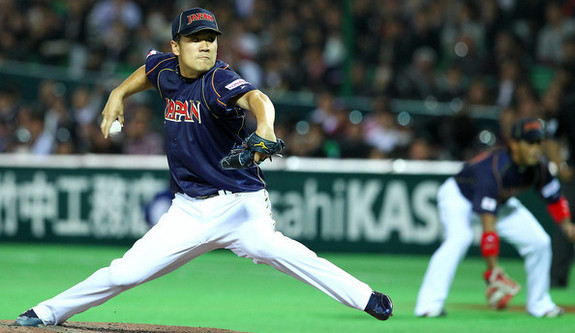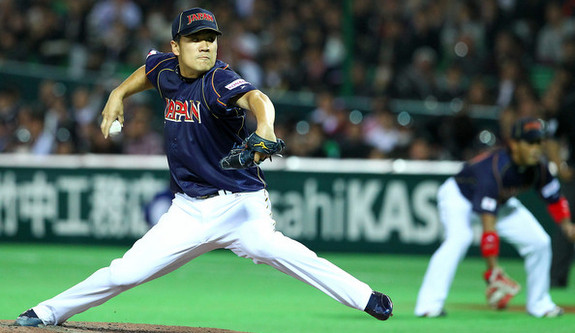 In the span of about four hours yesterday, we went from wondering where Masahiro Tanaka will sign to the Yankees announcing his new seven-year contract. It was a fun morning, no doubt about it. The contract is worth $155M and includes an opt-out after the fourth year. Add the $20M release fee on top of that for a total commitment of $175M. Here are some thoughts following the deal.
1. Might as well just start with this to get it out of the way: I think the contract is more than reasonable and probably a bargain when you consider what other high-end 25-year-olds would get on the open market. No, he's never pitched in MLB, but it's not like they plucked him out of a beer league. The contract is expensive, don't get me wrong, but as Hal Steinbrenner said yesterday, "market value is what one or more teams are willing to pay today." Several other clubs were reportedly willing to pay Tanaka upwards of $20M+ annually, so the Yankees weren't out in their own little world with this offer. It's comforting knowing other teams believed in his talent enough to offer similar dollars. I'd feel differently if Tanaka was a few years older but the team is (theoretically) buying almost all of his peak years since he just turned 25 in November. If he pitches like prime Dan Haren (the most common comp) from ages 25-28 and then opts out, it will have been a brilliant signing. It's the next contract, the one that comes after the opt-out and involves buying a whole bunch of decline years, that will be the really scary one.
2. Was it not amazing how the whole process was kept quiet? We didn't hear a peep about negotiations between the Yankees and Tanaka and certainly nothing about an offer or details of their face-to-face meeting. Nothing at all. It was like that for most teams too, with the Cubs being the notable exception. Theo Epstein's regime always seems to leak everything to media. It happened with the Red Sox and it's happening again in Chicago. Agent Casey Close wanted things kept quiet and managed to pull it off even though he was dealing with some of the game's largest markets and reporters in two countries. Scott Boras is still the king of all agents, but Close has really shined these last 14 months with the Tanaka, Clayton Kershaw, and Zack Greinke deals.
3. I did this exercise a few weeks ago and it's probably worth revisiting: how many games would the Yankees win in 2014 as presently constructed? That means Tanaka in the rotation but question marks in the bullpen and on the infield. We can agree they're in the 85-89 win range right now, right? Maybe it's more like 82-86 or 87-91, but the point is they are right on the postseason bubble. Each added win is so incredibly important to the Yankees right now — both financially and in terms of their #brand — because the value of jumping from a bubble team to a legit contender is so very high, the highest point on the so-called win curve. Going from 80 wins to 82 wins or 98 wins to 100 wins means little in the grand scheme of things, but going from 86 to 88 or 89 to 91 is huge. We can't lump the Yankees under the general contract analysis/dollars-per-WAR umbrella for a number of reasons, one being their payroll. One win (or one WAR) isn't worth $5M or $7M or whatever it is these days to the Yankees. It's worth much more because of how much they depend on being competitive and where they presently sit on that win curve. If the Yankees are a true talent 88-win team right now (reasonable estimate, no?), adding players to get that 89th and 90th and 91st win will be the most crucial additions of the winter.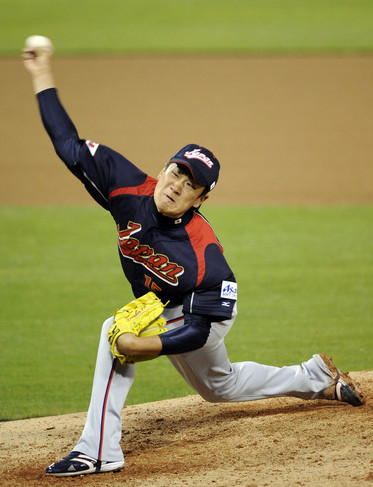 4. Now, that said, the Yankees snuffed out any lingering chance of staying under the $189M luxury tax threshold with the Tanaka signing yesterday, so they should go all out and continue adding payroll. I have their payroll at roughly $204M right now (last update), which is about $10M less than their average Opening Day payroll over the last three years. If they're willing to go up that high again (nevermind meeting last year's $228.1M payroll), there's still enough room to add two pretty good pieces to the team. It's probably not enough for Stephen Drew but that $10M might buy them Luis Ayala and a discounted Grant Balfour, for example. Or maybe Fernando Rodney (ewww) and Jeff Baker. Brian Cashman said the team is done with their "heavy lifting" yesterday, but spending that last $10M to fill out the margins of the roster really isn't "heavy lifting," is it? The bullpen is the easiest place upgrade right now and that last $10M could give the team those extra two or three wins to put them over the top.
5. This is probably just a coincidence, but the total outlay for Tanaka was identical to the team's final offer to Robinson Cano. Perhaps they had budgeted 7/175 for Cano and then another ~7/150 for Tanaka coming into the offseason, but when Robbie made it clear he was going to the Mariners, they switched gears and gave the ~7/150 to Jacoby Ellsbury and spent the 7/175 to Tanaka. If that's the case and they had re-signed Cano, would they have a) missed out on Tanaka because their contract offer would have been capped at $130M (plus the $20M release fee on top of that), or b) bid something like $75M under the old posting system and offered him a $75M contract (the Yu Darvish and Daisuke Matsuzka commitments were split almost right down the middle, half posting fee and half contract)? This offseason has been so fascinating because it has played out so unexpectedly. If you had told me in like, September that the Yankees would lose Cano to the Mariners and commit $175M to Tanaka, I would have thought you were completely crazy.
6. There's a very real chance Tanaka will be the youngest player on the team's Opening Day roster, perhaps by as much as eight or nine months. There are only 14 players younger than him on the 40-man roster right now, and I think the only ones with a realistic chance to make the team out of camp are Cesar Cabral, Michael Pineda, Jose Ramirez, and I guess Zoilo Almonte if Ichiro Suzuki is traded. Austin Romine or J.R. Murphy could make the team if Frankie Cervelli gets hurt, but that's all. (Tanaka's younger than Dellin Betances … by seven months!) I don't really know why I brought this up. I just thought it was interesting. The Yankees haven't had much luck with young players in recent years but I didn't think a 25-year-old free agent would wind up becoming their youngest player. Goes to show how important Tanaka is to the future of the franchise. He's a crucial piece as they finish transitioning out of the Derek Jeter/late-90s dynasty era.
7. This isn't all that important but I am curious to see what number Tanaka wears. He wore 18 with the Rakuten Golden Eagles and that, along with 11, are considered the traditional "ace numbers" in Japan. Those numbers are already taken though (Brett Gardner and Hiroki Kuroda). Tanaka did wear 15 and 17 in the last two World Baseball Classics but he's definitely not getting the former — it's retired for Thurman Munson. Seventeen is open though. Know what number would be cool for Tanaka? 21. It'll never happen though.