For what feels like the umpteenth straight year, the Yankees will hold a Spring Training competition to fill their final rotation spot. These competitions have been rigged in recent years — Joba Chamberlain in 2009, Phil Hughes in 2010, Ivan Nova in 2013 — but things feel legitimately wide open this spring. There are four guys vying for that fifth starter's spot and I honestly would not be surprised if any one of the four walked away with the job. Here are the candidates.
Vidal Nuno
Nuno, 26, jumped from independent ball to the big leagues in less than two years, pitching well (2.25 ERA and 4.50 FIP) in 20 innings spread across three starts and two relief appearances for New York early last season. A groin injury ended his season in early-June but Nuno did heal up in time to pitch in the Arizona Fall League after the season. He started the team's first exhibition game of the spring against Florida State earlier this week, but that doesn't mean anything as far as his standing in the competition.
Unlike the other three fifth starter candidates, Nuno is a left-hander, though I don't think that gives him any kind of leg up. Sure, it would be nice to have another southpaw in the rotation given Yankee Stadium's short right field porch, but the team has to focus on taking the best arm north at the end of camp regardless of handedness. Nuno has gotten results everywhere he's pitched but his lack of a big league put away pitch is a negative — he threw 314 pitches with the Yankees last summer and batters swung and missed only 20 times, a well-below-average 6.4%. It's not a big sample but it backs up the scouting report.
Whether he wins or loses the fifth starter job, we're going to see Nuno in the big leagues at some point in 2014. I'm certain of that. Sixth and seventh starters will be needed — last time the Yankees went a full season with fewer than seven pitchers making at least two starts was 2003, and the last time before that was 1971 — and even if they aren't, he could always wind up in a bullpen role. Second lefty, middle reliever, long man, you name it. Nuno doesn't have a big ceiling but he will get another chance to help the team this year.
David Phelps
A few days ago, Joe Girardi confirmed Phelps will make the team in some capacity. If he doesn't win the fifth starter spot he'll go to the bullpen and perhaps be a one-inning setup reliever rather than a long man. The 27-year-old has done a little of everything in his relatively short MLB career, making 23 starts and 32 relief appearances these last two seasons. As you'd expect, he's been better in relief:
| | Innings | ERA | FIP | K% | BB% | HR/FB | GB% | Opp. wOBA |
| --- | --- | --- | --- | --- | --- | --- | --- | --- |
| as SP | 123.0 | 4.39 | 4.15 | 20.4% | 9.0% | 10.7% | 42.7% | 0.323 |
| as RP | 63.1 | 3.55 | 3.95 | 25.6% | 9.8% | 12.9% | 42.7% | 0.298 |
Phelps did not pitch well as a starter last season (4.93 ERA in 65.2 innings) but he also missed more than two months with a forearm strain and subsequent setback, an injury that may have impacted his performance. His strikeout, walk, and ground ball rates all held steady from 2012-13, though his homer rate did drop from 1.26 HR/9 (13.6% HR/FB) two years ago to 0.83 HR/9 (8.9% HR/FB) last year, so there was some improvement in his game despite the inflated ERA.
Because he's bounced back and forth between the rotation and bullpen, Phelps is still something of an unknown heading into 2014. He's never been a starter for more than two months with the Yankees and we don't know how well he'll hold up starting every fifth day over a full season. Obviously he's done it in the minors, but doing it in the big leagues is a little different. Phelps not only has the most MLB experience of the fifth starter candidates, I also think he is most likely to pitch well in whatever role he's given. Will he be an ace or a shutdown reliever? No, probably not. But there's value in being solid and reliable.
Michael Pineda
If you gave the Yankees — everyone from ownership to the front office to the coaching staff — a truth serum, I'm guessing they would all say they're hoping Pineda grabs that last rotation spot and runs away with it in camp. The team has spent the last two years waiting patiently as the 25-year-old right-hander rehabbed from shoulder surgery and it finally looks like they will get some return from a trade that hasn't worked out for either side thus far.
Of course, missing two years following major shoulder surgery makes Pineda a total unknown coming into this season. Sure, he did throw 40.2 innings across three minor league levels last summer, but those were rehab innings and they don't really tell us anything useful. Early reports say Pineda has looked strong during bullpens and live batting practice session in camp but it's bullpens and live batting practice. Take that information to heart at your own risk.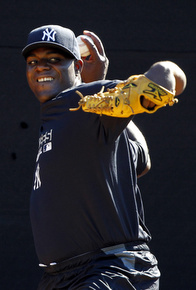 I think it's important to remember that before the injury, Pineda was not a finished product. He didn't have much of a changeup and he was very fly ball prone, which made him a questionable fit for Yankee Stadium. I highly doubt he developed a third pitch and became a ground ball guy during his rehab, but stranger things have happened. Pineda was a bit of a project at the time of the trade but now he's a project coming off a major arm injury.
A healthy Michael Pineda can be a very good pitcher but the Yankees have not yet seen a healthy Michael Pineda in their uniform. If he impresses and wins a rotation spot in camp, great. It wouldn't be the worst thing in the world if the team went in another direction either, going with someone who isn't as much of a wildcard while Pineda gets back into the groove of starting every five days in Triple-A, where results don't matter. Either way, barring another injury or setback, I suspect we'll finally see him pitch for the Yankees at some point this summer.
Adam Warren
Of the four fifth starter candidates, Warren was the only one to make it through last season healthy. He really seemed to carve out a niche in long relief, pitching to a 3.39 ERA (4.32 FIP) in 77 total innings. Girardi used Warren as a one-inning setup man for a bit in September while David Robertson and Shawn Kelley were banged up, and he also made an impressive spot start (five scoreless innings on two days' rest) in Game 161. Whenever the bell rang, he answered the call.
Warren, 26, was a starter his entire career up until last season. He threw all five of his pitches (four-seamer, two-seamer, slider, curveball, changeup) at least 11% of the time in 2013, so he won't have to put extra work in this spring to regain feel for one of those offerings. Left-handed batters destroyed Warren last year (.387 wOBA and 5.13 FIP) and if that continues, his days as a starter won't last long. It's a big negative.
I think Warren is very similar to Phelps in that we don't really know what he can do starting every five days in the big leagues, but the general sense is that he will help the team in some capacity. In fact, Girardi already confirmed he will be on the Opening Day roster, either as a starter or reliever. Warren might not be an impact starter but I've always liked him and thought he could be a very good short reliever. He's going to play a role this year, that much is certain, it's just unclear what role that ultimately will be.
* * *
The Yankees have all but confirmed Manny Banuelos will open the season in the minors, which makes sense after missing close to two full years with elbow problems. The 22-year-old still had to iron out some command issues before the injury and I assume that is still the case. Easing him back into things in an environment where wins and losses don't matter seems best for his long-term development.
There are no other realistic fifth starter candidates other than the four guys above. The smart money is on all four pitching (if not starting) for the Yankees at some point this season, though they aren't created equal. Pineda has the largest upside but he is also the biggest unknown because of his injury. Nuno seems to have the lowest upside of the bunch but he's also the only lefty. Phelps and Warren are safe bets to be solid in some role yet we really don't know what they can as full-time starters.
Remember, Spring Training competitions don't end on Opening Day. Whoever wins the fifth starter's spot in camp will have to pitch well in the regular season to keep the job. The Yankees have enough rotation depth that they can quickly pull the plug and try another pitcher if the guy who wins the final rotation spot doesn't work out right away.