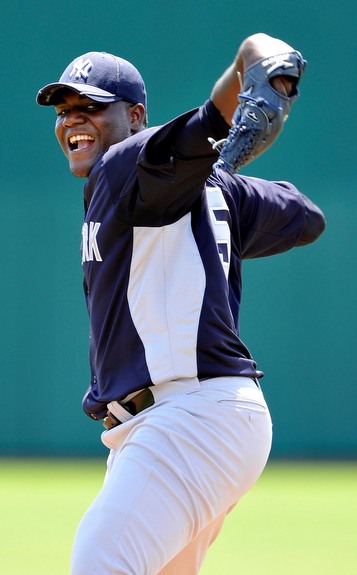 When pitchers and catchers report to Spring Training on Friday, the Yankees will have more than a few jobs up for grabs. The last bench spot is up in the air, ditto about four bullpen spots. The fifth starter's spot is wide open as well, since the team opted to go internal rather than add a low-cost veteran like … I dunno. Paul Maholm or Jason Hammel, I guess. David Phelps is among those who will compete for that last rotation spot these next few weeks.
"It's good to have somebody pushing you," said Phelps to Anthony McCarron last week. "We're not going to root against each other, because if we all do well, our team does better … I would obviously love to be a starter. I think I'm capable. I just have to go out and show what I'm capable of. If it's not that, I don't have a problem pitching out of the bullpen. But at the same time, I do want to start. It's what I've done my whole career up until the last couple years."
Adam Warren, who was solid as the team's swingman last summer, will also be in that fifth starter's competition. So will Vidal Nuno, who has the least big league experience of the candidates but is also left-handed, and lefty starters are always nice to have given Yankee Stadium's short right field. Barring some suprise late additions, Michael Pineda will be the fourth and only other starter competing for a spot in camp, nearly two full years after having surgery to repair a torn labrum.
"I don't know what we are going to get from him, but we have hope," said Brian Cashman to Kevin Kernan last week, talking about Pineda. "This just has to play itself out. He has to perform April through September, and it has to be in New York and not in Trenton. The reports are good now, but he has to continue to progress and do it in a Major League setting. We certainly would love to get him back."
The Yankees have held some rigged Spring Training competitions in the past (fifth starter in 2010, catcher in 2013) but I honestly don't think anyone has a leg up in this year's rotation race. Phelps has the most big league experience of the bunch but he's only been in the league two seasons. Pineda was an All-Star in 2011 but he hasn't thrown an MLB pitch in two years now. Nuno is a finesse lefty without a big league out pitch and Warren really seemed to find a niche in the bullpen last summer. Any of those four guys could walk away with the job and I wouldn't be surprised. For what it's worth, ZiPS doesn't see much of a difference between these guys anyway:
| | Projected K/BB | Projected ERA | Projected FIP |
| --- | --- | --- | --- |
| Nuno | 2.76 | 5.20 | 5.24 |
| Phelps | 2.41 | 4.54 | 4.56 |
| Pineda | 2.48 | 4.65 | 4.65 |
| Warren | 1.98 | 4.64 | 4.74 |
Projections don't really mean much of anything, though I do think the ZiPS numbers do a good job of showing just how tight this race is. There is no obvious favorite for the fifth starter spot given what he know right now and that makes it kinda fun in my opinion. Rigged competitions ruin the surprise.
Now, that said, would it be better for the Yankees if Pineda shows up to camp and looks like the guy he was with the Mariners before the trade? Absolutely. With all due respect to the other three rotation candidates, Pineda has (by far) the highest ceiling of the bunch and a strong rebound from shoulder surgery would be an amazingly positive development for both the 2014 Yankees as well as the 2015-17 teams. He is the only pitcher in history to post a 9+ K/9 with a sub-3 BB/9 in his rookie season, so his ability to control the strike zone while missing bats is especially rare.
The other three fifth starter candidates all have the ability to help at the big league level — they all have already, to some degree — but I think we can all agree none of those guys offers the impact potential of Pineda. That potential may have disappeared with the shoulder surgery, we won't know what he can do until he gets out there, but Spring Training should give us a decent idea of what he is capable of nearly two years removed from the procedure. There is no clear favorite for that last rotation spot, but the no doubt best case scenario is Pineda showing up to camp and looking like the guy he was before the shoulder surgery.