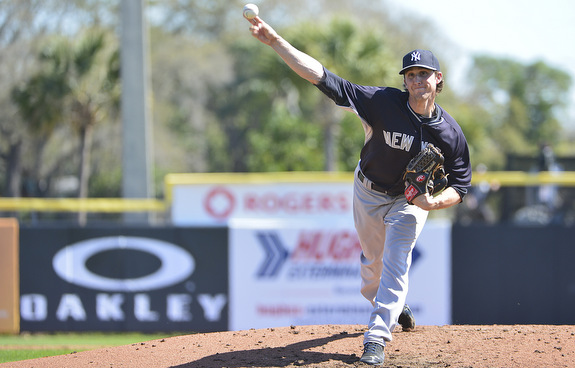 Last season was not a good one for the Yankees' farm system, and the team has admitted as much in recent weeks. That doesn't happen often. Usually clubs will say their system is underrated and all that stuff. The Yankees made some non-personnel changes to their player development system over the winter in an effort to get things back on track, though we're going to have to wait to if those changes actually work.
That said, the Yankees' system is unique because it has the potential to get a lot better in 2014. The team is adding what amounts to five first round talents to the organization in 3B Eric Jagielo, OF Aaron Judge, LHP Ian Clarkin (2013's three first rounders), RHP Ty Hensley (2012's first rounder), and LHP Manny Banuelos. The first three guys are entering their first full year of professional baseball while Hensley (hip) and Banuelos (elbow) are returning from injury. That's a lot of talent that was not available for most of last summer.
I think we all know who the obvious breakout prospects are. It wouldn't be much of a surprise if Judge or OF Mason Williams or C Gary Sanchez took big steps forward and became top 100 type of prospects. The smaller, unexpected breakouts are the ones that will really help the farm system going forward. Think RHP Shane Greene and C John Ryan Murphy, for example. They were interesting guys who improved and took that big step forward last summer. Who will be this year's Greene or Murphy? Here are some candidates.
OF Jake Cave
Cave, 21, was the team's sixth round pick in the 2011 draft, though he missed all of 2012 with a fractured kneecap. He joined Low-A Charleston in mid-April last year and was the team's best non-1B Greg Bird player, hitting .282/.347/.401 (117 wRC+) with two homers, 18 steals, and a whopping 37 doubles in a tough hitter's park. The knee, obviously, is fine.
Cave's breakout potential is built on his all-around game and innate ability to barrel up the ball with his left-handed swing. He's cut from the OF Slade Heathcott cloth in that he plays very hard — he hurt his knee in a home plate collision — though he is not out of control, and his makeup and work ethic are considered pluses. Cave is really starting to fill out his 6-foot-0 and 180 lb. frame, so some of those doubles could start clearing the fence for homers. I wouldn't necessarily say he has a chance to become a top prospect, but a strong year at High-A and continued improvement will definitely get him a prominent place on the map.
SS Cito Culver
The Yankees caught a lot of heat for making Culver their first round pick in 2010 and he really hasn't done anything to justify the selection yet. He struggled so much with the River Dogs in 2012 (75 wRC+) that he decided to stop switch-hitting — Culver made the decision himself and the team went along — sticking to the right side of the plate even though his numbers were better as a left-handed hitter (.642 OPS vs. .508 OPS in 2012). The result: an improved though still not great .248/.322/.362 (100 wRC+) batting line split between Low-A Charleston and High-A Tampa in 2013.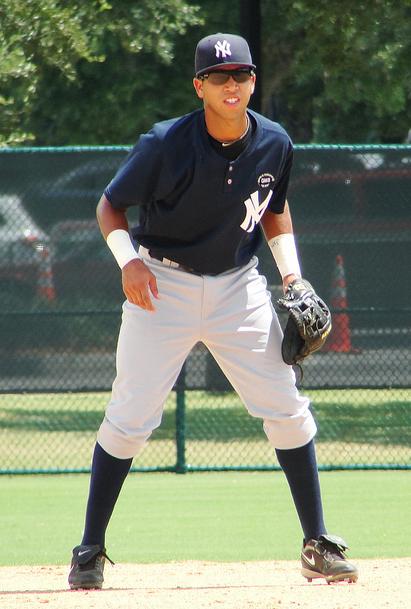 So why is Culver a breakout candidate despite three years of impressive performance? Two reasons. One, he now has a full year of being a right-handed hitter exclusively under his belt. Dropping switch-hitting is easier said than done. Remember, he'd never seen a breaking ball that moves away from him until last season. Two, his age. Culver was drafted at 17 and he will spend almost the entire 2014 minor league season at age 21. He's several months younger than Jagielo and Judge even though he's about to entire his fifth pro season and fourth full season.
Is Culver ever going to live up being the 32nd overall pick in the country? Almost certainly not. Is there some hope he may not be a total lost cause? Yes. His defense at shortstop is still solid and that's pretty big. Scrapping switch-hitting and focusing on the stronger side has already helped his offense and could help even more as he gets comfortable. The bar at shortstop is so impossibly low these days that, even with an 80-85 wRC+, Culver can be league average at the position because of his defense. The decision to stop switch-hitting has kept his career alive.
RHP Brady Lail
I did not rank Lail as one of the organization's top 30 prospects last month, but he was among the final cuts. I think he might be the most unheralded potentially great prospect in the system. The 20-year-old from Utah was the team's 18th round pick in 2012, and last year he pitched to a 2.33 ERA (1.64 FIP) with 51 strikeouts, five walks, and zero homers allowed in 54 innings down in the Rookie Gulf Coast League. He was even trusted to make two emergency appearances for High-A Tampa (that were disasters).
Lail's fastball sat in the upper-80s when he was drafted but that has ticked up into the low-90s thanks to pro instruction and workouts, and his changeup is improved as well. The pitch was already advanced for a high schooler when he was drafted. His go-to pitch is bat-missing curveball with big break. At 6-foot-2 and 175 lbs., Lail was a classic projection pick who the team hopes will get better and better and he fills out and gains more experience. What sets him apart is his three-pitch mix and his ability to throw strikes, a combination that a) overwhelmed rookie ball hitters, and b) isn't all that common among pitchers from cold weather states.
RHP Bryan Mitchell
I'm pretty sure I'm going to continue listing Mitchell as a possible breakout prospect every year until he either breaks out or flames out. It feels like the 22-year-old has had the same statistical season every year since being drafted in 16th round of the 2009 draft, but he did cut his walk rate from 13.6% in 2012 to 9.0% in 2013. It's a sign of progress and I'll take it.
Mitchell's breakout potential stems from his fastball-curveball combination, which might be the best two-pitch mix in the organization. His heater sits in the mid-90s and will touch 97 while the curveball is a low-80s hammer, rivaled only by David Robertson's in the entire organization. Can he ever put it all together by throwing strikes with his fastball and getting the curveball down and out of the zone for consistent swings and misses? I hope so. As I said earlier, Mitchell is a breakout candidate until either breaks out of flames out. The stuff is simply too good.
* * *
More than anything, the Yankees need their current top prospects to perform like top prospects. Heathcott, Banuelos, Hensley, and OF Tyler Austin have to stay healthy. Jagielo, Clarkin, Judge, 2B Gosuke Katoh, SS Abi Avelino, RHP Luis Severino, and 3B Miguel Andujar have to have strong years in their first full pro season this summer. Will all of that happen? No, of course not. Most of those guys will flame out. But if a few of them can make some progress in 2014 while someone like Cave and/or Lail breaks out, the system will be much better off next spring than it is right now.