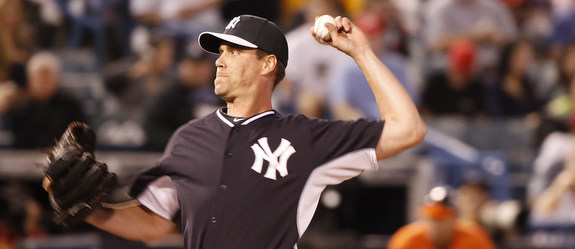 Remember back when the Yankees struggled to find a reliable setup man once Mike Stanton and Jeff Nelson skipped town? They spent a ton of money on guys like Steve Karsay and Kyle Farnsworth over the years — in fairness, both of them had their moments — but it wasn't until David Robertson emerged three years ago that they had a consistently dominant eighth inning guy ahead of Mariano Rivera.
Mo retired after last season and Robertson will take over ninth inning duties, meaning the setup role is again something of a question. Joe Girardi has indicated he won't necessarily have a designated eighth inning guy in 2014, instead relying on platoon matchups to get the ball to his new closer. While these things are always subject to change, two veterans who throw with different arms figure to share setup duties at the start of the season.
RHP Shawn Kelley
Kelley was a nice little find for the Yankees a year ago. They acquired him in a minor trade with the Mariners just as Spring Training started and he gave the team 53.1 innings of 4.39 ERA (3.63 FIP) ball. An ugly April and an ugly September were sandwiched around three excellent months as Kelley pitched to a 2.50 ERA (2.42 FIP) in 39.2 innings from May 1st through August 31st. During that time, he struck out 51 of 162 batters faced (31.5%).
The Yankees unlocked the 29-year-old's strikeout potential with a tried and true formula: get ahead in the count and bury hitters with a wipeout slider. Out of the 125 relievers to throw at least 50 innings last season, Kelley ranked fifth in slider percentage (49.4%) and 16th in first pitch strike percentage (65.6%). Simple, right? Get ahead in the count and go to the slider. That helped him hold right-handed hitters to a .225/.290/.417 (.308 wOBA) batting line with a 32.8% strikeout rate.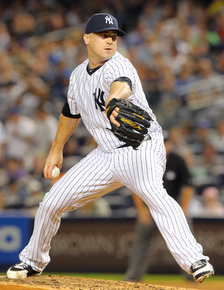 Kelley is not without his warts, however. Left-handed hitters knocked him around a bit (.329 wOBA) and, perhaps more importantly, he is very fly ball and homer prone. His 33.1% ground ball rate last summer was the 17th lowest among those 125 relievers with at least 50 innings, and when you give up fly balls, you're going to give up homers. That's just the way it is. Kelley allowed eight dingers in his 53.1 innings (1.35 HR/9 and 13.1% HR/FB), and the scary thing is that only two came in Yankee Stadium. His homer rate might go up in 2014.
That propensity to give up the long ball is what scares me most about Kelley pitching high leverage innings. I won't go as far as saying it will be like watching 2011-13 Phil Hughes, when every pitch feels like he was walking on egg shells, but it won't be too far off. Kelley earned the opportunity to be the setup man with last year's performance and because he both pounds the zone and misses a ton of bats, two things that tend to make pitchers very successful. That potential for the ill-timed homer is always going to be in the back of my mind though.
LHP Matt Thornton
Boone Logan gave the Yankees three and a half very nice years — he got way more crap than he deserved and I'm guilty of handing some of it out — and those years earned him a fat three-year contract with the Rockies this offseason. New York signed Thornton to a two-year contract worth $7M to take over as Girardi's primary left-hander out of the bullpen. He went from the White Sox to the Red Sox last year but was left off Boston's postseason roster because of a lingering oblique problem.
Thornton, 37, was once one of the very best relievers in baseball, regardless of handedness. He posted a 2.84 ERA (2.50 FIP) with a 29.1% strikeout rate from 2008-11, and he didn't have much of a platoon split either — lefties had a .247 wOBA while righties had a .267 wOBA. Thornton's overall effectiveness has slipped in recent years, not coincidentally as his trademark fastball started to lose some juice:
| | ERA | FIP | K% | HR/FB% | FB velocity | RHB wOBA | LHB wOBA |
| --- | --- | --- | --- | --- | --- | --- | --- |
| 2010 | 2.67 | 2.14 | 33.9% | 6.0% | 96.1 | .254 | .224 |
| 2011 | 3.32 | 2.62 | 24.1% | 6.5% | 95.8 | .291 | .274 |
| 2012 | 3.46 | 3.19 | 19.9% | 8.3% | 95.0 | .302 | .291 |
| 2013 | 3.74 | 4.04 | 16.0% | 9.8% | 94.3 | .370 | .280 |
Thornton's game has clearly slipped over the years but he remains a viable matchup left-hander, which is what the Yankees signed him to be. At least that's what I hope. Asking Thornton to consistently get righties out at this point of his career is not a good idea, not with his fastball shortening up and not even with Yankee Stadium's left-center field death valley behind him. He's a straight matchup lefty right now. As long as Girardi uses him properly, he should be fine.
* * *
Both Kelley and Thornton have been in the league a while now and both have experience pitching in the later innings (Thornton moreso), so it makes sense to have them share setup duties based on platoon matchups at the start of the season. The bullpen is ever-changing though, and chances are the setup crew at the start of the year will be different from the setup crew come September (and hopefully October). I'm not hating on Kelley and Thornton when I say that, it's just that bullpens are known for turnover.