Depending on what happens with the fifth starter spot, the Yankees have either two or three bullpen spots up for grabs in camp. There are something like eight or nine relievers competing for those spots, though some obviously have a better chance than others. Dellin Betances and Cesar Cabral, both of whom pitched with the team last September, have already emerged as the early favorites for big league jobs just two weeks into the Grapefruit League schedule.
Betances, who turns 26 in less than two weeks, continued his strong spring yesterday by pitching around a one out double in an inning of work. He didn't just pitch around the double, he did it by throwing six straight curveballs to big leaguers Matt Joyce (strikeout) and Wil Myers (ground out). That's not something Betances would have been able to do in the past. Emphasizing his offspeed stuff is something he's been working on this spring.
"I feel good right now. I feel good with where my offspeed is. I feel like I can throw it for strikes. It's been working for me. I'm just trying to better myself with each outing," said Betances to Bryan Hoch. "I know my offspeed was one of the things that helped me out when I got in trouble with my fastball. I would try to use that to keep myself a little calm with my mechanics. I just tried to take that into this spring, mix my pitches. In the big leagues, everybody can hit fastballs, no matter how hard you throw. I'm just trying to use all my pitches the best way I can."
Betances is up to 6.1 scoreless innings in camp, striking out five against two walks and two hits. The opponent quality stat at Baseball Reference says he's been facing mostly big leaguers, which isn't surprising. He's been the first guy out of the bullpen in most games. Betances has the size and power stuff the Yankees love, so maybe a roster spot was his to lose coming to camp following last season's bullpen breakout. If it was, he's done nothing to lose the spot. If it wasn't, he's pushed himself towards the top of the depth chart.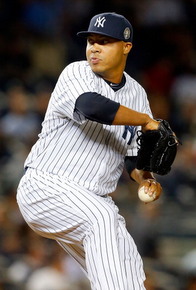 With Cabral, on the other hand, it always felt like he was on the outside of the bullpen competition looking in. At least it did to me. Carrying a second lefty specialist is a luxury, and with Matt Thornton already on board to be the primary guy, passing on Cabral to take a more versatile right-hander makes some sense. It still does, actually. Then again, the best pitchers are the best pitchers, and if another southpaw is one of the seven best relievers in the organization, he should be on the roster come Opening Day.
In 4.1 innings across four appearances this spring, the just-turned-25-year-old Cabral has allowed one hit and two walks, striking out four. Lefties are 0-for-4 with three strikeouts and a walk against him. Cabral has not faced the best competition however, basically Double-A level according to that opponent quality metric at B-Ref. He can only face the guys he's put out there against though, and if he keeps getting outs and handling lefties, he'll get a longer look and more serious consideration as camp progresses.
So far, after only a handful of Grapefruit League appearances, both Betances and Cabral have done everything they've needed to do to secure a big league bullpen job. Neither guy has a spot locked up of course, but they have moved to the front of the pack. Preston Claiborne, Matt Daley, and Fred Lewis have pitched well too, so they're not alone, but others like Robert Coello and Brian Gordon have already managed to pitch themselves out of bullpen consideration. Both Betances and Cabral have made a nice little statement early on and put themselves in good position for a big league job when roster decision time comes.