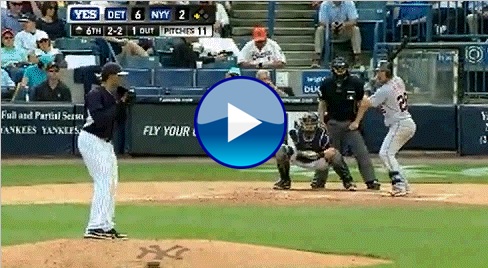 Right-hander Jose Campos, the Yankees' 15th best prospect, made his spring debut against the Tigers on Wednesday afternoon after being brought along slowly earlier in camp. The 21-year-old pitched around a leadoff double in his inning of work, striking out one and getting both a ground ball out and a fly out.
By my unofficial count, Campos threw eight of his 15 pitches were strikes. His fastball sat anywhere from 89-93 mph on the YES Network gun and he only threw a handful of sliders and changeups. I'd say fewer than five non-fastballs total. It was a short look but Campos was solid. Better than Manny Banuelos in his spring debut, that's for sure.
This wasn't the most GIF-able outing, but there are two more after the jump if you're interested. You have to mouse over each GIF to get it to animate now, as you can see. If that isn't working for whatever reason (new feature, working out the bugs, etc.), here are each of the three GIFs: one, two, three.