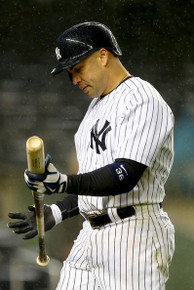 Just last week, the Yankees scored 45 runs on a seven-game road trip through Tampa and Boston, scoring at least five runs in five of the seven games. The rebuilt lineup started the season slowly but that wasn't going to last forever. The Yankees were getting on base, smacking homers, stealing bases, coming up with timely walks, hitting good pitching (14 runs in 9.2 innings against Jon Lester and David Price), and hitting bad pitching (11 runs in 6.1 innings against Erik Bedard and Felix Doubront). It was great.
The first four games of this homestand have not gone as well. The Bombers scored eight total runs in three games against the Angels over the weekend (still won two of three!) and last night they were shut down by whatever's left of Chris Young's career. Two of their last four runs have scored because of defensive miscues — Nick Maronde wild pitch, Mike Zunino throwing error — so they've needed some help getting on the board these last two games. It's annoying but every team goes through (multiple) stretches like this each year.
The Yankees haven't been scoring lately simply because the top half of the lineup is in a collective funk. Here is what they've done over the last seven days, which includes that 14-5 beatdown of the Red Sox:
No. 1 Hitter Jacoby Ellsbury: 4-for-20 (.200), two walks (.273 OBP)
No. 2 Hitter Derek Jeter: 5-for-24 (.208), two walks (.269 OBP)
No. 3 Hitter Carlos Beltran: 4-for-24 (.167), two walks (.259 OBP)
No. 4 Hitter Alfonso Soriano: 4-for-23 (.174), one walk (.192 OBP)
No. 5 Hitter Brian McCann: 2-for-20 (.100), one walk (.182 OBP)
The fivesome has combined for seven extra-base hits during that time, all doubles. Obviously some parts have been mixed in the last few days (Brett Gardner leading off yesterday, for example), but that has been the team's most used one through five lineup combination so far this season according to Baseball Reference. You're not going to score many runs when your top five hitters do that. Guys like Brian Roberts, Mark Teixeira, and Yangervis Solarte are not going to carry a lineup all by themselves.
McCann had a good 6-7 game stretch a few weeks ago but otherwise he has not hit this year and it's starting to get annoying. He isn't striking out much — his 13.3% strikeout rate is well below the league average and his lowest rate in seven years — but he also isn't walking much either (4.4%). Considering he walked in 9.7% of his plate appearances last year and in 9.4% for his career, I don't think this will last. McCann is being victimized by the fourth highest infield pop-up rate (9.6%) among baseball's 193 qualified hitters, which is by far a career high. Pop-ups are basically automatic outs. It seems like McCann is juuust missing and popping up some pitches he should be creaming. Since he isn't struggling to make contact and his ground ball rate hasn't spiked like it does for most players when they start to lose bat speed (his grounder rate has actually dropped this year), it seems like it's only a matter of time before he breaks out.
Ellsbury and Beltran were hitting earlier this season, quite a bit too. They just hit the skids recently. It happens. Perhaps Ellsbury's sore hand explains his slump, who knows. Soriano has long been one of the streakiest hitters in baseball, we all know this from his first stint in pinstripes, and right now he's not hitting. A few weeks ago he was, also quite a bit. Jeter … I don't really know what to expect from him going forward. He isn't hitting for any power whatsoever but his overall .352 OBP is more than respectable. I'd be happy if he maintains that all season at his age and after all those injuries. Baseball is hard enough as it is. It's extra hard for a soon-to-be 40-year-old coming off some serious leg problems.
When the Yankees struggled to score at the start of the season, I said it was way too early to worry and it was. They started hitting a day or two later. The same is true now. The top half of the lineup has stunk for a week now and the team has struggled to score runs on the homestand, but it is only a handful of games. McCann is the only one of these guys who hasn't hit much all season but it's not like the Yankees will bench him. That's be pretty silly. They just need to work through it. Otherwise Ellsbury, Jeter, Beltran, and Soriano have just stopped hitting at the same time. It stinks but it won't last forever. It's just baseball.