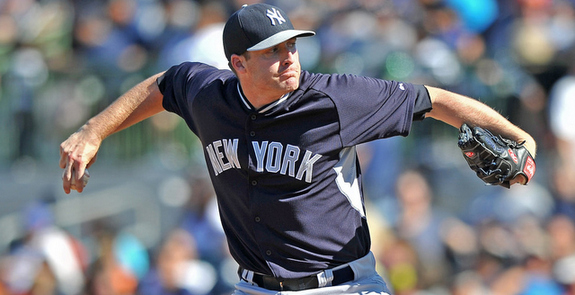 It's only Mid-May, but the Yankees have already used seven different starters — all of them have made multiple starts too — this season. They will use their eighth starter tonight, when right-hander Chase Whitley makes his big league debut in the Subway Series finale. It remains to be seen how the Yankees will make room for him on the 40-man roster (Bruce Billings to the 60-day DL?), but Joe Girardi already confirmed he will get the start. It'll happen somehow.
If you had told me about a year ago the 24-year-old Whitley would make his Major League debut as a starting pitching pitcher, I would have thought you were nuts. He was a reliever all through college — Whitley was actually more highly regarded as a hitter at Southern Union State Community College before focusing on pitching full-time during his junior season at Troy — and 135 of his first 138 pro appearances came as a reliever. The three starts were just spot starts in doubleheaders, nothing fancy.
Whitley made five starts for Triple-A Scranton at the end of last season out of necessity; they simply had no one else to start due to injuries and call-ups late in the year. He managed a 1.64 ERA with 18 strikeouts and five walks in 22 innings in those five starts, and impressed enough that the Yankees gave him another chance to start in 2014. In six starts this year, Whitley has a 1.61 ERA with 28 strikeouts and six walks in 22.1 innings. That put him on the map for a call up.
The move into the rotation worked (at least so far) because Whitley was not your typical bullpen prospect. Guys like Mark Montgomery and Danny Burawa are two-pitch pitchers with nasty breaking balls. That's not Whitley. I ranked him as the team's 25th best prospect before last season and here's part of what I wrote:
A three-pitch reliever who isn't a blow-you-away type, Whitley lives in the low-90s with his fastball and backs it up with both a slider and changeup. His control is fine and his delivery creates some deception. He doesn't offer the same kind of exciting, shutdown reliever potential as some other players on this list, but Whitley is a big and physical — listed at 6-foot-3 and 215 lbs. — right-hander who throws strikes  and works both sides of the plate. He'll pitch in the big leagues at some point as long as he stays healthy, possibly before the All-Star break.
My timetable was off, but hey, Whitley is a big leaguer. Baseball America ranked him as the club's 29th best prospect before the 2012 season and said "both his changeup and slider are plus pitches at their best" in their Prospect Handbook. Whitley has a weapon for righties (slider) and a weapon for lefties (changeup), plus there's a little funk in his delivery. (He pitches from the stretch exclusively from what I understand.) Here's some video from earlier this month in which you can see all three pitches in action:
Because he's only been a starter for a few months, it's really tough to know what to expect out of Whitley tonight. There's no track record. I thought he was going to be a good middle reliever and now he's in the rotation. It's weird. Whitley was passed over in the Rule 5 Draft this past offseason, which is an indication of how the rest of the league views him. If he succeeds as a starter, even temporarily, it will be quite an accomplishment on his part and a big developmental win for the Yankees. We're talking about a former 15th round pick here.
Yesterday we learned CC Sabathia has a "degenerative change" in his twice surgically repaired right knee and I don't know what that means, but I know it sounds scary. He could be out longer than the minimum 15 days. Vidal Nuno has gotten roughed up in three of his five starts (and four of his last six appearances overall) and David Phelps has had one good start and one bad start so far. Hiroki Kuroda's been inconsistent at best and very ineffective at worst. The non-Masahiro Tanaka portion of the rotation is a mess right now.
That mess of a rotation is the opportunity of a lifetime for Whitley. The bar has been set quite low and he won't have to do much to stick with the big league team. A good start tonight means he'll get another one, almost guaranteed, and stringing a few good starts together means he'll stick around for a while, even if it is only as a long reliever. The pitching staff is the land of opportunity right now. Whitley was in his third straight year at Triple-A and facing a stalled out career a few days ago. Now he has a change to help the Yankees win games and help himself secure a big league roster spot.