No matter how long the losing streak gets and no matter how much the other starters get knocked around, every fifth day there is Masahiro Tanaka to make things right. The Yankees ace chucked his first career MLB shutout on Wednesday night, carrying his team to a 4-0 win over the Mets. It was their first Subway Series win since 2012. I'm taking about an individual game, not the whole season series.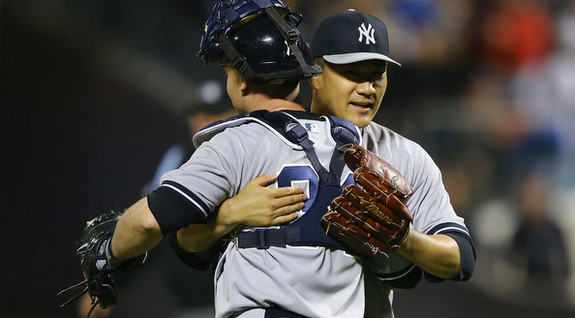 Total Domination
The Yankees have won five games in the month of May and Tanaka has been on the mound for three of them. He was in total control on Wednesday, basically playing a game of catch with catcher Brian McCann and having his way with opposing hitters all night. Tanaka allowed three singles and one double in his nine scoreless innings, striking out eight and generating 22 swings and misses out of 114 low-stress pitches. He face the minimum three hitters in six of nine innings and only faced four batters in the other three innings.
The Mets did not have a runner reach third base against Tanaka and only two made it as far as second. Tanaka threw a first pitch strike to 21 of 30 batters and only went to three three-ball counts all night. By Game Score (87), this was the best pitched game by a Yankees starter since … Tanaka last month. He also had an 87 Game Score in that game against the Cubs (8 IP, 2 H, 0 R, 10 K). Tanaka is the first Yankee with two 87+ Game Scores in a single season since Mike Mussina in 2002. It's only May.
And just because what he did on the mound wasn't enough, Tanaka slapped a ground ball single back up the middle for his first career MLB hit in the ninth inning. You know a pitcher has done his job when he get four at-bats in a game. Tanaka was masterful, putting hitters away with every pitch in his arsenal — he got a swing-and-miss with five different pitches and at least six whiffs with three different pitches (four-seamer, splitter, slider) according to Brooks Baseball — and never once ran into trouble. This guy is in total control when he's on the mound. It's a blast to watch.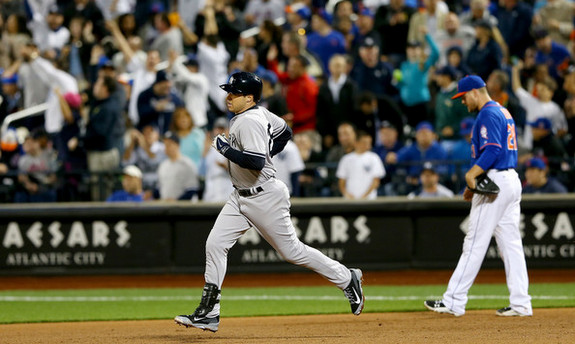 One Run, Four Times
The Yankees built something of a picket fence in the middle innings, scoring one run in each of the second, fourth, sixth, and seventh innings. The first run scored because Mets left fielder Eric Young Jr. made the bone-headed decision to dive for a soft line drive, only to fall short and watch the ball scoot by him for a Brian Roberts triple. Yangervis Solarte drew a walk before that and came around to score. There were two outs in the inning and Tanaka was due to hit. Why in the world is he diving? Whatever.
The second and third runs were pretty straight forward: Solarte jumped all over a 3-1 fastball for his fourth homer — if he starts regularly hitting dingers, oh boy — and Mark Teixeira yanked a 1-0 pitch out into the bullpen for his team-leading eighth homer. Solarte's was a annihilated and he hit it with style too, dropping to one knee a la Adrian Beltre. Here is the requisite GIF: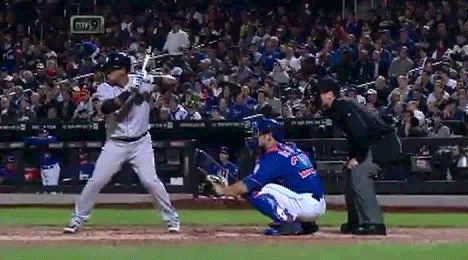 Outstanding.
The Yankees scored their fourth run with two hits that traveled maybe 100 feet combined. Brett Gardner beat out an infield single to second base, stole second, moved to third on a wild pitch, and scored on Derek Jeter's chopper out in front of the plate. The throw pulled first baseman Lucas Duda off the bag and Jeter was safe, which was good because they were two outs in the inning. I wonder if Joe Girardi would have gone to David Robertson in the ninth inning if the score was 3-0 instead of 4-0? I guess we'll never know.
The Yankees had at least one man on base in seven of nine innings and really worked rookie right-hander Rafael Montero hard early on. He threw 69 pitches in the first three innings — at one point he and Tuesday's starter Zack Wheeler had combined to throw 187 pitches to get 22 outs — and wound up throwing 108 pitches in six innings. He faced 25 hitters and had to throw at least four pitches to 14 of them. The Yankees really wore Montero down in his MLB debut. They have now scored at least four runs in each of their last eight games, their longest such streak since doing it in 12 straight back in July 2012.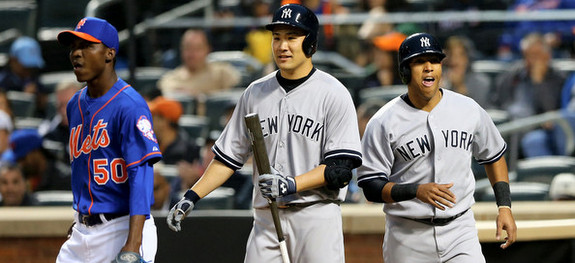 Leftovers
Roberts went 2-for-4 with two triples, the first two-triple game of his career. He was pretty awesome and fast back in the day. I figured he would have had two triples in one game at some point, but I guess not. It's the first two-triple game by a Yankee since Curtis Granderson in 2010. Gardner had two more hits and is 22-for-62 (.355) in his last 16 games. Jeter (single), Teixeira (homer), Solarte (homer), and Tanaka (single) had the other hits while Jacoby Ellsbury and Solarte drew walks.
The daily defensive miscue did not come back to bite the Yankees on Wednesday. In the bottom of the first, as he was trotting out to shallow right field for the shift, Solarte got caught with his back to infield and Daniel Murphy stole second base uncontested. The Mets tried it again in the fifth inning, but Solarte was paying attention and he got to the bag in time to receive the throw and tag out Chris Young.
And finally, Tanaka is pretty awesome. I just needed to say that again. I'm sure you understand.
Box Score, WPA Graph & Standings
For the box score and video highlights, go to MLB.com. For some additional stats, go to FanGraphs. For the updated standings, go to ESPN. The Yankees have lost nine of their last 14 games are still a half-game back of the Orioles for the division lead. The AL East sucks this year.

Source: FanGraphs
Up Next
The Yankees and Mets wrap up the 2014 Subway Series on Thursday night at Citi Field. The starters — Chase Whitley and Jacob deGrom — will both be making their MLB debuts. It will be the first time two starters make their big league debut in one game since September 2010 (Dillon Gee and Yunesky Maya) according to @BRefPlayIndex. Neat. Check out RAB Tickets if you want to catch the game live.