In case you haven't noticed, the AL East is a dumpster fire this season. Here are the standings before we go any further:

Yuck. All five teams are clustered together in mediocrity. Dan Syzmborski posted his updated ZiPS division projections yesterday based on what has already happened this year, and the system has the Blue Jays in last place at 80-82. It also has the other four AL East teams tied for first at 83-79. Keep in mind that's not a prediction of what will happen, it's just an estimate of each team's talent level. Point is, the division is crazy close.
As we've seen the last few weeks, the Yankees are no doubt a flawed team. They need another starting pitcher and another infielder, and another bullpen arm wouldn't hurt either. Playing better defense would help too. More than anything, they need players like Carlos Beltran, Derek Jeter, Brian McCann, and CC Sabathia to improve their performance going forward.
The Yankees are a flawed team and that's okay because the other four AL East teams are flawed too. We've learned a lot these last five weeks. Here's what we know about the division a little more than one month into the season.
BALTIMORE ORIOLES
Overall Batting: 94 wRC+ (17th in MLB) and 4.32 R/G (9th)
Overall Rotation: 4.42 ERA (24th) and 4.32 FIP (25th)
Overall Bullpen: 3.81 ERA (16th) and 4.38 FIP (27th)
Defensive Efficiency: .683 (29th)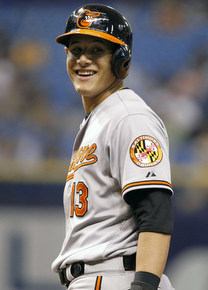 The O's went into the offseason needing a starter and they still need a starter. Ubaldo Jimenez (5.19 ERA and 4.83 FIP) has not worked out so far — turns out making a bunch of starts against the Astros, White Sox, and Twins late last year didn't mean he had turned his career around — and the Miguel Gonzalez (5.28 ERA and 4.86 FIP) magic has finally worn off. Bud Norris, Chris Tillman, and Wei-Yin Chen are solid but nothing more. The middle relief unit is also a mess, though the trio of Tommy Hunter, Zach Britton, and Darren O'Day have been outstanding. The other four guys are the problem. Now that Manny Machado is back and Chris Davis (oblique) will soon come off the DL, Baltimore will out-hit many of their pitching problems this summer. That strategy can work, we saw the Yankees do it from 2005-07. They do lack high on-base players to fully capitalize on their power, however.
BOSTON RED SOX
Overall Batting: 100 wRC+ (13th) and 4.15 R/G (16th)
Overall Rotation: 3.85 ERA (15th) and 3.83 FIP (14th)
Overall Bullpen: 3.14 ERA (9th) and 2.91 FIP (3rd)
Defensive Efficiency: .693 (22nd)
On paper, the Red Sox are the most complete team in the division. They're average or better in every phase of the game, including defensively now that Shane Victorino (hamstring) is off the DL and Jackie Bradley Jr. has replaced Grady Sizemore as the regular center fielder. Bradley and A.J. Pierzynski are the lineup weak spots, Edward Mujica and Craig Breslow the bullpen laggers, and Felix Doubront the rotation drain. Jake Peavy's walk and homer problems suggest he might perform worse going forward as well (3.09 ERA and 5.07 FIP). Otherwise Boston has productive players in just about every roster spot, a deep farm system, and a pretty big wallet. If they need help, they can go out and get almost anyone they want. The Red Sox are not as good as they were last year, nor are they as bad as they were for the first few weeks of this season.
New York Yankees
Overall Batting: 101 wRC+ (12th) and 4.27 R/G (10th)
Overall Rotation: 4.27 ERA (22th) and 3.88 FIP (16th)
Overall Bullpen: 3.91 ERA (19th) and 3.52 FIP (12th)
Defensive Efficiency: .690 (25th)
Outside of Masahiro Tanaka, the Yankees have not had another reliable starter all season. Maybe Hiroki Kuroda will be that guy after his very good start against the Angels earlier this week and maybe Michael Pineda will be another one when he returns from his shoulder muscle problem. The back of the bullpen has been excellent. The lineup is being held back because of several underperformers, specifically Beltran and McCann. The Yankees have a ton of money, it's just a question of how willing ownership is to use it to add players at midseason. The farm system is improving but it still remains to be seen whether other teams want some of their prospects in trades. But you knew all that already.
TAMPA BAY RAYS
Overall Batting: 108 wRC+ (7th) and 4.24 R/G (11th)
Overall Rotation: 4.44 ERA (25th) and 3.76 FIP (11th)
Overall Bullpen: 4.17 ERA (23rd) and 4.23 FIP (22nd)
Defensive Efficiency: .701 (18th)
For the first time in a long time, the Rays have serious pitching problems. Matt Moore is lost for the year with Tommy John surgery, and both Jeremy Hellickson (elbow) and Alex Cobb (oblique) are still weeks away from returning to the rotation. They've been stuck relying on Erik Bedard, Jake Odorizzi, and Cesar Ramos to make starts. Those guys wouldn't be anywhere near their pitching staff the last couple of seasons. The offense is fine but the bullpen is weak because it's been worked hard thanks to the shaky rotation, though replacing Heath Bell with Brad Boxberger will help somewhat. Unlike the other teams in the division, Tampa doesn't really have the financial wherewithal (or the prospects, at this point) to go out and make a trade to improve their weakness. They're just trying to get by until Hellickson and Cobb return, hoping they'll be the difference makers.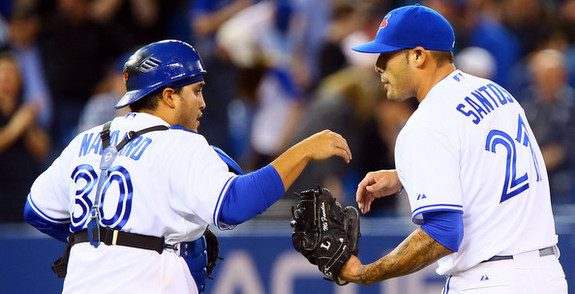 TORONTO BLUE JAYS
Overall Batting: 111 wRC+ (4th) and 4.88 R/G (5th)
Overall Rotation: 4.04 ERA (19th) and 3.75 FIP (10th)
Overall Bullpen: 4.94 ERA (27th) and 4.23 FIP (23rd)
Defensive Efficiency: .692 (24th)
You didn't need the updated ZiPS projections to tell you Toronto is the weakest team in the division. They have a top heavy lineup with several black holes (second and third bases, in particular), one and a half starters (Mark Buehrle and Drew Hutchison, maybe R.A. Dickey on a good day), and a disaster of a bullpen. They gutted the farm system last offseason and are reportedly up against their payroll limit. Money is so tight that several players offered to deferred salary this winter if it helped the team sign then-free agent Ervin Santana. That blows my mind. In a division of flawed teams, the Jays have the most and biggest holes. That doesn't mean they can't make life miserable this season though. They're always a pain.
* * *
The AL East has been the best division in baseball over the last 15 years or so, and I don't even think it was close. At first it was just the Yankees and Red Sox, then the Rays got in on the fun, then two years ago the Orioles started making noise.
Instead of evolving into a division of powerhouses, it's currently a division of mediocrity. It's a collection of good but not great teams right now. The opportunity is there for any one of the five clubs to run away with the division but right now no one seems to want it. A blockbuster trade or unexpected development (like, say, a prospect coming up and having immediate impact) could decide the AL East.