Got seven questions for you this week. Send us anything at anytime through the Submit A Tip box in the sidebar.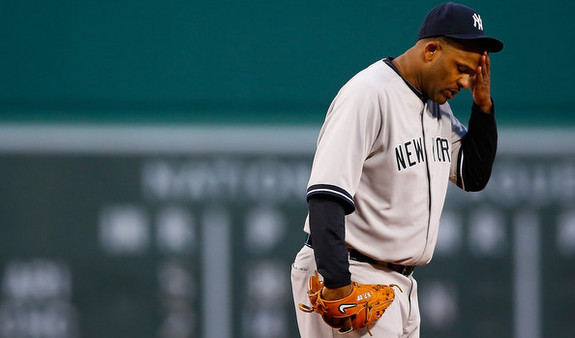 Jerry asks: Just read a quote where Joe Girardi said there is no guarantee CC Sabathia ever comes back, obviously this is an extreme response, but it got me wondering, how does a retirement due to medical issues work as far as the contract is concerned? Does he not retire and continue to collect his check? Negotiate a medical buyout then retire? Are these contracts insured?
Here's the full quote for those who missed it (via Brendan Kuty): "I think there's always that possibility a player may not make it back, but I feel pretty good about he's had done so far and the steps that were taken, and you just kind of keep your fingers crossed."
Anyway, players forfeit the remainder of their contracts if they retire. If Sabathia's knee is bad enough that he can never pitch again, he'll simply sit on the 60-day DL for the next few years and the Yankee will collect whatever insurance they're entitled to based on their policy. I suppose a buyout is possible, but I can't remember there ever being one in MLB.
I remember reading that many times teams won't insure these super-large contracts because the premiums are often higher than the contract itself. The Yankees do have insurance on Mark Teixeira and Alex Rodriguez though — that's based on what we heard after Teixeira's wrist and A-Rod's hip problems — so I'm guessing they have one on Sabathia too. The only player I can recall who retired and walked away from his contract due to injury is Gil Meche, who forfeited roughly $12M a few years ago. I would be stunned if Sabathia did that. It would be stupid. The Yankees knew the risks when they agreed to pay him all that money. He shouldn't let them off the hook out of the kindness of his heart.
Mark asks: Is it fair to say that Peter O'Brien is now the team's second or third best prospect behind Gary Sanchez? Does O'Brien's meteoric rise on this list along with his versatility make him more valuable to the Yanks over the long-term and make it more likely they'll trade Sanchez for some pitching help this summer?
I'm going to post my pre-draft top 30 prospects next Friday and right now I'm on the fence about whether O'Brien is even a top ten prospect in the organization. He's a one-tool guy — granted, that one tool is power, and if you're going to be a one-tool guy, power is the one to have — without a clearly defined position and some concerns about holes in his swing. If he does make the top ten, he'll be in the back half for sure. O'Brien's having a monster season, no doubt about it, but 40 strikeouts and three unintentional walks (!) is a red flag. How usable will that power be at the next level?
I don't think O'Brien's big year makes it any more or less likely the Yankees will trade Sanchez. Or John Ryan Murphy for that matter. If anything, it might make it more likely they trade O'Brien. They obviously don't think he can catch — they wouldn't have tried him at third base last year and in right field this year if they thought he could hack it behind the plate — but some other team might be willing to give him a shot as a catcher. The Yankees will probably trade a catcher for a pitcher this summer because they have a ton of catching depth, not because someone broke out and made someone else expendable.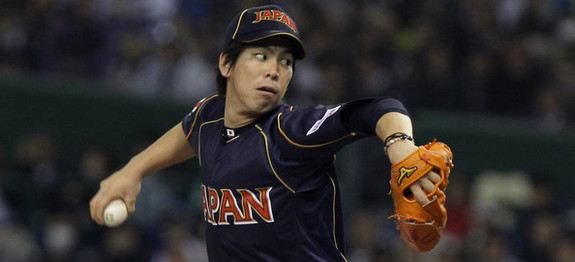 J.R. asks: I know its early but can we get a scouting report on Kenta Maeda? Pitches, etc?
Maeda is the best pitcher in Japan now that Masahiro Tanaka is wearing pinstripes. There was some speculation he would be posted last offseason, but the Hiroshima Carp decided to keep him around for another year. Maeda is expected to be posted this coming offseason but he is not on par with Tanaka or Yu Darvish. It'll be a little while before someone of that caliber comes along. Here's a snippet of a Baseball America (subs. req'd) scouting report from last year:
Maeda doesn't have a plus pitch, but he's shown plus command at his best with the ability to throw all of his pitches for strikes, pitch to both sides of the plate and change hitters' eye levels … Maeda's size (6 feet, 161 pounds) doesn't give him great fastball plane, but his fastball plays up because it has good sink and run and he commands it well. He throws a solid-average slider with short break, a low-70s curveball that he'll use early in the count and an occasional changeup. Some scouts aren't sold on Maeda's stuff playing in the big leagues, but those who like him think he has No. 4 starter potential.
Righties Shohei Otani and Shintaro Fujinami are the early favorites to be the next elite pitching talents to come out of Japan, but they are only 19 and 20 years old, respectively. Long way to go before they're MLB ready and made available via the posting process.
Mike asks: I get it that Pat Venditte doesn't have great stuff, and his main point of interest is that he switch-pitches, but after seven years in the minors with a 2.31 ERA and 376/86 K/BB ratio, isn't it at least worth just seeing if he can do it in AAA? Why not just release him if they believe in him that little?
This question was sent in right before Venditte was promoted to Triple-A Scranton. Teams still need players to fill out their minor league rosters and soak up the playing time left over by the actual prospects, which is why guys like Venditte continue to get jobs even though the team may not believe they're a future big leaguer. No club has a prospect for every roster spot on every minor league affiliate. Organizational players are necessary and somewhat important. That said, Venditte has been nails against left-handers this year (.071/.188/.071 with a 43.8% strikeout rate). With Cesar Cabral and Fred Lewis both pitching poorly and getting demoted to Double-A Trenton recently, Venditte just might be next in line for a call-up if another lefty reliever is needed. Unlikely? Yeah, probably. It's not completely far-fetched though.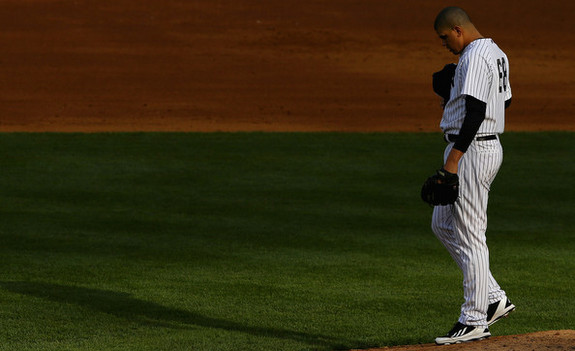 Andrew asks: With Dellin Betances being amazing in his new bullpen role, why not approach him with an extension right now? He's under team control for 6 years I believe, why not offer him 6 years, $10 million? It would give him a big payday now, but also give the Yanks cost certainty as he advances into a more high leverage role.
The Yankees do still have six years of control left over Betances and yes, he has been totally awesome this year. He's also been completely unpredictable throughout his career and I think his flame out potential is lot higher than many either realize or want to admit. There's not much of a difference between him and, say, Daniel Bard. Electric when on but a perpetual risk of falling apart at any moment.
David Robertson will earn approximately $11.2M during his six years of team control, so that six-year, $10M deal is in the ballpark. Relievers don't make much during their years of team control unless they rack up saves, and right now Betances isn't closing. Maybe he'll close next year — don't you just love him as a dominant fireman for the middle innings though? — which would change things. Six years and $10M is a relatively small amount, yet it comes with quite a bit of risk and wouldn't be much of a bargain unless he takes over as closer at some point relatively soon. I'm not a fan of rushing into extensions with non-closing relievers. Their earning power is so relatively small that it's not worth the risk, especially when they have fewer than one year in the show. Maybe after 2015?
Russell asks: After watching Gerrit Cole, I am wondering why he turned down the Yankees. Growing up a Yankees fan, being selected by them and turning them down? I do not understand why.
Cole simply decided to go to college, that's all. Teams knew he would be a tough sign coming into the draft, but the Yankees rolled the dice anyway because they never get a chance to draft that kind of talent. They were prepared to offer him a far-above-slot $4M bonus, but Cole's family is wealthy and money wasn't a big factor, so he went to UCLA. That's life. No player should base a decision like this on their fandom growing up.
Sandy asks: What minor league players must the Yankees protect or could lose to the Rule 5 Draft in December?
General rule of thumb is high school players drafted in 2010 and college players drafted in 2011 (or earlier) will be eligible for this winter's Rule 5 Draft. International prospects are always tough to pin down because the exact dates they signed are often unknown. Based on that, the notables who will be Rule 5 Draft eligible after the season are OF Tyler Austin, RHP Danny Burawa, SS Cito Culver, OF Ben Gamel, 2B Angelo Gumbs, RHP Mark Montgomery, RHP Branden Pinder, and OF Mason Williams.
Of those eight, I think only Austin, Montgomery, and Williams are locks to be added to the 40-man roster and protected from the Rule 5 Draft. Williams hasn't hit a lick in two years, but the Yankees have a tendency to protect their one-time top prospects regardless of whether they would actually stick in MLB for a full season (coughJoseCamposcough). There's a good chance Burawa and/or Montgomery will be called up at some point this season, so they'll likely already be on the 40-man. Culver and Gumbs shouldn't be protected and both Gamel and Pinder are on the fence at best. That's what I think right now, but there are still six months before these decisions have to be made.