Big mailbag this week. Ten questions, so I tried my best to keep the answers short. Use the Submit A Tip box in the sidebar to send us anything and everything at anytime.

Daniel asks: I know the whole spiel about him being a smart, patient hitter with postseason experience and success as a clutch hitter. But, are you honestly at all worried about the way Carlos Beltran has looked thus far? This is year one.
I'm not worried yet, but I would be lying if I said Beltran's age and the potential for a rapid decline wasn't in the back of my mind. His slump can be traced almost exactly to the day he flipped over the wall in Tampa. He went into that game hitting .327/.368/.673 (176 wRC+) in 57 plate appearances, flipped over the wall, sat out a game after having an MRI on his shoulder and wrist (came back clean), and has hit .172/.229/.266 (33 wRC+) in 70 plate appearances since. Maybe the fall fouled him up and his shoulder isn't 100% even though there's no structural damage. At least then we'd have an explanation for the slump. I'm not worried yet but I am monitoring the situation. That's probably the best way to put it.
Uke asks: Assuming the Yankees let Ichiro Suzuki and Alfonso Soriano walk after this season and make Beltran the semi-permanent DH, who could take over the RF AB's? Do Adonis Garcia and Ramon Flores have a role on this team next year?
These are the Yankees, so we can't rule out a free agent signing as Plan A. This offseason's crop of free agent outfielders includes Melky Cabrera, Seth Smith, Colby Rasmus, Norichika Aoki, Nelson Cruz, Michael Cuddyer, and Nate Schierholtz, among others. I don't think re-signing Soriano will be off the table either. Among internal candidates, I would think Zoilo Almonte is first in line for regular playing time. Slade Heathcott and maybe Tyler Austin could be factors if they get healthy, stay healthy, and play well the rest of the season. Flores has been dynamite in Triple-A — it's interesting he's spending time at first base again, they might be letting him get re-familiar with the position before a potential big league role later this year — and he'd be in the mix as well. I'm not really buying Garcia as an MLB option, but that's just my opinion. Because we're talking about the Yankees, I'd bet on those right field at-bats going to player acquired from outside the organization.
Anthony asks: Do you think that the Yankees would ever demote CC Sabathia to the bullpen if he continues to struggle? Mike Mussina, borderline Hall of Famer, was once demoted to the bullpen in an effort to figure stuff out. If Sabathia continues to pitch poorly, is it crazy to think he could be in the bullpen for a week or two?
I do think they would send Sabathia to the bullpen — Mussina got clobbered in three straight starts (20 runs in 9.2 combined) and was sent to the bullpen for exactly one appearance before rejoining the rotation back in late-August/early-September in 2007 — but I don't think they're there yet, not even after last season. For starters, they don't really have anyone to take his rotation spot right now. They'd have to wait until Michael Pineda returns. Sabathia's also four years younger than Moose was in 2007 and I think there's less of a "holy cow he might be done forever" panic. I think we might see him skip a start first, then a stint in the bullpen. Sabathia's made adjustments and has had stretches when he's looked pretty damn good this year (usually four or five innings within a game), but nothing seems to be working.
Shep asks: If you had to pick one player on an MLB roster to be a player-manager, now or in the future, who would it be?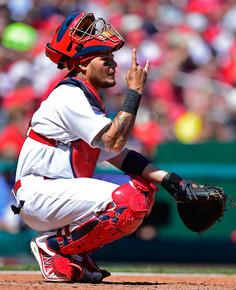 Pete Rose was the last player-manager (1984-86 Reds) and I don't think we'll ever seen another one again. There's too much that goes into managing these days between running Spring Training, keeping tabs on workloads, looking up splits, shift data, the whole nine. Doing all of that and preparing to play seems like too much for one person, even with an excellent coaching staff. That said, if I had to pick someone to do it today, I'd probably go with Yadier Molina. That is based on nothing in particular, he just seems like a good candidate. Justin Verlander maybe? A starting pitcher-manager might work best since he's sitting on the bench doing nothing four out of every five games anyway. I could maybe see the Mets trying it with David Wright. Maybe. Fun to think about.
Kristofer asks: Given both the uncertainty of the 3B position in the years to come and the fact that the Yankees are willing to extend big money to international players still in their 20s, is Jeong Choi a possibility for them this offseason? How does he project?
Choi, 27, was recently dubbed the "David Wright of Korea," and Jon Heyman reported that he intends to come to MLB as a free agent next year. No posting system nonsense or anything, he's a true free agent. Choi is hitting only .268/.343/.383 with three homers in 32 games this season, but it's early and last year he put up a .316/.429/.551 batting line with 28 homers. He's hit along those lines since 2010. Keith Law was on our podcast recently and said he heard the David Wright comparisons aren't accurate at all, and that Choi is more of a utility infielder than anything in MLB. That's just one opinion and it's pretty much all we have on the guy. I do think the Yankees will check in on him just because he plays a position of need, but I would expect them to target a known quantity (Chase Headley, Pablo Sandoval, Hanley Ramirez, etc.) if they're going to drop decent money on help at the hot corner.
Joe asks: Which prospect has come from nowhere to turn heads so far this year?
I don't think the Yankees have had one of those guys this year, someone like 2006 Edwar Ramirez or 2008 Al Aceves, who just showed up in a box score one day and dominated right away. 1B Mike Ford with Low-A Charleston might fit the bill. He was an undrafted free agent out of Princeton and is hitting .327/.400/.475 so far. Maybe RHP Jaron Long, hitting coach Kevin Long's son? He's got a 3.33 ERA (2.61 FIP) with a 20/5 K/BB in 24.1 innings for the River Dogs this year. He'll probably wind up with High-A Tampa later this year after signing as an undrafted free agent out of Ohio State.
nycsportzfan asks: Hey Mike, was wondering what kinda heater Tyler Webb has, and who has more promise between Webb and Dietrich Enns?
Enns, the team's 19th round pick in 2012, had that ridiculous first half with Low-A Charleston last season (0.61 ERA and 1.52 FIP in 44.1 innings) before coming back to Earth in the second half, and he's a low-90s fastball guy with both a curveball and a changeup. Webb has been solid since being the club's tenth rounder last year, pitching to a 3.62 ERA (~2.25 FIP) in 49.2 innings. He's another low-90s guy with a slider, plus he supposedly hides the ball well with his delivery. I'm not sure who has more potential between the two — they are both fringy prospects, to be sure — but I think Webb's two-pitch mix might help him get to the show as a lefty specialist.
Jack asks: Nick Rumbelow, Nick Goody, Danny Burawa, Mark Montgomery, Diego Moreno, Branden Pinder. Can you offer your assessment of any of them ever making any significant impact (to the extent that a reliever is able) in the bigs? They all seem to be pretty good prospects (and actually putting up good numbers).
Moreno's not a prospect. He'll turn 27 in July and is a pure arm strength guy. The other guys are prospects and you could almost pick names out a hat if you want to rank them. Montgomery's prospect shine has dimmed following last year's shoulder trouble, and of course Goody just came back from Tommy John surgery. Burawa has had some non-arm injuries and probably has the nastiest pure stuff of the group — he was pumping 97-98 with a 90 mph slider in camp — though Montgomery's slider is the best individual pitch, if that makes sense. Rumbelow has mid-90s heat and a good curveball, and so far this year he has 18 strikeouts in nine innings with Low-A Charleston. Pinder's a fastball/slider pitcher who lags behind the other non-Moreno guys for me. Goody, Burawa, Montgomery, and Rumbelow can definitely be late-inning relievers at the MLB level if everything comes together. They're not quite what David Robertson was during his prospect days but they're not far off either.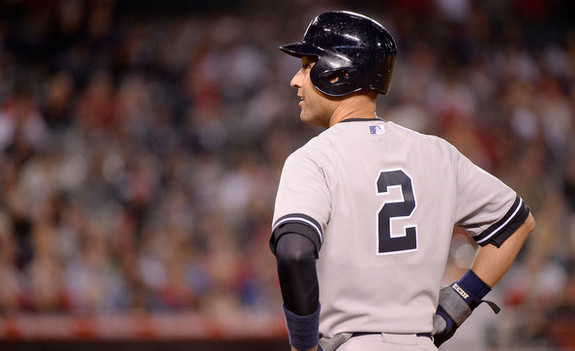 Drew asks: When was the last time that Derek Jeter batted not in a top 3 lineup spot? Rookie season? Mid-90s?
The last time Jeter started a game in a lineup spot lower than third was July 10th, 1999, when he batted cleanup against the Mets. Here's the box score. That was a one-game thing. He batted third or higher every other game that season. Before that, you have to go back to the second to last game of the 1997 season, when he batted seventh. Here's that box score. And finally, the last time Jeter started a game as a nine-hole hitter was the final game of the 1996 season. Here is that box score. My hunch is no, we won't see Jeter bat lower than third this season.
Liz asks: Given Jeter's retirement at the end of the season, who do you see stepping in (and up) to fill the Captain's shoes?
Do you mean the next captain of the team? The Yankees went eight years between Don Mattingly's retirement and naming Jeter captain, and I wouldn't be surprised at all if there was a similar (or even longer) wait this time. I don't see an obvious captain on the roster right now — what the hell do I know about what goes on in the clubhouse anyway? — and that's not a knock on the guys on the roster. I just don't think the Yankees will rush into naming another captain. They'll want it to be someone who will be around for a while and I'm sure they're prefer a homegrown player. That's not a must, just a preference. My bold next captain prediction: John Ryan Murphy. Boom.