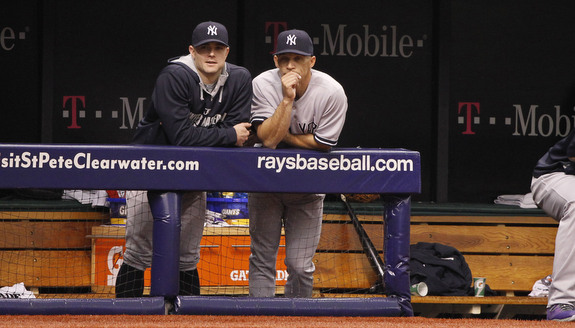 Ever since Mariano Rivera first announced he was planning to retire last Spring Training, it was pretty much assumed David Robertson would take over as the team's closer. Sure, these are the Yankees and there was always the chance they would sign a free agent closer, but Robertson was the obvious choice. He had proven all he needed to prove as a setup man, and if the Yankees weren't going to give him the opportunity to close, another team would have when he became a free agent after the season.
Minus a little 15-day groin related hiatus, Robertson has been excellent in the ninth inning, just as he was excellent in the eighth. He's gone 6-for-6 in save chances, struck out ten and walked two in nine innings, and allowed only two runs. Each run came with a multi-run lead and did no damage other than to Robertson's individual stats. I know more than a few people were nervous about him in the ninth inning because … he blew a save after Rivera got hurt in May 2012? I think that's what it was.
Robertson has inherited the closer's gig from Mariano and he's been dynamite these first few weeks. He's also inherited something else: Rivera's workload. The last few years, basically since Mo turned 40, the Yankees took it very easy on their all-world closer. From 2009-12, he recorded more than three outs just 18 times in 200 total games. Only five times did they ask him to get more than four outs. Joe Girardi did run Mo into the ground a bit last September (five games of 4+ outs) because they knew he was retiring. There was no long-term concern. Rivera also rarely appeared in back-to-back-back games or pitched three times in four days.
From 2010-13, when Robertson really emerged as a dominant late-inning force, the Yankees asked him to get at least four outs 34 times in 269 games. Joe Girardi was a little more liberal with his top setup man, often asking him to pitch out of a jam in the seventh inning before tacking on the eighth for good measure. It worked damn well and it gave the Yankees a big advantage in the late innings of close games. Girardi has not yet asked Robertson to throw more than one inning this year but that's a function of it still being early in the season more than anything. He was ready to do it last night.
"I was going to use a four-out save with Robertson tonight," said Girardi to Andrew Marchand after last night's loss. That comes just a few days after he told Bryan Hoch he feels "more comfortable using [Robertson] for an inning right now … it's just something I'm more comfortable doing." Not having Dellin Betances, Adam Warren, and Shawn Kelley essentially forced Girardi to consider using Robertson for more than one inning last night. He really had no choice.
The Yankees have lost their last three games despite either having a lead or being tied in the seventh inning or later, situations that would have called for Robertson in the past. Meanwhile, Robertson has pitched only twice in the last ten days and three times in May. He's appeared in six of 18 games since coming off the DL, a 54-appearance over 162 games pace after working on a 72-appearance pace per 162 healthy games from 2010-13. He's been marginalized as the closer, especially of late.
Now, this isn't to say Girardi should be more liberal with Robertson and use him in tight non-closing situations — that would be awesome, but every manager does the same thing these days, they've become slaves to save stat — but it goes to show just how much losing Rivera has hurt. Kelley, Warren, and Betances have been great, but they're no Mo. They're no Robertson either. The club replaced their closer just fine, but they lost an ultra-effective presence in the eighth and sometimes seventh innings.
Robertson used to be one of the Yankees' greatest weapons because he and Rivera shortened the game. They were as good as any setup man/closer combination in baseball. Now that Robertson is married to very specific situations, the most important innings are often falling on the shoulders of lesser relievers, and it has hurt the Yankees these last three games in particular. Losing close games in the late innings with Robertson doing nothing more than warming up rarely happened from 2010-13. That's where the Yankees most miss Rivera.