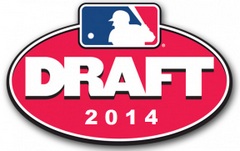 The 2014 amateur draft begins tonight with the first round, the supplemental first round, the second round, and the two competitive balance rounds. A total of 74 picks will be made tonight, including the Yankees' second rounder (55th overall). They don't have a first rounder after signing all those free agents last winter. The Cardinals and Royals lead the way with four picks tonight while the Orioles are the only team without a selection on Day One.
The Yankees are said to be targeting a high school catcher or Indiana 1B Sam Travis with that 55th overall selection. Scouting director Damon Oppenheimer also has a long history of selecting players from Southern California (Ian Kennedy, Ian Clarkin, Gerrit Cole, Gosuke Katoh, Austin Romine, Tyler Wade, Angelo Gumbs, etc.), plus we know the Yankees are willing to go off the beaten path with their picks.
All of our 2014 draft coverage can be found right here. Baseball America has a list of the top 500 draft eligible prospects while MLB.com has a great top 200 list that includes video and scouting reports, all for free. If you're wondering what it's like in a draft war room, read this FanGraphs article by former Mariners front office staffer Tony Blengino.
All of tonight's action, all 74 picks, will be broadcast live on MLB Network and streamed on MLB.com. Here's the video link. You can also follow the entire draft with MLB.com Draft Tracker. The broadcast is scheduled to run from 7pm to 11pm ET, so the Yankees will probably make their selection sometime during that 10 o'clock hour. That's just a guess though.
Use this thread to day about the draft or anything else tonight. Sorry, there won't be any liveblog(s) this year, I just don't have the time. The Yankees already won this afternoon, so there's no game to watch. The Mets are playing and the NBA Finals start tonight.