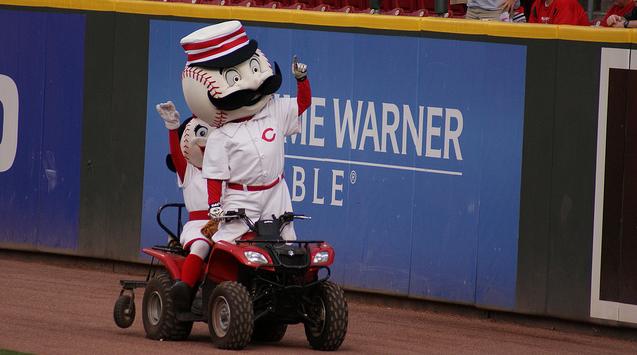 The All-Star break is finally over and the Yankees are back at the office starting tonight. They kick off the second half-opening ten-game homestand with three games against the Reds this weekend. Needless to say, they need to start winning at home if they want to make a run at the postseason, and this homestand is the time to do it. This is their final interleague series of the season, by the way.
What Have They Done Lately?
The Reds won two of three from the Pirates before the All-Star break and they've won eight of their last eleven games overall. They are 54-44 with a +28 run differential, which puts them in third place in the NL Central, 1.5 games back of the first place Brewers.
Offense
With an average of 3.97 runs per game and a team 91 wRC+, Cincinnati is a bit below the league average offensively. They are really banged up right now too. 1B Joey Votto (127 wRC+) and 2B Brandon Phillips (92 wRC+) are both out long-term with quad and thumb injuries, respectively. UTIL Skip Schumaker (66 wRC+) is out with a concussion, IF Jack Hannahan has not played at all this year following shoulder surgery, and IF Ramon Santiago (91 wRC+) is day-to-day with a shoulder issue. We won't see any of them other than possibly Santiago this weekend.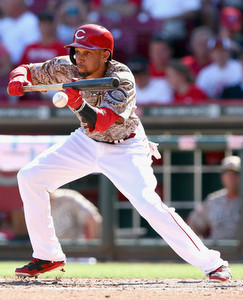 With all of those injuries, rookie manager Bryan Price relies on OF Jay Bruce (97 wRC+), 3B Todd Frazier (137 wRC+), and C Devin Mesoraco (170 wRC+ in somewhat limited time) to carry his offense. Bruce is having a very down year by his standards. OF Billy Hamilton (104 wRC+) is the fastest man in baseball and he sets the tone from the leadoff spot. He's gone 38-for-53 (72%) in stolen base chances this year and has torn the cover off the ball for a month now (161 wRC+ in the last 30 days). Keeping him off base is imperative this weekend.
OF Ryan Ludwick (104 wRC+), SS Zack Cozart (61 wRC+), and OF Chris Heisey (84 wRC+) are the other names in the Reds lineup you might recognize. C Brayan Pena (76 wRC+) is the backup catcher and part-time first baseman with Votto out. OF Donald Lutz (32 wRC+ in very limited time), IF Neftali Soto (-50 wRC+ in very limited time), and IF Kristopher Negron (268 wRC+ in very limited time) are up to help fill in for all the injuries. I'm guessing Bruce, Hamilton, Heisey, and Ludwick will all be the lineup thanks to the DH this weekend.
Pitching Matchups
Friday: RHP David Phelps (vs. CIN) vs. RHP Mike Leake (vs. NYY)
Leake, 26, continues to be unspectacularly solid for the Reds, with a 3.54 ERA (3.72 FIP) in 19 starts and 127 innings this season. Across the board he has posted career best strikeout (6.87 K/9 and 18.3 K%), walk (1.91 BB/9 and 5.1 BB%), homer (0.92 HR/9 and 12.7 HR/FB%), and ground ball (54.1%) rates. Lefties (.374 wOBA) have hit him much harder than righties (.272 wOBA) this year. Leake is a true six-pitch pitcher, using three upper-80s/low-90s fastballs (four-seam, sinker, cutter) to set up his mid-80s changeup, low-80s slider, and mid-70s curveball. He throws all six pitches at least 7% of the time and everything but the changeup at least 10% of the time. Leake and Phelps are actually pretty similar in terms of their pitching style.
Saturday: RHP Brandon McCarthy (vs. CIN) vs. RHP Alfredo Simon (vs. NYY)
Simon was an All-Star this year thanks mostly to his league-leading 12 wins. The 33-year-old has a 2.70 ERA (4.34 FIP) in 18 starts and 116.2 innings after spending the the last few years as a full-time reliever. Simon doesn't miss bats (5.79 K/9 and 16.0 K%) and isn't especially good at keeping the ball in the park (1.08 HR/9 and 13.1 HR/FB%), but he limits walks (2.16 BB/9 and 6.0 BB%) and gets grounders (49.3%). He also has a small platoon split. Simon is an extreme fastball pitcher, using his upper-80s cutter and mid-90s two and four-seamers more than 70% of the time combined. His top secondary pitch is a mid-80s splitter, though he'll also throw a handful of upper-70s slurves per start. There's no mystery here. Simon will come right after hitters with hard stuff.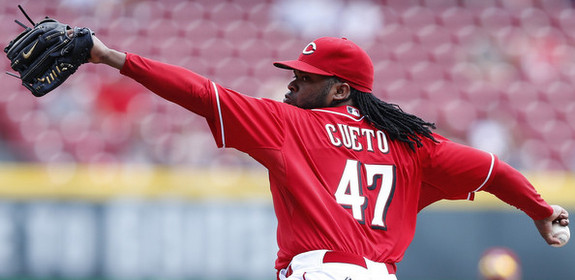 Sunday: RHP Hiroki Kuroda (vs. NYY) vs. RHP Johnny Cueto (vs. NYY)
Believe it or not, the 28-year-old Cueto was a first time All-Star this year. I figured he would have gone to at least one by now. He had some downright brilliant seasons from 2011-12. Anyway, the 28-year-old Cueto has a 2.13 ERA (3.16 FIP) in 20 starts and 143.2 innings so far this season. He is striking batters out at a career best rate (8.83 K/9 and 25.1 K%) while his walk (2.19 BB/9 and 6.2 BB%), homerun (0.75 HR/9 and 10.1 HR/FB%), and ground ball (49.7%) numbers are right in line with his career averages. His platoon split is small. Cueto throws two and four-seam fastballs in the low-to-mid-90s while mixing in plenty of upper-80s cutters as well. Both of his secondary pitches are excellent — a mid-80s changeup and a low-80s slider. Cueto is very, very good.
Bullpen Status
It all starts at the back-end for the Reds, who have an elite closer in LHP Aroldis Chapman (0.54 FIP). He actually tweaked his hamstring covering first base during the All-Star Game, but apparently it's only a minor issue and he is expected to be ready for this weekend. RHP Jonathan Broxton (3.14 FIP) is setting up while LHP Manny Parra (3.98 FIP) handles the left-on-left stuff.
RHP Sam LeCure (3.85 FIP) and RHP J.J. Hoover (4.96 FIP) are Price's primary middle innings guys while RHP Logan Ondrusek (3.46 FIP), RHP Carlos Contreras (2.66 FIP in limited time), and RHP Jumbo Diaz (5.42 FIP in limited time) handle everything else. Here is the requisite photo of the 6-foot-4, 315-pound Diaz. It's an eight-man bullpen for the time being. Both teams have well-rested bullpens thanks to the All-Star break, but check out our Bullpen Workload page anyway. For the latest and greatest on the Reds, I recommend Redleg Nation.