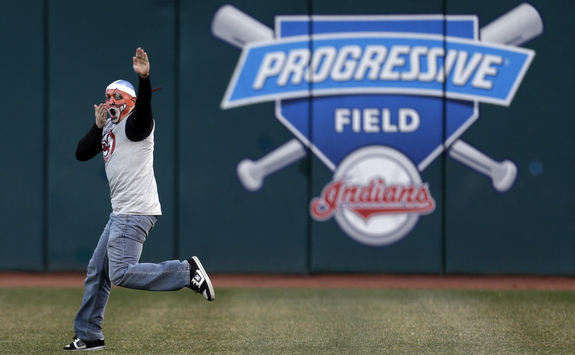 The Yankees have played 11 of the 14 other AL teams so far this season, and this week they'll make it 12 of 14 when they face the Indians for the first time. (They still have yet to play the Tigers and Rangers.) The Bombers are in Cleveland and will open a four-game set against the Tribe later tonight.
What Have They Done Lately?
The Indians took two of three from the Royals over the weekend and have won four of their last five games overall. They lost eight of eleven before that. Cleveland comes into the series sitting in third place in the AL Central with a 43-44 record and a -13 run differential. They're six games back in the division but only 4.5 back of the second wildcard spot. The Indians and Yankees are separated by one game in the wildcard standings, so this series is not insignificant.
Offense
At 4.41 runs per game with a team 104 wRC+, the Tribe is one of the better offensive teams in the game this year. They won't have OF Michael Bourn (97 wRC+) this series after placing him on the 15-day DL with a hamstring injury just yesterday. OF Nyjer Morgan (knee) and DH Jason Giambi (knee) are also hurt and won't play this series. Kinda bummed we won't get to see Big G.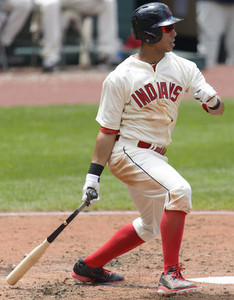 Manager Terry Francona's lineup is built around deserving All-Star OF Michael Brantley (155 wRC+), who has finally broken out this season. They acquired him from the Brewers in the CC Sabathia trade back in the day, just in case you needed a reminder that it often takes years for a young player to find his way in MLB. C/IF Carlos Santana (118 wRC+) got off to a brutal start but has been much better of late. 3B Lonnie Chisenhall (166 wRC+) if starting to live up his potential in a mostly platoon role, and C Yan Gomes (110 wRC+) is the reason Santana moves all around the field.
Former Yankee OF Nick Swisher (74 wRC+) is having an awful year and the double play combo of 2B Jason Kipnis (99 wRC+) and SS Asdrubal Cabrera (98 wRC+) has been just average. IF Mike Aviles (80 wRC+) and UTIL Ryan Raburn (46 wRC+) haven't been anything special in reserve roles. OF David Murphy (96 wRC+) does his best work against righties. C George Kottaras (197 wRC+ in very limited time) is effectively the third catcher and OF Tyler Holt was called up to replace Bourn. He went 0-for-1 in his MLB debut yesterday.
Pitching Matchups
Monday: RHP Shane Greene (No vs. CLE) vs. RHP Justin Masterson (vs. NYY)
The 29-year-old Masterson is going to be a free agent after the season and so far things are not going well this year. He has a 5.16 ERA (3.97 FIP) in 18 starts and 96 innings, so he's still taking the ball every fifth day, but his walk rate (4.97 BB/9 and 12.1 BB%) has ballooned to a career high by quite a margin. Masterson is still missing bats (8.63 K/9 and 21.0 K%) and using his sinker to keep the ball on the ground (59.3%) and in the park (0.56 HR/9 and 10.3 HR/FB%), but hitters are reaching base against him more than ever. As usual, lefties (.395 wOBA) have hit him much harder than righties (.303 wOBA). Masterson's velocity drop is scary — he went from averaging 93.1 mph with his four-seamer and 91.1 mph with his sinker last season to 90.6 and 88.7 this year, respectively. Yikes. Losing two and a half miles an hour off your fastball in an offseason usually means something is physically wrong. A low-80s slider is Masterson's primary secondary pitch, though he will throw a few mid-80s changeups per start.
Tuesday: RHP Masahiro Tanaka (No vs. CLE) vs. RHP Trevor Bauer (vs. NYY)
Bauer, 23, appears to have gotten his career back on track after some tinkering, though his 4.42 ERA (4.43 FIP) in ten starts and 59 innings this season isn't anything to get excited about. He misses bats (8.24 K/9 and 21.1 K%) and does a good job not handing out free passes (3.36 BB/9 and 8.6 BB%), but he is an extreme fly ball pitcher (30.2% grounders) and very homer prone (1.37 HR/9 and 11.5 HR/FB%). That is by design too — Bauer has said he likes pitching up in the zone because fly balls are higher percentage outs than ground balls, and he'll live with the homers as a byproduct. He is definitely unique when it comes to that line of thinking. Anyway, his platoon split is small and he throws his mid-to-upper-90s fastball roughly half the time. Bauer also throws a mid-to-upper-80s cutter, a mid-80s changeup, a low-80s slider, and an upper-70s curveball. He throws all five pitches regularly with the slider and curve being his go-to offspeed pitches.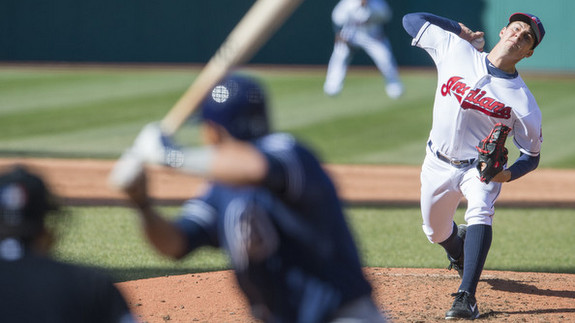 Wednesday: RHP Brandon McCarthy (vs. CLE) vs. RHP Josh Tomlin (vs. NYY)
The Indians seem to have a lot of homer prone pitchers on the staff this season. Tomlin, 29, has a 4.11 ERA (3.71 FIP) in 70 innings across eleven starts (and one relief appearance) despite a ridiculous 1.41 HR/9 (13.6 HR/FB%). That's right in line with his 1.37 HR/9 (11.1 HR/FB%) career norm too. Tomlin's sky high strikeout rate (8.23 K/9 and 22.0 K%) is by far the best of his career. We're talking about a guy with a career 5.48 K/9 (14.8 K%) here. He has never walked anyone (1.16 BB/9 and 3.1 BB%) and isn't much of a ground baller (36.2%) either. Unless the improved strikeout rate is real, the only thing Tomlin does well is limit walks. He actually has a reverse split too — lefties have a .270 wOBA against him while righties are at .361. Tomlin uses upper-80s four-seam fastballs and mid-80s cutters to set up his mid-70s curveball and occasional low-80s changeup. Pretty generic repertoire.
Thursday: TBA vs. LHP T.J. House (No vs. NYY)
The Yankees lucked out and will not face All-Star Final Vote candidate Corey Kluber this weekend. He's been awesome this year and started yesterday. Instead, they will face the 24-year-old House in the series finale. He has a 4.24 ERA (4.62 FIP) in seven starts (and one relief appearance) and 40.1 innings this year thanks mostly to his low walk rate (2.01 BB/9 and 5.2 BB%) and high ground ball rate (61.0 K%). House doesn't miss many bats (5.58 K/9 and 144 K%) and yes, he is homer prone (1.34 HR/9 and 26.1 HR/FB%). Like I said, everyone on the staff seems to give up the long ball. Righties (.386 wOBA) have hit him a lot harder than lefties (.323 wOBA), though that's probably a sample size thing. House is a true four-pitch pitcher, using low-90s four and two-seamers to complement low-80s sliders and changeups. He throws all four pitches at least 16% of the time.
The Yankees' starter for this game depends on whether Chase Whitley is needed out of the bullpen at some point in the next few days. If he is, David Phelps will probably get the ball on Thursday instead of getting an extra day of rest following the McCarthy trade. Heck, it might be Phelps anyway even if Whitely isn't needed in relief because Greene could pitch well enough tonight to earn another start. The schedule allows them to avoid giving Whitley a start this week.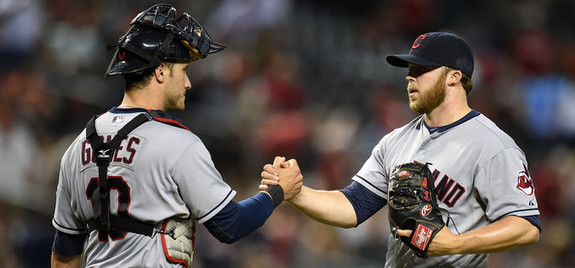 Bullpen Status
Francona is already on his third closer this season. RHP John Axford (4.60 FIP) started the year in the ninth inning, melted down, then RHP Bryan Shaw (3.14 FIP) got a chance. When he had some hiccups, the job went to RHP Cody Allen (2.92 FIP), who has run with it. Allen has pitched each of the last two days, though he only threw four pitches yesterday, so he should be available tonight. Otherwise the rest of the bullpen is fresh.
Axford and Shaw still see some setup work while LHP Marc Rzepczynski (3.51 FIP) faces the tough lefties. RHP Scott Atchison (3.16 FIP), RHP Vinnie Pestano (2.51 FIP in limited time), and LHP Kyle Crockett (4.43 FIP in limited time) handle the middle innings and RHP Carlos Carrasco (3.23 FIP) is the team's swingman. Yes, the Indians are currently carrying eight relievers and only three bench players. The Yankees' bullpen is pretty overworked, so check up on their status with our Bullpen Workload page. Once you've done that, head over to Wahoo's on First for everything you need to know about the Indians.