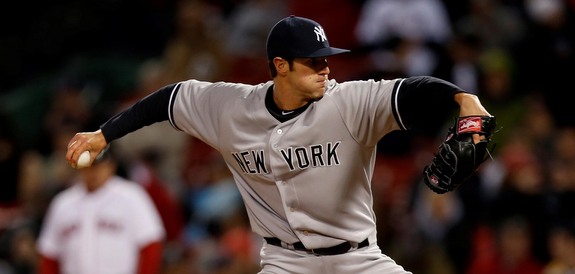 When the Yankees acquired Brandon McCarthy from the Diamondbacks yesterday, they threw their rotation temporarily out of whack. Nuno and McCarthy were not scheduled to start on the same day — Nuno was supposed to start tonight's series opener against the Indians while McCarthy lines up start tomorrow on normal rest — so the club has to dig up a spot starter. Not a huge deal, just something they have to deal with. (McCarthy will get an extra day of rest and make his Yankees debut on Wednesday, partly so Masahiro Tanaka can start as scheduled Tuesday and make two starts before the All-Star break.)
That spot start will go to right-hander Shane Greene, the Yankees announced. He will be on normal rest after last pitching for Triple-A Scranton on Wednesday. I assume Jim Miller will be dropped from the roster to clear a spot rather than Bruce Billings simply because Billings is stretched out and can go 100+ pitches if necessary. The bullpen is pretty taxed and keeping the extra long man around sure seems like a good idea.
Greene made his MLB debut earlier this season and it was a disaster — five batters faced, three walks, three unearned runs, one out — though that came after a few weeks of being jerked between the show and Triple-A. That appearance came on April 24th and up to that point he had thrown only thrown 2.2 innings and 52 pitches during the regular season. Add in the usual MLB debut jitters and it's easy to understand why he was wild.
That will not be the case tonight, at least hopefully not. Greene has been making a regular turn in the RailRiders rotation for weeks now, so he is fully stretched out and able to go through his usual routine. No irregular pitching schedule, no sitting in the bullpen for weeks on end, nothing like that. Greene's overall numbers in Triple-A are not all that good (4.61 ERA and 3.39 FIP) but he has been much better of late, allowing six earned runs (1.93 ERA) with a 23/10 K/BB in 28 innings across his last five starts.
If Greene can come up and give the Yankees the bare minimum quality start (three runs, six innings), I'll be thrilled. I'm sure the team would be as well, considering how things have been going for most of the rotation. Six innings from someone other than Tanaka feels like a minor miracle these days. The rotation after Greene is a little unsettled at the moment. Tanaka will start Tuesday and McCarthy on Wednesday, but Thursday's starter is officially listed as TBA. That's Chase Whitley's spot.
"Right now [Whitley will] be in the bullpen until we get this ironed out," said Joe Girardi to Chad Jennings following yesterday's game. "If we don't need him out of the bullpen, he could start again for us. A lot of this depends on tomorrow … Every opportunity is an opportunity to shine and get more opportunities."
If Whitley isn't need out of the bullpen these next few days, he'll make the start on Thursday. If they do need him, David Phelps would presumably move up and start Thursday on normal rest. Then they'd need a spot starter for Saturday (Hiroki Kuroda goes Friday), which could be Greene again. Point is, the bullpen is such a mess right now that Whitley could wind up pitching in relief at some point soon. I'm guessing that's something that wouldn't happen or even be considered if he hadn't gotten destroyed in his last three starts. If he was still pitching like he was a few weeks ago, he'd remain in the rotation no questions asked.
So now, even with McCarthy theoretically providing some stability in place of Nuno, the Yankees still have one questionable rotation spot in Whitley. The All-Star break is coming next week and that will give the team a much-needed chance to catch its collective breath and reset the staff, but beyond that the job should be considered up for grabs. If Greene pitches well tonight, he could very well assume that rotation spot with Whitley, the career reliever, remaining in the bullpen. Girardi said it himself: "every opportunity is an opportunity to shine and get more opportunities."
The benefit to keeping Greene in the rotation is potentially two-fold. One, it would improve the rotation compared to what Whitley has given them the last three times out. That's the only way Greene would remain in the rotation anyway, if he pitches well enough to get another chance. Two, Whitley has been a reliever his entire life, so it's a familiar role for him, plus now he's stretched out. He could step in and serve as another two or three-inning guy for the middle innings. That would be a huge improvement over the Miller/Jose Ramirez/Matt Daley revolving door we've seen lately.
The Yankees have taken some steps to shake up their roster over the last week or so, specifically replacing Yangervis Solarte, Alfonso Soriano, Ramirez, and Nuno with McCarthy, Miller, Billings, and Zelous Wheeler. The Miller and Billings moves are only temporary, plus the team will need to call up another position player to replace Soriano in the coming days, so the shakeup isn't complete. Outside of a handful of spots at the top of the rotation and in the back of the bullpen, the current pitching staff is full of opportunity. If you pitch well, you'll get a chance to remain with the team and play a role. Whitley has done it already and now it's Greene turn to try to carve out a niche for himself.