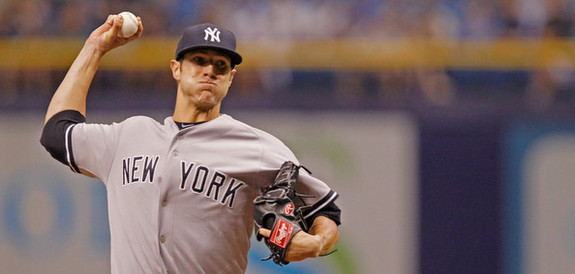 Since joining the rotation a little more than a month ago, Shane Greene has been arguably the Yankees' best starting pitcher. The rookie right-hander has a 2.93 ERA (3.25 FIP) with good strikeout (21.4%) and excellent ground ball (55.3%) rates in seven starts and 43 innings, and he's shown no signs of slowing down either. He's made it very easy to forget his ugly five batter, three walk MLB debut out of the bullpen back in April.
The Yankees called on Greene last month because they really had no other choice. CC Sabathia, Ivan Nova, and Michael Pineda were all hurt and Chase Whitley was crashing back to Earth. That was before Masahiro Tanaka went down too. Greene had mediocre Triple-A numbers overall (4.61 ERA and 3.41 FIP) but he had strung together a few strong starts, which was enough to get him a shot given the state of the rotation. He's obviously taken advantage of the opportunity.
Greene's path to the big leagues and pro ball in general was a rather unique, which makes his story and success that much more interesting and amazing. I'm going to save some time and quote myself from last winter's prospect profile:
Greene was a mop-up man [at the University of West Florida] as a freshman … He blew out his elbow late in the season and had Tommy John surgery in May 2008 … The Argos took his scholarship away following the injury, so Greene transferred to Daytona Beach Community College. He didn't pitch as a sophomore and wasn't on the draft radar at all. Greene was throwing a bullpen session at his high school when he asked a Yankees scout (who was there to see someone else) to watch him throw and put in a good word with the University of Central Florida. The team ended up bringing him to Tampa for a workout three weeks before the 2009 draft … The Yankees liked what they saw during the workout enough to select him in the 15th round (465th overall) even though he had not pitched in an actual game in over a year.
Even if he crashes back to Earth in his next start or never throws another MLB pitch for whatever reason, the Yankees have already gotten a huge return on their investment in Greene. We're talking about a late round pick who signed for only $100k, a relative pittance. Just getting a guy like that to the show — especially after drafting him even though he hadn't pitched in a real game in a year due to injury — is a huge success.
Greene's climb up the minor league ladder was not fast. He spent parts of two seasons with both Low-A Charleston and High-A Tampa, and it wasn't until his sixth pro season that he reached Triple-A despite being a college draftee. Greene's stuff improved as he got further away from elbow reconstruction but a general lack of control held him back. He had a 4.4 BB/9 (10.4 BB%) across two Single-A levels in 2011, then a 5.1 BB/9 (12.5 BB%) at High-A in 2012. Greene looked like a classic big arm, small command guy.
Then, last season, the now 25-year old Greene broke out with a 1.7 BB/9 (4.5 BB%) split between High-A and Double-A. Forget about cutting his walk rate in half, he cut it by almost two-thirds in an offseason. This year Greene has a 3.5 BB/9 (8.8 BB%) in Triple-A and a 2.9 BB/9 (7.7 BB%) in MLB. (The AL average is 2.9 BB/9 and 7.7 BB% this year, coincidentally.) That's not as good as last year but it's a major improvement from two or three years ago. That ability to harness his stuff and throw consistent strikes has taken Greene from interesting prospect to bonafide MLB rotation member.
There is no "the light bulb just came on" story here. Greene didn't magically wake up one day with the ability to throw strikes with his mid-90s sinker and upper-80s slider. He cut his walk rate so much last year thanks to mechanical tweaks implemented by some of the Yankees' minor league pitching gurus. George King (subs. req'd) explained last September:
Greene, 24, is armed with a 90-94 mph fastball, but it was an adjustment he made working with pitching coordinator Gil Patterson and Greg Pavlick, a senior pitching instructor, that helped him turn the corner.

"He was helped with the delivery where he kept his head more in line with the plate," (VP of Baseball Ops Mark) Newman said. "He made a commitment to throw strikes and not throw the ball to the edge and nibble."
Pavlick has been with the Yankees for more than a decade now, but Patterson is a relatively new hire. Well, a new old hire. He coached in the team's minor league system from 2005-07 before leaving in 2008 for a similar position with the Athletics. The Yankees brought the very highly-regarded Patterson back and hired him away from Oakland in November 2012.
The club has gotten a lot of heat for their unproductive farm system over the last year or so, so much so that they essentially audited their staff and policies and implemented some procedural changes over the winter. In reality, the changes started both with the re-hiring of Patterson as well as the firing of long-time pitching honcho Billy Connors in September 2012. No personnel changes were made last winter, but two pretty big ones were made the year before.
There is no possible way of knowing how Greene would have developed without the help of Patterson (and Pavlick) — would he have made those same mechanical adjustments and improved his command anyway? Would he have never figured it out? Would he have done something else entirely and become even better than he is right now? We'll never know. The timeline fits so wonderfully though. The Yankees bring back Patterson, he tinkers with the live-armed Greene, and suddenly he throws strikes and is awesome. It's a great story, especially if it's actually true.
Many fans, myself included, were underwhelmed and unhappy when the Yankees announced they were only making procedural changes to their player development system over the winter. After all, we don't know what those changes are and we can't actually see him at work, so they don't really exist to us. The Patterson move flew mostly under the radar for the same reason: we don't actually see him at work. That doesn't mean he doesn't have an impact though. He helped Greene clean up his delivery and get over some serious control problems, which has turned him into an important member of the MLB rotation. Every time he takes the mound, it is the organization's recent player development changes at work.