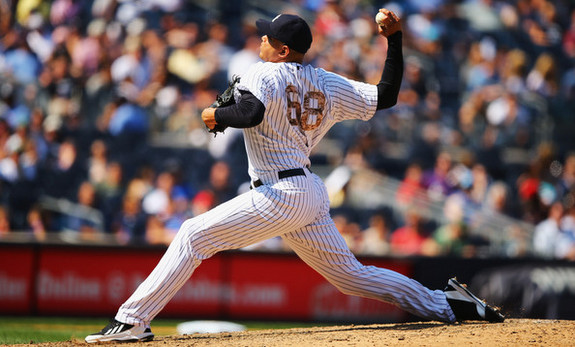 The Yankees were off yesterday for the third time in the last week. It's not often that happens during the season outside of the All-Star break. For a team with an older roster and intentions of making a run at a postseason spot, a bunch of off-days bunched together in the middle of August might do them some good. Anyway, here are some miscellaneous thoughts.
1. In the last two games against the Rays this weekend, Joe Girardi went to Shawn Kelley in seventh inning fireman situations before giving the ball to Dellin Betances to start the eighth. Earlier in the season, we would have seen Betances come in to pitch out of the jam in the seventh before throwing the eighth as well. Maybe not in back-to-back games, but definitely in one of the two. Girardi has scaled back on Betances' workload — the attempted three-inning outing against the Orioles last week was a bit of a special case because he had not pitched in five days and the Yankees were off the next day — using him for four or more outs only six times in 14 appearances since the All-Star break (17.2 innings). In his 14 appearances before the All-Star break, Betances was asked to record four or more outs ten times (19.1 innings). The plan might be to limit him to one-inning outings the rest of the season unless there are extenuating circumstances, like an upcoming off-day or a particularly long stretch of inactivity. Betances is up to 73 innings this year, the most of any full-time reliever in baseball — it's also the most innings thrown by a Yankees reliever during the Girardi era, surpassing the 71.2 innings Joba Chamberlain threw in 2011 — and most of them have been stressful high-leverage innings. They have to be careful not to run Betances into the ground. The Yankees and Girardi are right to lighten up on him these next few weeks, and this past weekend might have been an indication of how the bullpen pieces will fall into place the rest of the way.
2. With that in mind, it was noticeable Adam Warren didn't even warm up during the Tampa series. Kelley was the first and only guy up in those important seventh inning spots. Warren hasn't pitched since his meltdown against the Orioles last Monday. He hasn't been very good these last few weeks — 5.46 ERA and 4.06 FIP in 28 innings since June 1st — and maybe that outing against Baltimore was the final straw. The one that led to Girardi taking him out of important situations. That would be preferable to, say, Warren nursing an injury and not being available in general. If that is the case, that he is out of the Circle of Trust™ for the time being, it could open the door for Esmil Rogers to see some setup work whenever Kelley and/or Betances is unavailable. Rogers has pitched well during his brief stint in pinstripes and he has had success in a short relief role in the past — 3.06 ERA and 3.13 FIP in 44 appearances and 53 innings with the Indians in 2012 — which could be enough to land him some more responsibility. It's amazing how the bullpen changes throughout the season. Every year, without fail. Kelley was the setup man, Warren the emerging relief ace, and Betances the great unknown in April. Now Betances is the shutdown relief ace, Kelley is the shaky seventh inning guy, and Warren is (temporarily?) untrustworthy. And we're talking about Esmil Rogers pitching important innings.
3. Derek Jeter served as the DH both Saturday and Sunday and I think we're going to see a bit more of him at DH in the coming weeks. Carlos Beltran returned to right field and Jeter has simply played a ton in the field this year. He's started 102 of the team's 122 games at shortstop and his recent slump — .237/.250/.322 (55 wRC+) with a 74.0% ground ball rate in August compared to .289/.340/.320 (86 wRC+) with a 60.5% ground ball rate in July — could be fatigue related. We are talking about a 40-year-old coming off a major ankle injury, remember. That doesn't mean Jeter will be the full-time DH, but he might spend two or even three days a week there going forward. Beltran is no great shakes in the outfield, but Jacoby Ellsbury's range and the small Yankee Stadium right field make it easier to hide him. Especially since the Yankees (still) have a ground ball heavy pitching staff. Jeter at DH means Stephen Drew at short and Martin Prado at second, which is a tremendous double play combo defensively, as we saw over the weekend. The Yankees are not going to flat out take Jeter off short, not at this point, but giving him some more time at DH definitely improves the team. (It also gives them more time to evaluate Drew at short up close.)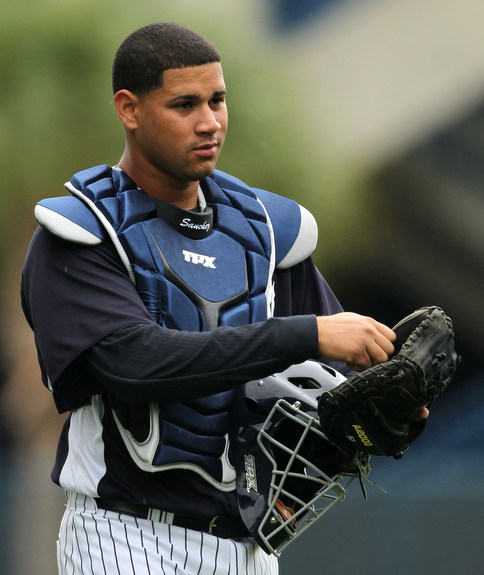 4. I can't imagine the Yankees will go through this coming offseason without trading a catcher. I don't know who it will be, but they've reached the point where someone has to go. Brian McCann is locked in at the big league level and Gary Sanchez is ready to be bumped up to Triple-A Scranton. That leaves two spots (McCann's backup, Sanchez's caddy) for Frankie Cervelli, Austin Romine, and John Ryan Murphy. The tricky part is trading the "right" catcher, so to speak. Cervelli gets hurt all the time and Romine seems to have played his way out of the team's long-term plans, which means they don't have much trade value. McCann obviously isn't going anywhere, leaving Sanchez and Murphy. I really like Murphy and think he's on track to become a rock solid all-around catcher (not a star), so I would be hesitant to give him up, but Sanchez has a chance to become a true impact bat, something the Yankees desperately need. His defense needs work and even if he can't catch in the long run, first base will open sooner rather than later. The club needs both pitching and offense help this winter, and unless some team is willing to give up more than expected for Cervelli or Romine, it makes the most sense to move Murphy. Teams will move mountains for young catchers who can actually catch, and potential impact bats like Sanchez are super valuable in this offense-challenged era.
5. By all accounts, the Yankees are a "major player" for Cuban free agent Rusney Castillo, who is sorting through offers and is expected to pick his new team relatively soon. They supposedly like him more as a second baseman than as an outfielder, which puts them in the minority. Either way, the Bombers have long-term openings at second and in right, so they could make it work either way. I absolutely do not think they need to go all out to sign him after missing out on other big time Cuban players like Yasiel Puig or Jose Abreu — that's the kind of logic that resulted in Kei Igawa back in the day — but I do think the Yankees should be in the business of aggressively acquiring assets, especially guys in the prime of their careers. Castillo is only 27 and the Bombers have a decided lack of prime-aged regulars. Blocking a prospect like, say, Rob Refsnyder at second or Austin in right is a non-factor in my opinion. The prospects (and Castillo!) have not proven anything, so the more options the Yankees give themselves, the more likely they are to land a bonafide Major League regular. If everyone works out and the club is left with a logjam, great! That's not a problem. It's an envious situation. I have no idea how good Castillo really is, but if the Yankees think he's legit, then they should absolutely flex their financial muscles to bring him in. They went bonkers for international free agent amateurs last month. Now continue it with a more high-profile player to give the big league team more immediate help.