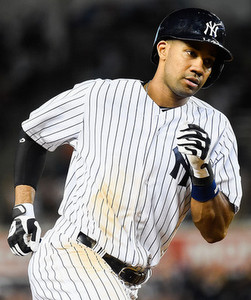 Even though the list of September call-ups looked like a bunch of guys signed by the Long Island Ducks, the Yankees have gotten some real nice production from their extra players since rosters expanded two weeks ago. Antoan Richardson had a good weekend in Baltimore, Bryan Mitchell was solid in his first MLB start, and even Rich Hill has been very good since coming back, striking out six of nine batters faced. Chad Jennings ran down the September call-up situation yesterday.
The most productive extra player this month is ex-Mets outfielder Chris Young, who has gone 10-for-27 (.370) with four doubles and three homeruns in pinstripes. He hit a walk-off homer against the Rays last Thursday (after breaking up Alex Cobb's no-hitter with a double in the eighth inning) and hit a go-ahead homer in the tenth inning against the Orioles in the first game of Friday's doubleheader, though the bullpen couldn't protect the lead. Young has also played very good defense despite being relatively new to left and right fields. He's done all that for the pro-rated portion of the league minimum. Not bad at all.
The Yankees already have a full starting outfield heading into next season — I am in the camp that wants to see Carlos Beltran become a most of the time DH, but I'm not convinced that will actually happen just yet — but they will need to bring in a fourth outfielder. Ichiro Suzuki is due to become a free agent and I don't think the Yankees will re-sign him, and while Martin Prado can play the outfield in a pinch, they're still going to need one dedicated player to back up all three outfield spots. That's just someone a team needs to have on the roster.
Since both Brett Gardner and Jacoby Ellsbury are lefties and Beltran is a switch-hitter with much better numbers against righties (118 wRC+ vs. RHP and 54 wRC+ vs. LHP), next year's fourth outfielder should be a right-handed hitter just to balance things out. Another righty bat has been a need since Opening Day, really. It goes without saying good speed, good defense, and the ability to play all three outfield spots would be preferred as well. Bench players are bench players for a reason though, and that's because they aren't good enough to start. Usually they can only do a few of those things and are lacking somewhere.
The Yankees don't have a right-handed hitting fourth outfielder option in the organization — Ramon Flores is on the 40-man roster but is a left-handed hitter, and Tyler Austin will be added to the 40-man this winter but is unlikely to skip over Triple-A — so they'll have to go outside the organization for this player. Chris Denorfia, Jonny Gomes, and Scott Hairston are all due to become free agents this offseason and they've filled this role to a T just about their entire careers. All have their pluses and minuses.
Young is a different story though. He was an everyday center fielder with the Diamondbacks from 2006-12 before moving into a platoon role with the Athletics last year. The Mets played him nearly everyday before releasing him, so, for most of his career, Young has been an everyday player, not a bench guy. He does check all the right boxes though: right-handed hitter, good power, good speed, and good defense in all three outfield spots. Young is a low average hitter (.234 career, 22.6 K%), so that's his flaw. Otherwise he looks like someone who could be a fourth outfielder option next year.
Now, there are two sides to every free agent signing. There is no doubt Young is hoping his strong September with the Yankees will make teams forget what he did in Flushing and land him a starting outfield spot somewhere. He's going to have to settle for a one-year contract no matter what, so he'll look for the best opportunity and the most playing time this winter. Is being a fourth outfielder in the Bronx the best situation for Young? Maybe it is. It all depends on the offers that come his way in the offseason. For what it's worth, Young told Buster Olney (subs. req'd) that he's "having a blast (with the Yankees). I don't know if I've ever had more fun. Hopefully it's a new start of better things to come."
The Yankees already have close to $170M tied up in only ten players next year (not counting arbitration cases) and Hal Steinbrenner has held the line with payroll in recent years, somewhere around the $200M mark. That might change after missing the postseason for a second straight year, and don't necessarily mean an increase either. Paying Young starter money — the Mets gave him one year and $7.25M — to be a fourth outfielder probably isn't an option and shouldn't be anyway. The Yankees gave Andruw Jones one year and $2M a few years ago and that's good money for a fourth outfielder. That's probably the max the team can offer Young to stay around.
Finding a right-handed complement for their left-handed heavy outfield will be on the shopping list this winter, and the Yankees are getting a firsthand look at what Young offers right now. I don't necessarily mean on the field either — I doubt a month of playing time will drastically change their opinion of him — they'll also get to see his work ethic, how he interacts with teammates in the clubhouse, stuff like that. The stuff that you usually can't find out until after signing a player. Young does make sense for the fourth outfielder spot next year and not just because of his strong last week or so. Whether that position is appealing to him is another matter entirely.