The 2014 season is over and it's time to look back at the year that was. Our old What Went Right/Wrong format has gotten stale, so it's time for a new review format. We'll review individual players, performances, tendencies, all sorts of stuff in the coming days and weeks.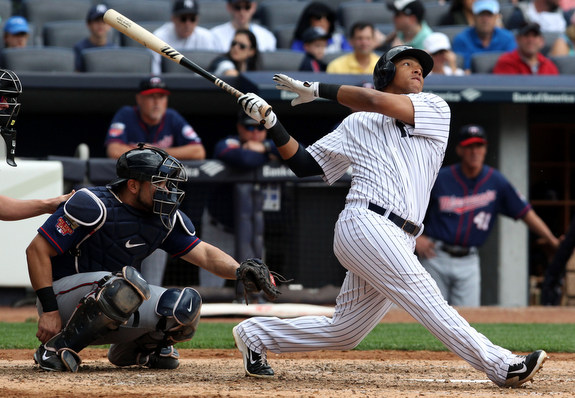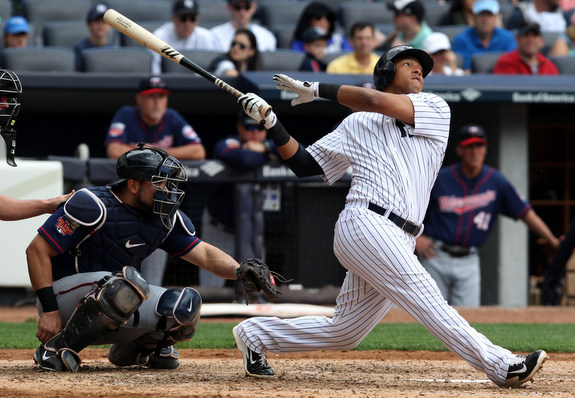 It happens every year like clockwork. Some seldom-known player shows up to Spring Training, has a strong camp, and fans clamor for him to make the team. He doesn't, he goes to Triple-A, he performs exactly like he has every other year in his career, and fans forget about him by June. Happens to every team every year. This isn't something unique to the Yankees. But, every once in a while, that player does stick.
* * *
The Legend of Yangervis Solarte started in early January, when the Yankees signed the then-26-year-old minor league journeyman to a minor league contract with an invitation to Spring Training. The Tigers were after him as well, but Solarte was put off by their Ian Kinsler pickup because it blocked a potential spot for him. The Yankees flexed their financial muscle and signed him to a nice deal worth $22,000 per month in the minors. That's big bucks for a minor league deal.
Solarte came to Spring Training and was lumped into the infield competition with guys like Dean Anna, Eduardo Nunez, Zelous Wheeler, and Scott Sizemore. He was a total afterthought. No one knew who he was and his minor league track record wasn't particularly impressive — .282/.331/.404 (~91 wRC+) in over 1,100 plate appearances at Triple-A with the Rangers from 2012-13 — so there wasn't much of a reason to get excited. Solarte switch-hit and he could play all over the field, which is great, but a ton of guys in the minors do that.
Then, in camp, Solarte was that guy. That guy who just hit and hit and hit. He played a different position just about everyday — Solarte played five games at second, eleven at short, four at third, and five in left during Grapefruit League play — and just kept hitting. Solarte ended Spring Training with a .410/.452/.615 batting line in 47 plate appearances while facing mostly MLB caliber pitching according to Baseball-Reference's quality of competition metric. He was the guy. The guy everyone wanted to make the team but was destined for Triple-A.
But then something weird happened: Solarte actually made the team. The Yankees decided enough was enough and it was time to move on from Nunez, who was designated for assignment before Opening Day and traded to the Twins for a Single-A arm. Solarte took Nunez's roster spot and his uniform number, No. 26. With Brendan Ryan starting the season on the disabled list a back problem, the first five or six weeks of the regular season were essentially a continuation of the Spring Training competition between Solarte and Anna, who also made the club.
Solarte's first career big league plate appearance was not exactly a garbage time situation — he pinch-hit for Kelly Johnson against the left-handed Kevin Chapman with two men on the base and the Yankees down 2-0 in the seventh inning of the second game of the season. Solarte banged into a 4-6-3 double play to kill the rally and later popped up to end the game in his second plate appearance. It wasn't the most exciting MLB debut after such a stellar camp, but what can you do. It was two plate appearances and I'm sure he was nervous.
The Solarte Partay began in earnest the next day, when Joe Girardi gave Solarte is first career start (at third base) with the lefty Brett Oberholtzer on the mound. Solarte recorded his first big league hit on a ground ball single back up the middle in his first at-bat then scored his first career run on Carlos Beltran's single later in the inning. He doubled to left field in his next at-bat and singled again in his third at-bat, which was nothing more than an infield pop-up the Astros didn't catch because they're the Astros:
That was also his first career run batted in. I'm sure he'll tell his grandkids it was a screaming line drive into the gap but they won't believe him. This is the internet age and they'll pull up the video on their phones or whatever the hell the kids carry in the future.
Anyway, the 3-for-3 showing earned Solarte another start the next day. Two doubles in that game earned him another start the next day. Two singles in that game kept him in the lineup the next day. And on and on it went. Solarte went 11-for-22 in his first six starts and 19-for-49 (.388) in his first 14 starts. He also started an around-the-horn triple play in the middle of April, in his 16th career game:
Even if he hadn't come out of the gate so strong, Solarte would have stayed in the starting lineup anyway because Mark Teixeira's hamstring injury forced Johnson to play first base. Solarte took advantage of the opportunity and just kept hitting. Through April he had a .303/.404/.461 (147 wRC+) batting line and through May he had a .288/.361/.441 (126 wRC+) batting line. He hit his first career homerun off Grant Balfour in the same game as the triple play.
Of course, there were slumps along the way. Slumps that made you think the Solarte Partay was over and he was going back to being a minor league journeyman. There was the 2-for-19 (.105) in late-April, the 1-for-14 (.071) in mid-May, and the 2-for-24 (.083) in late-May. Solarte rebounded well those times, but his June slump effectively ended his time in pinstripes. He went 10-for-61 (.164) in June, including an ugly 0-for-28 skid that spanned nine team games.
Solarte's season batting line sat at a still respectable .263/.345/.404 (112 wRC+) after the 0-for-28, though the blush was off the rose and he was trending in the wrong direction. The Yankees shipped him to Triple-A Scranton on July 3rd — the move cleared a 25-man roster spot for Wheeler — hoping he would find his strike in the minors. Solarte went 12-for-20 (.600) with three doubles in five games with the RailRiders before being recalled on July 10th, when Beltran was placed on the 7-day concussion disabled list.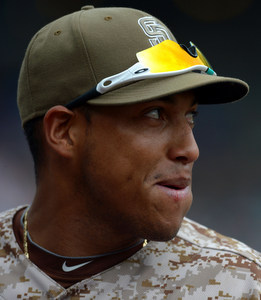 After appearing in just four more games with the Yankees — he went 1-for-10 in those four games — Solarte was traded to the Padres with Single-A pitching prospect Rafael DePaula for Chase Headley on July 22nd. The Yankees got what they could out of him then cashed in their chip for a third base upgrade. Solarte finished his time in pinstripes with a .254/.337/.381 (104 wRC+) line with six homers, 30 walks, and 34 strikeouts in 289 plate appearances. He played adequate defense at mostly third base but also saw time time at second and at short.
Following the trade to San Diego, Solarte hit .267/.336/.355 (101 wRC+) with four homers, 23 walks, and 24 strikeouts in 246 plate appearances while splitting his time between second, short, third, and left field. An oblique injury hampering him late-August. Ultimately, his numbers with the Yankees and his numbers with the Padres look very similar. Headley was a big boost at third base both at the plate and in the field. I'm guessing both sides were happy with the trade.
* * *
Solarte was found money for the Yankees. They can talk all they want about how they thought he could be a useful player when they signed him, but I'm guessing that if you gave the team's decision-makers and pro scouts a truth serum, they'd tell you they didn't expect him to be a better than league-average hitter for nearly 300 plate appearances. They milked Solarte for all they could then used him to acquire a legitimate upgrade before his stock took a nose dive.
It's very rare that the guy in Spring Training turns out to be The Guy like Solarte. He has some skills, most notably versatility and a good approach to go along with bat-to-ball ability from  both sides of the plate, and he capitalized on every opportunity the Yankees gave him early in the season. Solarte was a huge lift when the team had question marks all around the infield and a nice trade chip when something better came along. He was right guy at the right time on more than one occasion in 2014.