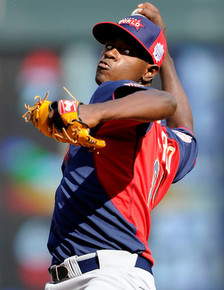 Baseball America continuing breaking down the top 20 prospects in each minor league today with the Low-A South Atlantic League. The list is free but the scouting reports are not. Nationals RHP Lucas Giolito, Phillies SS J.P. Crawford, and Nationals RHP Reynaldo Lopez claim the top three spots. Three Yankees' prospects made the list: RHP Luis Severino (No. 4), OF Aaron Judge (No. 8), and LHP Ian Clarkin (No. 15).
"In Severino's case, he throws a 95-97 mph fastball that he locates to both sides of the plate with excellent life. His changeup is not always consistent, but it was average at least most of the time. His slider varied between well below-average to average depending on the outing," said the scouting report, which also notes Severino is very quick to the plate and "nearly impossible" to run on. He is clearly the top pitching prospect in the organization after posting a 2.46 ERA (2.40 FIP) in 113.1 innings at three levels this summer.
The write-up notes Judge is a complete hitter more than a brute masher, and he is viewed as a "capable defensive right fielder with a strong arm." Clarkin "doesn't necessarily have an above-average pitch, but he throws a solid-average three-pitch mix consisting of a fastball, curveball and changeup," according to scouting report, which also called Clarkin one of the "safer bets" among league pitching prospects. "He already shows a feel for keeping hitters off-balance by pitching backwards at times."
You could make the case Severino, Judge, and Clarkin are three of the organization's top four prospects right now, along with C Gary Sanchez. The Yankees have Severino on the fast track and I wouldn't be surprised if we saw him in the big leagues in 2015. The next list of interest to Yankees' fans is the High-A Florida State League, which will be released next week. Judge is a lock for that list and 3B Eric Jagielo, 1B Greg Bird, and OF Jake Cave are good bets to appear as well. Severino didn't throw enough innings with High-A Tampa to qualify.
Other League Top 20s: Short Season NY-Penn League, Rookie Gulf Coast League.