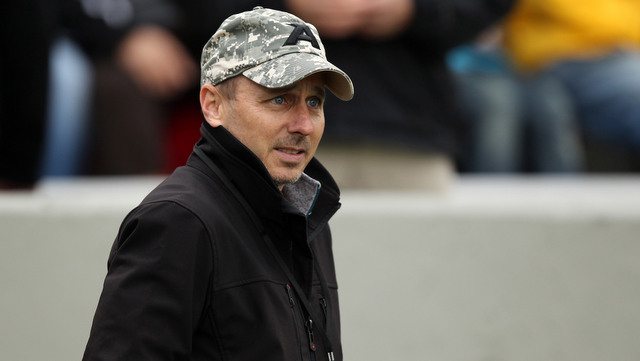 The GM Meetings started in Phoenix yesterday and among the items on this year's agenda are reviews of the new home plate collision rule and the pace of game rule changes being tested in the Arizona Fall League. The league will also conduct their annual umpire evaluations. There's a lot of official business that goes on at the GM Meetings and they aren't as hot stove-y as the Winter Meetings in December.
That said, when you have all 30 GMs plus a bunch of agents in one place, talks do happen and the ground work for a lot of deals is laid. In fact, the three-team trade that brought Curtis Granderson to New York five years ago was first broached at the GM Meetings. Brian Cashman arrived in Phoenix yesterday and spoke to reporters about a bunch of topics, some of them actually interesting. Here's a recap, courtesy of Wally Matthews, Ken Davidoff, Mark, Feinsand, Barry Bloom, and Brendan Kuty.
On possibly re-signing David Robertson: "I would have no clue what his market value's going to be. Certainly they would have an idea. They turned down the qualifying offer based on a lot of parameters, I'm sure, some of which have been discussions they've already had in the window that they've had the chance to have discussions. So it's hard to tell. It's hard to tell … We have not had any level of conversation about expectations of a multi-year deal. For whatever reason, they never presented anything to us, nor did we to them."
On Robertson, the pitcher: "The one thing we do have a feel for is how good of a player he is, how good of a person he is, how great of a competitor he is. In the New York environment, he's not afraid. He checks every box off. He came in behind Mariano Rivera. (It was a) seamless transition. That's certainly no easy task. All those things obviously went into our level of comfort, despite being a reliever, of offering (the qualifying offer). Great deal of respect and obviously we'll engage him now in the marketplace."
On next year's closer: "Right now, we don't have to name a closer for 2015 yet. Let's wait and see how the negotiations take with David before I start trying to worry about who that is going to have to be. We'll have somebody closing games out in 2015. We hope whoever it is is the best candidate possible. We have some people you can give that opportunity to if we're forced to internally, but let's wait and see where the conversations take with David first and go from there."
On Hiroki Kuroda's future: "I've talked to his agent. Kuroda's process is he takes the early portion of the winter to relax and get his mind clear, and then at some point, kicks in about making a decision about playing — playing in the states, playing in Japan. I think he's probably still going through that mental cleansing process. But I'd be surprised if he doesn't play. Let him make a decision first and foremost. We'll see what kind of money we have and all those things. But I think anybody looking for a starter should have an interest in Hiroki Kuroda."
On possibly re-signing Chase Headley: "We've had a brief conversation. Chase is on our radar, but I think he'll be on a lot of radars just like Robertson, just like (Brandon) McCarthy. These guys have all put themselves in a position to have successful conversations this winter. We'll be a part of the process, whether we're the ones they re-up with or not, I can't predict. We're certainly looking forward to continuing the dialogue."
On re-signing Chris Young: "(Analysts) Steve Martone and Mike Fishman pushed for me to sign Chris. They felt, from an analytical standpoint, his year wasn't as bad as it played out, that there was a potential bounce-back situation with it. We signed him up on what we think is a fair-market value, fourth-outfielder type contract. We wanted a right-handed bat with power, which doesn't exist much in the game anymore, it seems like. He fit that category. Our coaches are comfortable with him, he played well in the small sample that we had him in September, so he certainly earned the right to come back, and I'm glad that we both were able to find common ground."
On Stephen Drew and the shortstop market: "I don't think this past season reflects what (Drew's) true ability is. Stephen is someone that we'll have a conversation with. Scott Boras has been in touch, we'll stay in touch and see where it takes us … I think it's a limited market, and I say limited in terms of availability or acquisition cost. To me, I would describe the shortstop market as limited. It's a limited market. We're going to talk with the available free agents, and we'll talk as well, trade with other teams."
On the outfield: "I think right now, we're kind of settled in the outfield unless something surprising happens in the case of a trade, which I wouldn't anticipate. So I think we're currently pretty well set with our outfield. Obviously we have a desire to get younger as a team."
On Masahiro Tanaka's health: "Tanaka's a question mark. Typically, the problems occur in the throwing program, when they get back on the mound in the rehab process. If you can get through that, and the rehab games, he should be okay. Obviously, he got through two Major League starts. So that gives us hope. But there's no guarantee."
On Carlos Beltran's elbow: "I have no concern about Beltran's health, (though) we probably should have had him have the surgery early on. Unfortunately, the health issue came up and we chose the route that let him fight through it and have him fight through it. In hindsight, we probably should have let him have the surgery early on. But he's a tough guy."
On CC Sabathia: "Sabathia's supposed to be fine. He had a knee cleanup. It's just really, can he ever regain pitching at the front end of the rotation versus what we saw in the last year and a half? But he'll be healthy."
On the coaching staff: Cashman said they are still in the process of interviewing candidates for both the hitting coach and first base coach jobs. They have not made anyone an offer for either position yet. It's been one month and one day since Kevin Long and Mick Kelleher were fired.