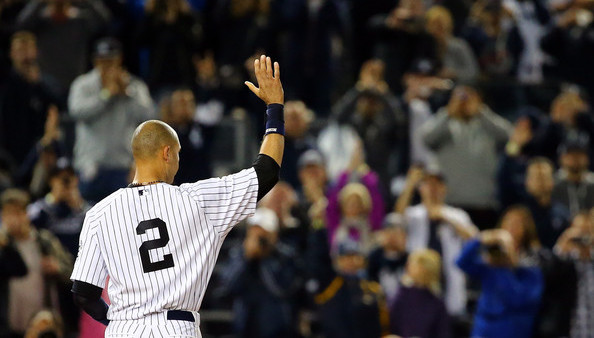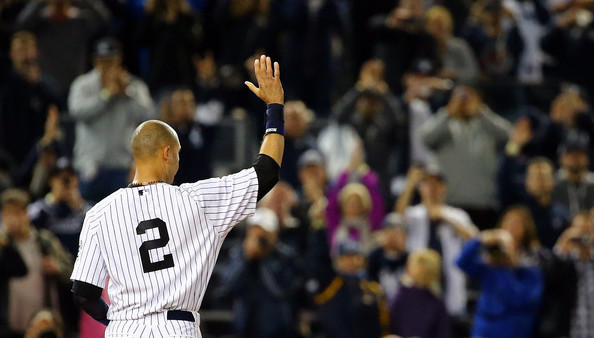 As the Yankees fell further out of the postseason race this summer, the more the 2014 season became about Derek Jeter. The Yankees long-time captain announced in Spring Training that he had decided to retire after the season, not because the ankle and leg injuries that hampered him throughout 2013 made him realize his body wasn't capable of doing what it once did, but because he "just felt like this was the right time."
I don't think it was surprising Jeter decided to retire this year. That isn't the unexpected part. The unexpected part was that he announced it on Facebook. Who knew Derek Jeter used Facebook? The man managed to go his entire 20-year career in New York with zero controversy because he avoided things like Facebook. Anyway, the Facebook announcement came a few days before the start of Spring Training, and his big press conference followed a week later.
"This is not a retirement press conference. I still have a season to play. I feel good. This has nothing to do with how I feel. Physically I feel great and I'm looking forward to the season," said Jeter that afternoon in mid-February. "Parts of 20 seasons I've played in New York and 23 counting the Minor Leagues. So I think I've done it long enough. I'm looking forward to doing other things in my life. This is a difficult job. I put everything into it each and every year. It's not a six-month season. It's 12 months. Again, I'm looking forward to other things. Not yet. But the idea of doing other things is what I'm looking forward to."
Jeter's final season was both memorable and forgettable, if that makes sense. Let's review, starting with the forgettable stuff to get it out of the way.
The On-Field Performance
The 2014 season was, by far, the worst full season of Jeter's career. He did stay healthy and appear in 145 games, but those 145 games featured a .256/.304/.313 (73 wRC+) batting line and only 24 extra-base hits. Among the 146 qualified hitters in baseball, Jeter had the fourth highest ground ball rate (61.6%) while ranking 140th in wRC+ and 145th in ISO. Only Ben Revere managed to hit for less power (.057 vs. .055 ISO).
Unlike the last few seasons, Jeter had no impact against left-handed pitchers, putting up a .244/.289/.304 (66 wRC+) batting line against southpaws and a .262/.309/.317 (76 wRC+) line against righties. He also hit .212/.293/.250 (56 wRC+) in high-leverage situations. Against pitches measured at 95 mph and above, Jeter hit .167 with a 0.021 ISO, both the sixth lowest marks in baseball. Teams routinely brought in hard-throwing relievers to face Derek in key situations and they buried him, hence his performance in high-leverage spots.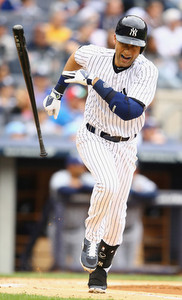 And yet, because he's Derek Jeter, he routinely hit second in the lineup. In fact, only seven hitters had more plate appearances in the top two spots of the lineup this year. When asked about dropping Jeter to a lower spot in the batting order during a mid-summer slump, Joe Girardi replied "it's not like we have a bunch of guys hitting .300, so that's why we've kept it," even though he had no trouble dropping others like Mark Teixeira, Carlos Beltran, and even Brett Gardner lower in the lineup. Jeter batted second for sentimental reasons and it cost the Yankees. How much? I don't know. But it's clear the team was not putting itself in the best position to win each day.
On the field, Jeter was a detriment to the Yankees. He didn't hit a lick and his defense was worse than ever before. His mobility was sapped, likely due to a combination of age and his recent leg injuries, resulting in a +0.2 bWAR and -0.3 fWAR season for the Cap'n. You don't even need to believe in WAR to see he was a net negative for New York. After nearly two decades of brilliance on the field, Jeter was a big problem in 2014 when it came to tangible on-field contributions.
The Farewell Tour
For some reason the Jeter farewell tour seemed to last a lot longer than the Mariano Rivera farewell tour. Maybe because Jeter was an everyday player while Rivera was reliever who pitched in only 64 games. Each team had a little ceremony to honor Jeter as he traveled through their city one last time, and some of the gifts were actually cool. You can scroll through and see each and every one right here. The Stan Musial cufflinks and No. 2 subway tile mosaic were really great in my opinion. The bucket of crabs … not so much.
The Yankees held Derek Jeter Day at Yankee Stadium on September 7th, and they brought out all the big guns for the ceremony. Cal Ripken Jr. was there, Michael Jordan was there, Jeter's family, Joe Torre, a ton of former teammates, the works. The team wore a special Jeter patch on their hats and sleeve from that day through the end of the season, which was sorta weird because Jeter was never the type to draw attention to himself that way, but also kinda cool. His speech that afternoon was short and sweet:
The Yankees were 4.5 games out of a postseason spot that day and only sunk further out of the race in the coming days, so the rest of the season turned into a huge Jeter love fest. I understand why, but it did get a little tiresome. Announcers spent innings on end discussing Jeter regardless of what was happening on the field and the national broadcasts were about a thousand times worse. By the end of September the YES Network was promoting non-stop, wall-to-wall Jeter coverage, and I'm not sure if that was a promotion or a threat.
After two farewell tours in two years, I'm pretty much tuckered out. That's not a slight on Jeter (or Rivera), he's an all-time great player and Yankee and deserved all the praise he received. But I will not be sad there won't be a farewell tour in 2015. I have farewell tour fatigue. Jeter's was fun at the start, but by the end of the year, I was ready for it to be over.
The Last Goodbye
On Thursday, September 25th, the day after the Yankees were officially eliminated from postseason contention, Derek Jeter played his final home game at Yankee Stadium. Fans chanted his name pretty much from first pitch through the last. The new Yankee Stadium hasn't been that loud since the 2009 World Series, maybe ever. In the very first inning, Jeter did this:
I thought it was gone off the bat. It had to be, right? Of course Jeter was going to hit a homer in his final home game. It had to be this way. But no, it only clanked off the wall for a run-scoring double. So close.
Jeter grounded out to end the second inning, struck out for the second out of the fifth inning, then reached on an error and a fielder's choice in the seventh inning. The bases were loaded with one out, Jeter hit a weak grounder to short, perhaps too weak to turn two, and J.J. Hardy threw wide of the bag at second. Two runs scored and the Yankees took a 4-2 lead.
The Yankees took a three-run lead into the ninth inning and while it would have been memorable no matter how it ended, David Robertson blew the save and the Yankees came to bat in the bottom of the ninth. It totally sucked at the time, but in hindsight, I don't think I'll ever be happier that a Yankee blew a save. Without it, this wouldn't have happened:
That was pretty much the coolest thing ever. Jeter's final game in the Bronx ended with one of his patented inside-out swings, muscling a walk-off single to right field. The same hit to right field we've seen a couple thousand times over the last 20 years.
Jeter finished out his career in Fenway Park that weekend but no one will remember that — he beat out in infield single in the final at-bat of his career for his 3,465th hit, the sixth most in baseball history — that walk-off hit was essentially the end of his playing days. At least it will be for Yankees fans. The Captain stepped to the plate, drove in the game-winning run, then rode off into the sunset.
I was a teenager when Derek Jeter started his career and now I'm an adult stuck with responsibilities and other awful things. I've grown up watching Jeter play and it's getting harder and harder to remember the pre-Jeter teams, not that many from my lifetime are worth remembering. It's sad to see him go. It's sad because he was such a great player tied to so many great memories. And, despite his production this year, it's sad to think Jeter won't be in the lineup and at shortstop next year.
Jeter is going to go down as one of the greatest Yankees to ever live and will possibly be the best player to wear the uniform in my lifetime. He was a great player who was everything a team could have wanted in a franchise player. Great production, no controversy, durable, marketable, the works. I always laugh when fans of other teams call him overrated because the guys running their favorite clubs go to bed each night dreaming about having a Derek Jeter to build around.
The Yankees are moving into a new phase of their history now. And that phase might be ugly, at least in the immediate future. Jeter has retired and every tie to the dynasty years — the teams I spent my formative years watching — is gone. In this age of MLB-created parity and competitive balance, we might never see another run like that again. We definitely one see another Jeter. I know that for sure.