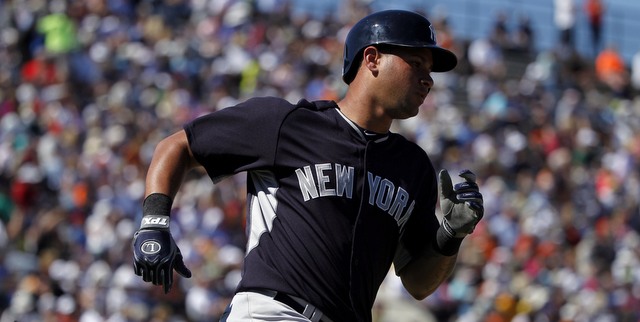 As we've seen firsthand the last few seasons, these days it takes way more than 25 players to get through a 162-game season. It usually takes more than the 40 guys on the 40-man roster as well. Players get hurt and/or underperform, and reinforcements are needed. The Yankees used a franchise record 58 different players last season and over the last five seasons they've averaged 50 players per year.
Needless to say, the Triple-A affiliate is very important. Many clubs use it as a taxi squad for their extra players, calling up fresh arms for the bullpen as needed or an extra right-handed bat if they're slated to see a lot of lefty starters that week. Stuff like that. Triple-A is a place to stash spare players, the important depth pieces each team needs throughout the season.
So, with that in mind, let's look at the projected Triple-A Scranton roster for the upcoming season. Keep in mind that it is only the middle of January and a lot can and will change between now and Opening Day. This is just a snapshot in time. Let's get to it.
Position Players
| Catchers | Infielders | Outfielders | Utility |
| --- | --- | --- | --- |
| Gary Sanchez* | Kyle Roller | Eury Perez* | Jose Pirela* |
| Austin Romine* | Nick Noonan | Tyler Austin* | Adonis Garcia |
| Juan Graterol | Rob Refsnyder | Ramon Flores* | Jonathan Galvez |
| Francisco Arcia | Cole Figueroa | Taylor Dugas | Ali Castillo |
| | Rob Segedin | Ben Gamel | |
Players on the 40-man roster are denoted with an asterisk. Aside from putting the 40-man guys at the top, there's no particular reason why the players are listed in that order, so don't read anything into it.
Sanchez, who seems to be a little underrated at the moment, will serve as the RailRiders' regular catcher after spending a year and a half in Double-A. Romine is the most obvious candidate to back Sanchez up, though he is out of minor league options, so sending him down will require a trip through waivers. I suppose Romine could back up Brian McCann with John Ryan Murphy in Triple-A, but that seems highly unlikely. If Romine does get lost on waivers, Arcia and minor league free agent pickup Graterol are the backup candidates. I'd bet on Arcia backing up Sanchez in that case with Graterol either in Double-A or on the phantom DL.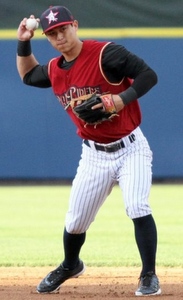 The first of two locks on the infield is Refsnyder, who will play second and probably bat third if he doesn't slip onto the big league roster somehow. That would require an injury in Spring Training, most likely. Roller at first base is the other lock and he'll probably bat cleanup behind Refnsyder. He mashed last summer. Segedin spent some time in Triple-A last year and it didn't go well (2 wRC+!), though he'll likely get another shot this year and play his usual third base. Noonan and Figueroa were signed as minor league free agents and are candidates to play short.
The outfield is a little crowded, though I expect Perez to be designated for assignment to clear a 40-man spot for Stephen Drew. (No, the Drew signing still isn't official. They're taking their time with that one.) Assuming Perez goes, Dugas and Garcia will share center field duty like they did at times in 2014. Flores and Austin are natural fits in left and right field, respectively, and Pirela will probably wind up playing a different position everyday, like he did last season. He'll be the rover. That's assuming he doesn't win a big league bench job somehow.
That brings us to 12 position players assuming Perez loses his roster spot to Drew. The 13th position player spot will go to one of Gamel, Castillo, or Galvez, and I think Galvez is the obvious choice, mostly because he's spent the last two years in Triple-A. Gamel (80 wRC+) and Castillo (81 wRC+) weren't particularly good with Double-A Trenton in 2014. Galvez was another minor league free agent signing and his 101 wRC+ at Triple-A the last two years suggests he will be there again in 2015. He might even start at third over Segedin.
Alright, so after all of that, the position player portion of the RailRiders roster figures to look something like this:
C Sanchez
1B Roller
2B Refsnyder
SS Noonan or Figueroa
3B Segedin
LF Flores
CF Dugas or Garcia
RF Austin
DH Pirela
Bench: Romine/Graterol/Arcia, Noonan or Figueroa, Dugas or Garcia, Galvez
If you want to play around with the batting order, I'd go with Pirela at leadoff, then Flores, Refsnyder, Roller, Sanchez, Austin, Segedin, Dugas or Garcia, then Noonan or Figueroa in the ninth spot. More importantly, Pirela is likely to be the first player called up whenever help is needed simply because he's already on the 40-man and can play almost anywhere. Not well, mind you, but he can do it. Versatility works in his favor.
Austin, Sanchez, and Flores are all on the 40-man and I think all three will make their MLB debuts this season, even if it's nothing more than a September call-up. Flores played 63 games around an ankle injury in Triple-A last summer and will probably get the call before Austin if an outfielder is needed. Sanchez isn't ready to catch in MLB so an awful lot would have to go wrong for him to get called up at midseason. Someone like Noonan or Figueroa could get a random call-up at some point if necessary. We'll see. For the most part, this is the crop of position players I expect to head to Scranton at the end of Spring Training.
Pitchers
| Starters | RH Relievers | LH Relievers |
| --- | --- | --- |
| Jose DePaula* | Jose Ramirez* | Chasen Shreve* |
| Bryan Mitchell* | Branden Pinder* | Jacob Lindgren |
| Chase Whitley* | Danny Burawa* | Tyler Webb |
| Zach Nuding | Chris Martin* | James Pazos |
| Matt Tracy | Mark Montgomery | Fred Lewis |
| Caleb Cotham | Diego Moreno | |
| Joel De La Cruz | | |
Update: I totally forgot about RHP Nick Rumbelow, who ended last season in Triple-A. He'll be in the bullpen mix this year as well. My bad.
Again, don't read anything into the order of the players in the table. I just listed them as they came to mind. Also, I'm not actually sure if De La Cruz is with the organization any more. He re-signed with the Yankees as a minor league free agent last offseason and I don't know if he did so again this year.
Anyway, the Triple-A rotation is very much up in the air depending on the needs of the big league team. If the Yankees need to dip into this group of players before Opening Day, Mitchell would presumably get the first shot at the rotation. Whitley made some starts last season and was actually pretty good for a while, but the wheels eventually came off and I don't think anyone's looking forward to seeing him in the rotation again anytime soon. I do think he'll start for the RailRiders just to stay stretched out as an emergency option though.
DePaula's interesting. The Yankees liked him enough to give him a Major League contract and a 40-man roster spot a few weeks ago, though he's thrown only 131 innings over the last three years due to injury (51.1 in 2014). He's a starter and an easy call for the Triple-A rotation. Nuding, Tracy, Cotham and De La Cruz all spent part of last season with the RailRiders and I think I'd put them in that order on a depth chart. Meaning if everyone in the MLB rotation stays healthy, I think the Triple-A rotation would include Mitchell, DePaula, Whitley, Nuding, and Tracy with Cotham and De La Cruz stuck back in Double-A. Assuming De La Cruz is still in the system, of course.
One rotation candidate who is not listed is top pitching prospect Luis Severino, who the Yankees have clearly put on the fast track. I don't think Severino will start the year with Triple-A Scranton — he made six starts with Trenton at the end of last season — because right now it appears the RailRiders have enough bodies for the rotation. More than enough, really. Plus he's an actual prospect, not just someone to soak up innings. A few more starts in Double-A won't be the end of the world. Severino will be up in Triple-A before you know it.
The bullpen is where it really gets a little tight. The Yankees have one open spot in the big league bullpen right now and that spot will go to one of those eleven guys listed in the table above. I fully expect a) there to be a Spring Training competition for that last bullpen spot, and b) that last spot to be a revolving door all year. It always is. Whoever wins the roster spot in camp doesn't automatically get to keep it all year either. If that player isn't doing the job, the Yankees will be quick to make a change because they have plenty of options.
Lewis and Moreno have Triple-A time but are non-prospects and low priority players, so they'll be on the short end of the roster stick come decision time. They could start the year in Double-A or be flat out released if there's no room. Montgomery, who isn't much of a prospect anymore because he lost a ton of velocity following his 2013 shoulder injury, was demoted from Triple-A to Double-A last year. I think he'll get another shot at Triple-A this year. Pazos had a 1.50 ERA (2.78 FIP) in 42 innings from Trenton last season and could wind up back there because of the numbers crunch.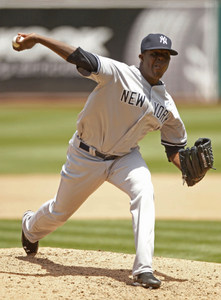 Assuming Lewis, Moreno, and Pazos don't make the RailRiders roster — and the extra starters (Cotham and De La Cruz) are sent to Double-A instead of the bullpen — we're down to eight relievers for eight roster spots — the last spot in MLB and seven in Triple-A. Who gets that MLB spot will be determined in camp and I honestly think it'll go to whoever looks the best during Grapefruit League play. If it's Ramirez, it's Ramirez. If it's Shreve, it's Shreve. If Martin surprises and wins the last bullpen spot, great. I think that race is wide open.
So, based on all of that, I think the Triple-A rotation will be Mitchell, DePaula, Whitley, Nuding, and Tracy with an eight-man bullpen pool of Shreve, Lindgren, Webb, Ramirez, Pinder, Burawa, Martin, and Montgomery. One of those eight gets to start the year in the show as the last reliever and 25th man on the roster. Guessing which pitcher will be the first to get called up is a fool's errand. That depends on rest and availability as much as it does performance. The 40-man guys are always a safe bet to get the call first.
It goes without saying this all subject to change. We're still five weeks from the start of the Spring Training, meaning there is plenty of time for trades and DFAs and injuries and all sorts of other stuff before the start of the regular season. This is just a best guess based on the personnel available right now. The Yankees have built up quite a bit of depth this winter, particularly pitching depth, and that carries over into the minors. Guys like Cotham, Lewis, and Pazos would have been locks for Triple-A in part years, but now it appears they'll have to return to Double-A until there's an injury. One way or another, expect to see many of these guys in the Bronx this summer.