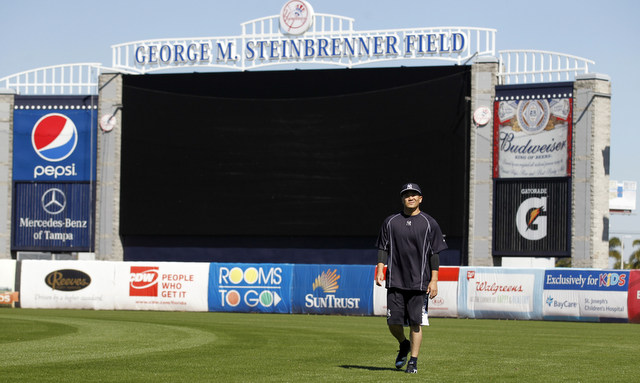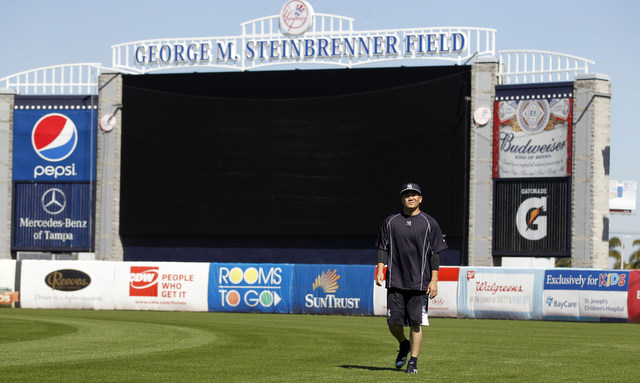 For the second straight year, Masahiro Tanaka came to Spring Training as an unknown. The circumstances this year are very different though. Last year Tanaka was a newcomer to the Yankees and MLB in general, having been signed as a kinda sorta free agent in the offseason. The Yankees obviously believed in him, hence their $175M commitment, but no one knew what he could do for certain.
This year though, Tanaka came to camp as an unknown because of last season's elbow injury. He missed almost the entire second half with a partially torn elbow ligament that did not require surgery because the tear was so small. Tanaka showed in the first half he was worth every penny of the team's investment, he was that dominant, though the elbow injury has cast a cloud over his status this year, at least so far.
Things have gone well for Tanaka in Spring Training to this point. He's had no issues in workouts — bullpens, live batting practice, simulated games, etc. — and his Grapefruit League debut last week was dominant. He looked like the healthy version of Tanaka we saw early last year. Yet the elbow injury lingers in the back of everyone's mind — Tanaka says he's not thinking about it but how could he not? — and it's uncomfortable. That doesn't lessen his importance to the team, of course.
Yankees Need: Tanaka To Be An Exception
This goes without saying: the Yankees need Tanaka to stay healthy this season. He is arguably the single most important player on the roster — if he's not the team's most important player, then he's on the very short list of candidates — and not just in terms of contending in 2015, but for the future of the franchise overall. Tanaka is the Yankees' version of Giancarlo Stanton or Mike Trout or Buster Posey. A significant injury to him changes everything.
Tanaka rehabbed his elbow injury last year and while that only slightly delays the inevitable in most cases, it can be enough to keep him healthy for several years. Adam Wainwright and Ervin Santana are two players who pitched multiple years with partially torn elbow ligaments. Current Yankees non-roster player Scott Baker did as well. He recently told Chad Jennings he hurt his elbow ligament in college but didn't need surgery until his seventh year in the big leagues.
Still, guys like Baker and Wainwright and Santana are the exception, not the rule. Others like Chad Billingsley, Drew Hutchison, Matt Harvey, Francisco Liriano, Bronson Arroyo, Cory Luebke, and Pat Neshek are recent of examples of pitchers who tried to rehab their damaged ligament only to need surgery a handful of innings later. If Tanaka's elbow stays intact this year, he will be the exception given the nature of his injury, and that's what the Yankees need.
Tanaka Can: Say He Followed Doctor's Orders
It's important to understand the Yankees and Tanaka are not being reckless. They're simply following doctor's orders. When Tanaka suffered his injury last year, he was examined personally by three doctors — Yankees team doctor Chris Ahmad, Mets team doctor David Altchek, and Dodgers team doctor Neal ElAttrache — and his test results were also sent to Dr. James Andrews for review. All four recommended rehab.
Then, before Tanaka returned to the mound late last year, he was again examined and given the okay to pitch. Tanaka also said he underwent an MRI after the season and everything came back clean. He went through the rehab protocol as recommended and the doctors all cleared him to return to action, so that's what he did. The Yankees and Tanaka did exactly what the experts recommended and that's what they should have done. Sending him for Tommy John surgery against recommendations would have been the reckless act.
"There's just no way to say surgery should be your first option," said Baker to Jennings. "I think the reason people can say that is because of the success of the surgery. As far as sports injuries, aside from the ACL, it's probably the most successful (surgery) as far as guys getting back to their previous level. So I think that allows (the argument), but does it justify it? No."
J.J. Cooper recently looked at the success rate of recent Tommy John surgery and found it is actually on the decline. At the Sloan Sports Conference a few weeks ago, Dr. Glenn Fleisig presented research showing only 67% of MLB pitchers who have the procedure make it back for 10+ games. The risk is high — in recent years Luebke, Daniel Hudson, Joel Hanrahan, Jeremy Hefner, and Jonny Venters all needed a second Tommy John surgery before they even finished rehabbing from the first (in Venters' case, he needed a third while rehabbing from his second) — so Tommy John surgery is something you don't have until you absolutely need it.
The doctors said Tanaka did not need his elbow rebuilt last summer. They recommended rehab, he rehabbed, and they cleared him to pitch when the rehab was complete. If the elbow gives out at some point this year and he needs Tommy John surgery, then so be it. As long as Tanaka and the Yankees did what the various doctors recommended, they did the right thing.
Yankees Need: An Ace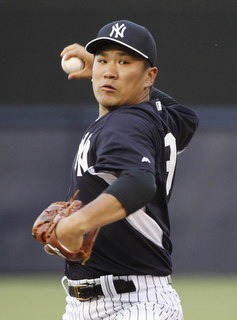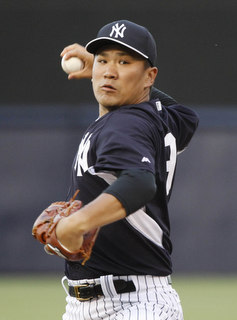 The Yankees didn't sink $175M into Tanaka to be a mid-rotation starter. They're counting on him to be an ace — for years to come too, Tanaka is only 26 remember — and last year he showed he can be that ace. With CC Sabathia fading, Nathan Eovaldi still in the process of figuring things out, and Michael Pineda having not thrown a full season in three years now, Tanaka has to be a front of the rotation stabilizing force for New York. The guy that when the players show up to the park on the days he is scheduled to pitch, they know it's win day. The guy who stops losing streaks and extends winning streaks. Simply put, the Yankees need Tanaka to be one of the best pitchers in the game.
Tanaka Can: Be An Ace
Based on what we saw in the first half last year, Tanaka absolutely can be that front of the rotation pitcher and the ace the Yankees need. He was a top ten pitcher in the game at the time of his injury, racking up strikeouts (9.39 K/9 and 26.6 K%), limiting walks (1.32 HR/9 and 3.6 BB%), and generally keeping the ball on the ground (45.9%). Because of his splitter, Tanaka was actually more effective against lefties (.280 wOBA) than righties (.302 wOBA) too.
The only flaw in Tanaka's game is his tendency to give up the home run (0.99 HR/9 and 14.0 HR/FB%), though even that wasn't all that bad considering his home ballpark (AL average was 0.89 HR/9 and 9.4 HR/FB% in 2014). Twelve of the 15 homers he allowed last year were solo shots because he was so good at limiting base-runners overall. Also, eleven of the 15 homers came off fastballs, which is actually his least effective pitch. Tanaka's offspeed pitches are so good he can still dominate without an overwhelming fastball.
I also think there's a mental component to being an ace, and Tanaka certainly showed it last year. He never seems to get rattled on the mound and is always in attack mode. He's an elite competitor. That's a big reason why the Yankees loved him so much and felt he was worth the $175M risk. If his elbow holds up, Tanaka is going to be a pretty damn good pitcher. He showed all of his pitches in his brief outing last week and everything looked crisp. Granted, it was 19 total pitches and we need to see more, but right now, I'm comfortable saying Tanaka can be ace-like this summer if the elbow cooperates.
* * *
We — and by we I mean basically everyone, Yankees fans and Yankees haters alike — spent all winter worrying about Tanaka's elbow and more or less assuming it would blow out at some point this year. We never bothered to consider the alternative scenario. The one where Tanaka is the exception and his elbow does hold up. He's a difference-maker when healthy, hands down the best pitcher in the AL East and one of the best in all of baseball. It's far from a given Tanaka will stay healthy, we know that, but it's not impossible either. He's passed every test so far in camp, which is way more than many expected.