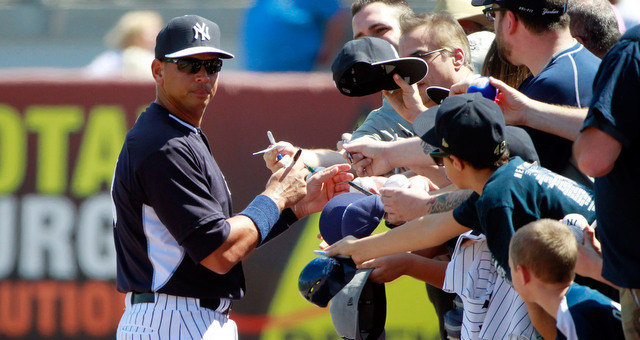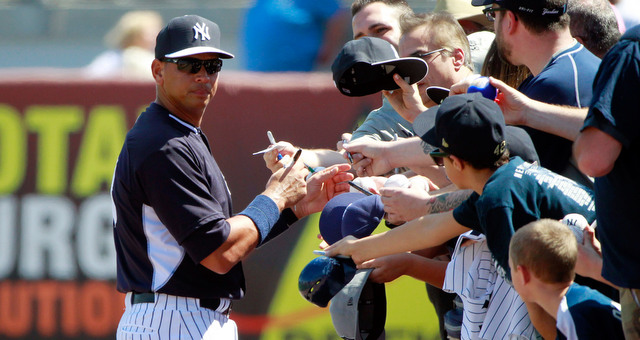 After a one-year hiatus, the most uncomfortable marriage in baseball returns in 2015. Alex Rodriguez's one-year suspension is over and he has rejoined the Yankees, not too long after suing the team, suing the team doctor, suing MLB, and suing the MLBPA. He sued everyone last year. But then all the lawsuits were dropped, he served his suspension, and now he's back in pinstripes.
The only reason A-Rod is back with the Yankees is money. He's owed over $60M the next three years and the Yankees are determined to see if they can get something more than nothing out of that investment. Well, that and they might be able to recoup some of the money through insurance (if A-Rod gets hurt) or another performance-enhancing drug suspension. The team is reportedly confident they can get out of the five $6M home run milestone bonuses, but that's another matter. The $60M+ isn't going away that easily.
The Yankees made it clear this offseason they are not counting on Rodriguez at all. They re-signed Chase Headley to be the everyday third baseman and they traded for Garrett Jones to be the regular DH if necessary. They've pulled no punches. It's been made clear that if A-Rod is going to play a major role in 2015, he has to earn it, and to his credit Alex seems to have embraced that reality. He's trying to win a job this spring.
Yankees Need: Hit Please, Even Just A Little
Here's a scary thought: A-Rod is the team's best right-handed hitter right now. It's either him or Chris Young. The only other righty hitters on the projected Opening Day roster are John Ryan Murphy and Brendan Ryan, and no one has high offensive expectations for those two. A-Rod is important to New York's righty/lefty lineup balance. And besides, if he doesn't hit, he's useless. His defense wasn't all that good before his most recent hip surgery and long layoff. So please, Alex, be more than a zero at the plate. That's what the Yankees need from him.


Simply put, no one has any idea what A-Rod can do at the plate this year. He wasn't bad the last time he played — .244/.348/.423 (113 wRC+) with seven homers in 44 games in the second half of 2013 — but that was more than a year ago now, before last season's suspension. Can Alex do that again in 2015, at age 39 and after not facing live pitching in a more than a year? That's what we're going to find out relatively soon.
I am certain the Yankees would take a repeat of Rodriguez's 2013 performance in 2015. That almost feels like a best case scenario at this point. A-Rod comes into today 5-for-11 with a double, a homer, two walks, and two strikeouts in Grapefruit League play, but that doesn't tell us much. Even he knows that. "0-for-9, 4-for-9 … It doesn't really mean anything. I've played for a long time. It's better than 0-for-9, I guess," he said to Chad Jennings earlier this week. From watching him in camp, the only thing I can say is A-Rod still seems to know the strike zone. He's taking balls and swinging at strikes. That's pretty much all we know about Alex offensively at the moment.
Yankees Need: Play The Field More Than Never
Headley is going to be the regular third baseman but the Yankees don't have an obvious backup. Ryan can do it if necessary, but that's not an ideal situation. If all goes according to plan A-Rod will be the primary DH and only a part-time third baseman, someone who can fill in when Headley needs a day off. The Yankees have also been working Rodriguez out at first base in Spring Training in hopes of making him a backup option there as well. The team isn't counting on Alex to play the field regularly at all. They just want to be able to do it on occasion to make his roster spot more functional.


Even before the suspension, A-Rod was no longer much of a defender at the hot corner. He was serviceable, making the plays he was supposed to make and occasionally a little more, but that was it. Two hip surgeries and one knee surgery sapped much of his mobility, as did Father Time.
But now, we again have no idea what Alex can provide defensively. He is further away from his various lower body surgeries but is also a year older, and who knows how the year of baseball inactivity will take its toll. A-Rod said it himself the other day, it's not going to be an Ozzie Smith year, he's going to make whatever plays he can and that doesn't figure to be anything beyond the routine.
For what it's worth, I do think A-Rod would handle first base fine because he's such a smart and instinctual player. Once he gets a few innings under his belt I think he'll look like a natural, not like Kelly Johnson or Brian McCann did at first base last year. Either way, hopefully Alex will hold up physically well enough to play the field — either first or third base, anything he can do to help — one or two days a week. Even that little bit will help.
Yankees Need: Ratings & Attendance Boost
Thanks to Derek Jeter's farewell tour, YES Network ratings increased 24% last year and attendance at Yankee Stadium increased roughly 4% from 2013-14. That's all well and good, but ratings reportedly dropped roughly 30% and attendance dropped nearly 9% from 2012-13, so, even with the rebound, 2014 ratings and attendance were below 2012 levels. That's not good for the #brand. The Yankees will never publicly admit it, but they're hoping A-Rod's return leads to a few more eyeballs watching the team in 2015.
A-Rod Can: Hog All The Attention In The Baseball World
People hate A-Rod. They hate him so much they can't stop talking about him or reading about him or watching him or going to games to boo him. The media has obsessed over Alex this spring and you know why? Because he drives page views the same way he helps drive television ratings and attendance. People hate him so they tune in to see him fail. No player in baseball garners as much attention — mostly negative attention, but attention nonetheless — as Alex. He's the king.