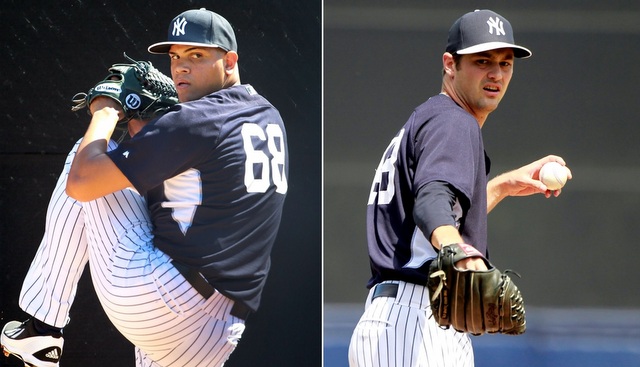 When the 2015 season begins on Monday, the Yankees won't have a closer. They'll have two closers. Or they'll have two half-closers. Something like that. Yesterday, Joe Girardi confirmed the Yankees will start the season with lefty Andrew Miller and righty Dellin Betances as co-closers, something he's been hinting at since even before Spring Training. The eighth and ninth innings will be based on matchups.
"I really think that if you do it that way, and as long as you're prepared, it has a chance to be advantageous to you," said Girardi to Chad Jennings yesterday. "My thought has been more like with a power lefty who strikes out a lot of guys and a power righty, the lineups just might match up where one day he's the eighth inning guy and then one day he's the ninth inning guy a little bit better. I think you start managing who you're going to use (in the ninth) in about the sixth inning, because you try to prepare them."
This isn't a situation where the Yankees don't have a viable closer on the roster. They have two very qualified closer candidates in Miller and Betances — two qualified candidates when Betances is right, that is, and he hasn't been right this spring — and selecting either one as the traditional closer would have been easy and completely justifiable. Instead, Miller will face the tough lefties regardless of whether they're due to bat in the eighth or ninth while Betances gets the tough righties.
For what it's worth, both Miller and Betances have being saying all the right things about the possibility of being used as co-closers since the idea was first broached before Spring Training. Both guys say they don't care about closing, they just want to win, sometimes the eighth inning can be just as important as the ninth, all that good stuff. Girardi ran the idea by them again earlier this week and both guys are still all for it.
"I've talked to both. They're concerned about winning more than (roles), in the sense of I'm this guy, I'm this guy. That's the sense I've got from them," added Girardi. "Now, could it iron itself out and you start to do it one way? Yes. But we talked a little bit about it yesterday. I'll continue to talk about it with my coaches and (pitching coach Larry Rothschild) and his feelings about it as they get a feel, and (bullpen coach) Gary Tuck who's in the bullpen, what do you think the importance of it is that we actually set a role? But as of right now, we haven't felt that we have to."
In theory, co-closers is a great idea. Girardi is meticulous with his bullpen usage, both matchups and workloads, so I have no reason to think he couldn't pull this off. It's been done before, most notably by the 2009 Braves with Rafael Soriano and Mike Gonzalez, but it certainly is unconventional and ripe for second guessing. Optimizing reliever usage by putting them in situations where they are most likely to help the team is much better than marrying them to specific innings.
Now, that said, Dellin's spring performance is a problem we can't ignore. It doesn't look like he's hurt, it looks like his problems are purely mechanical, but Betances has a long history of mechanical issues and he's yet to sort them out. The Yankees open the season against the Blue Jays and Red Sox, two teams will a ton of very good right-handed hitters, so tossing Dellin out there in the ninth inning with a one-run lead against a bunch of righties isn't so comforting at this very moment.
Until Betances gets sorted out, David Carpenter might be a safer bet for high-leverage work against right-handed hitters. Girardi told Bryan Hoch he doesn't consider Chasen Shreve or Justin Wilson to be lefty specialists, though those guys figure to handle the middle innings, not the eighth and ninth. Maybe the co-closer system should be Miller and Carpenter for a little while until Betances is back to where he needs to be. My guess is Dellin will be used alongside Miller as the co-closer until he pitches his way out of the job though.