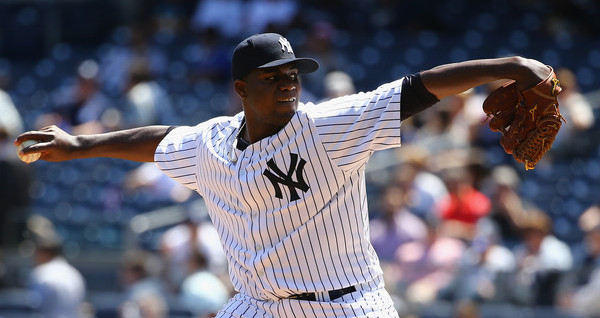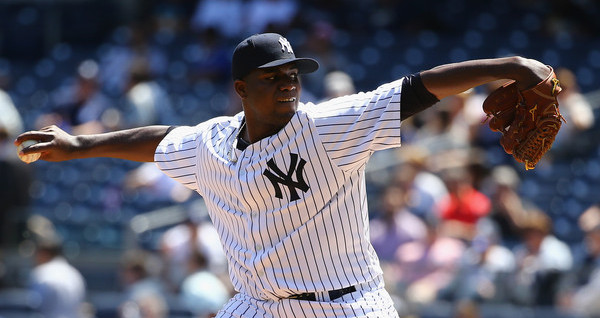 With the health of Masahiro Tanaka's wrist/forearm/elbow a huge question mark following his latest DL stint, Michael Pineda has assumed the de facto role of ace in the Yankees rotation. While his 3.73 ERA is nothing special, his peripherals and defense-independent stats are flat-out ridiculous, and probably are the better indicator of his true pitching performance this season.
In 31 1/3 innings, Pineda has struck out 32 batters, walked two guys (!) and allowed two home runs. That all adds up to an AL-best 16-to-1 strikeout-to-walk ratio and a FIP of 2.20, which ranks among the five best in baseball. He's even sporting a career-best ground ball rate of 55 percent, putting him in rare company this season:
There are three pitchers who are striking out more than one-quarter of batters faced, with a walk rate below five percent and are getting grounders on more than 50 percent of balls in play: Felix Hernandez, Clayton Kershaw and Michael Pineda. Any time your name is on a short list with those two pitchers, you're doing something right.
******
Prior to his first start of the season, I wrote here about one key improvement Pineda needed to make in order to truly stand out atop of the Yankees rotation: the ability to pitch deep into games. That obviously doesn't tell the whole story of how he can develop into an ace, though.
Another trait the best pitchers in the game share is an arsenal that features at least three above-average, quality pitches they can throw in nearly any count. Pineda has always been able to unleash a devastating fastball-slider combo, and relied heavily on that mix last year, throwing those two pitches nearly 90 percent of the time. But this season he's added a much-improved changeup which has brought him that much closer to achieving "ace" status.
Let's take a deeper look at the development of this new weapon and how Pineda is using his newfound toy to dominate hitters.
Pineda clearly has more confidence in his changeup this season and is consistently going to that third pitch every outing. He has thrown his changeup at least 10 percent of the time in all five of his starts in 2015, a rate that he reached in just six of 13 starts last year.
Not only has he increased its overall usage from 9.3 percent to 13.6 percent, per Brooksball.net, he's also more comfortable throwing it to both lefties and righties. He's already thrown 25 changeups to right-handed batters this season, 10 more than he threw in all of 2014.
Another indication of his increased confidence in the changeup is his willingness to use it as an out-pitch, to complement his already-nasty slider. He's more than doubled his changeup usage in two-strike counts over the last two seasons (from 9 percent to 20 percent), giving hitters yet another off-speed pitch they have to worry about when falling behind in the count.
MICHAEL PINEDA PITCH USAGE WITH 2 STRIKES
| | | | |
| --- | --- | --- | --- |
| Year | Fastball pct | Changeup pct | Slider pct |
| 2015 | 28.5% | 20.0% | 51.5% |
| 2014 | 44.9% | 8.8% | 46.3% |
Although the pitch is still evolving, it's been really effective for him in finishing off batters. Pineda has thrown 26 two-strike changeups and gotten eight strikeouts with those pitches (all swinging!) this season, giving him a changeup "put-away" rate of 31 percent that is tied for second in the majors (min. 50 pitches). Daniel Murphy had no chance when he decided to swing at this 87 mph two-strike changeup on April 24:
While strikeouts are nice and flashy and get the crowd pumped up, the real bread-and-butter of Pineda's changeup is in its ability to get ground balls. Batters have put 13 of his changeups in play this season, and 10 of those have been grounders. That's a ground ball rate of 77 percent on his changeup which puts him among the top-5 in the majors and is a huge jump from last year's mark of 44 percent.
It's no secret that the key to getting more grounders is to pound the bottom of the strike zone, and Pineda has done exactly that with his changeup this season. He's improved the location of the pitch this season compared to last year, leaving fewer hanging changeups and burying more of those pitches below the hitters' knees.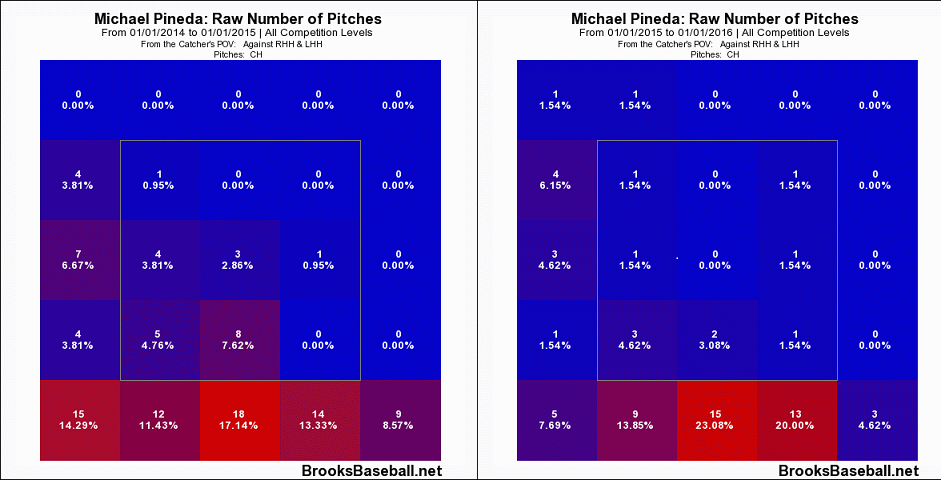 The changeup, however, remains a work in progress for Pineda. He's struggled to command it on the edges, getting just four called strikes compared to 33 (called) balls this season, a rate that ranks in the bottom 10 percent among major-league pitchers.
While you never want to serve up meatballs in the middle of the plate, you need to at least occasionally throw something that looks like a strike in order to keep hitters honest. Pineda, though, has put only 10 of his 65 changeups (15 percent) in the zone. So far he has relied mostly on hitters' poor discipline to get outs, which probably isn't sustainable over a full season.
Despite the control problems, it's hard not to be optimistic about the development and improvement of Pineda's changeup this season. If he can continue to throw the pitch with confidence and become more consistent in its execution, Pineda could have three plus-pitches with which to dominate lineups – and should be nearly ready to put the title of "ace" next to his name on the back of his baseball card.