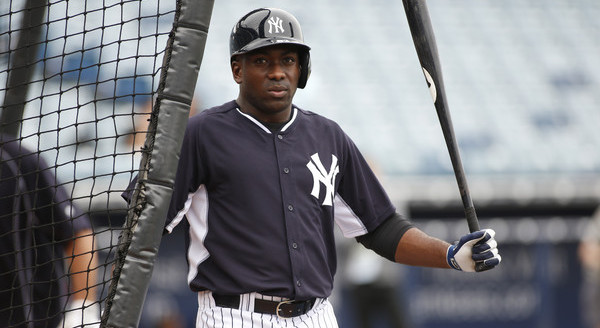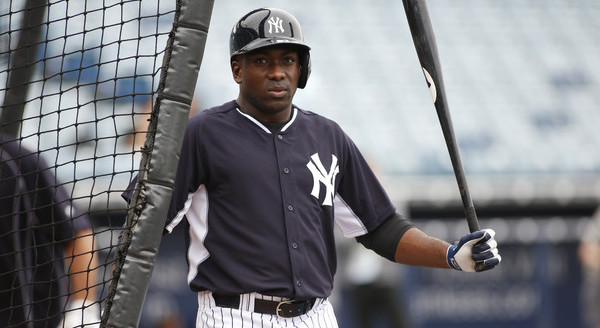 Even with last night's disappointing come-from-ahead loss to the Blue Jays, the Yankees have won 13 of their last 17 games, and they've played well in just about all phases of the game. Not truly great but good enough. They're getting just enough offense and just enough starting pitching to support a strong team defense and a dominant bullpen.
The Yankees are not without their flaws, of course. The bottom of the order is mostly unproductive, like half the roster is at risk of physically breaking down in any given game, and some of the spare part players are providing little help. Garrett Jones failing to make that scoop in the eighth inning last night is a prime example. It was a tough play but one that has to be made.
The trade deadline is still several weeks away and the Yankees are unlikely to make a major roster move anytime soon. By major I mean adding a new everyday player to the lineup or a new starter to the rotation. (Chris Capuano is two weeks away from returning. That's about as big as it'll get until July.) The Yankees do have the ability to make some small upgrades to the margins of the roster though, and they don't even have to go outside the organization to do it. Here are three that jump to mind.
Swap Petit For Pirela
This one is really straight forward. The Yankees were planning to call up Jose Pirela last Wednesday before Masahiro Tanaka got hurt and threw a wrench into things. Tanaka's injury allowed the team to recall Gregorio Petit one day after sending him down and extend Pirela's rehab assignment, which was actually a good thing because Pirela himself told Dan Pfeiffer he didn't feel his swing was all the way back just yet.
Pirela went 0-for-11 with three strikeouts in his first three rehab games before the Tanaka injury and has gone 12-for-22 (.545) with five doubles, one homer, two walks, and no strikeouts in five games since. I suppose that doesn't necessarily mean he feels his swing is back to where it needs to be, but yeah. It sure seems like Pirela back on track after missing close to a month with the concussion.
For whatever reason Joe Girardi considers Petit a legitimate platoon option — he pinch-hit with two outs in the ninth inning last night! — but he's not that type of player. Petit's not much of a hitter at all. He's been in pro ball since 2003 and has never really hit. No reason expect it to happen now unless he's made a sacrifice to the BABIP gods. Pirela's defense is not on par with Petit's but his offense figures to be so far superior.
Petit surprisingly has an option left and that's good. He's worth stashing in Triple-A as middle infield depth since Brendan Ryan can't even rehab one injury without hurting something else. This is a very simple move. Send down Petit, activate Pirela off the disabled list, and platoon him with Stephen Drew at second. It doesn't get much easier than that.
Swap Shreve Or Martin For Lindgren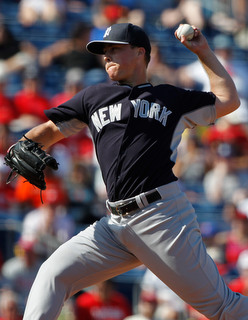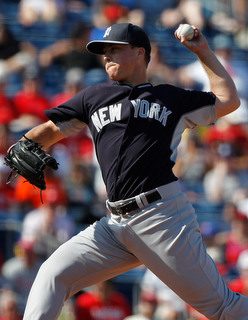 I am going to die on the Jacob Lindgren hill this summer, aren't I? New York's top draft pick last year has struck out 14 of 50 batters faced in Triple-A and 24 of the 30 balls he's allowed to be put in play have been ground balls. His career numbers are even better — 40.3% strikeouts and 80.6% grounders in 35 innings. Total domination from a quick moving college reliever.
The Yankees have played a lot of close games lately and both Dellin Betances and Andrew Miller have been worked hard. Betances pitched for the sixth time in the last nine games last night and Miller has appeared in five of nine. This is just one of those stretches where they've been needed a lot — at some point later this season they'll go five or six days between appearances, that's baseball — so anything the Yankees can do to make their lives easier, they should.
Last night Girardi turned to Chris Martin in the eighth inning and that didn't work — he got one out and allowed two hits. That's after nearly allowing a homer to Mookie Betts over the weekend. Furthermore, Chasen Shreve seems to be the quintessential "last guy in the bullpen." He's pitched in either mop-up spots or extra innings. These two have done nice work overall this year, but I've said this before and I'll say this again: you don't let guys like that block someone like Lindgren.
The Yankees didn't select Lindgren with their top pick last year because they think he's a middle reliever. They believe he's an impact reliever, and there's no such thing as too many impact relievers. Betances and Miller are unbelievable. Betances, Miller, and Lindgren might be even better. Or it might not! At some point you have to find out, right? Lindgren's a possible late-inning weapon. Martin and Shreve are the bullpen flavors of the week. Send down one, call up Lindgren, and let's see what he's got to offer.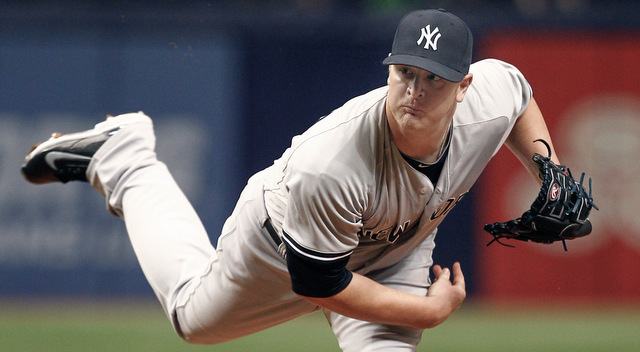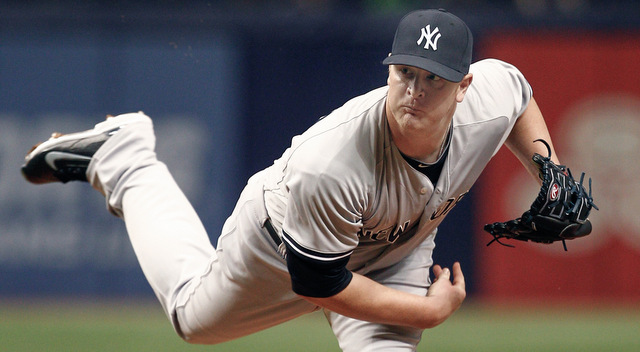 Give Carpenter More Responsibility
This David Carpenter thing is crazy, isn't it? It certainly appears Girardi does not trust him, possibly because of that big meltdown in Baltimore a few weeks ago. Carpenter threw one pitch in the Red Sox series and that was only because the bullpen was short-handed and Girardi had no choice to use him. Carpenter's thrown six innings in the last 22 games and 3.2 of those six innings came with the Yankees up by at least six runs.
Games like last night are pretty much the exact situation I had in mind when the Yankees acquired Carpenter. Starter goes seven innings, one of Miller or Betances isn't available, so Carpenter is the guy to pick up the slack. That's basically what he did for the Braves the last two years, when he had a 2.63 ERA (2.88 FIP) in 126.2 innings. Isn't that the kind of pitcher who deserves a longer leash than one meltdown before being banished to the far corner of the bullpen?
Girardi is usually really good with his bullpen usage and decisions, I mean really really good, yet Carpenter has fallen out of favor for whatever reason. I really don't understand it. With Betances and Miller overworked, this is the time to show a little more faith in the right-hander in high-leverage spots. At least more faith than Martin. Carpenter's pitched in late-inning situations before and he's capable of doing it again. He just needs the opportunity. There's no reason to hide him.
* * *
These aren't major moves and no, they're unlikely to have a big impact. They are potential upgrades though, potential upgrades with minimal downside. Swap Petit for Pirela and work Lindgren and Carpenter into the late-inning mix ahead of Martin and Shreve. Nothing crazy here. These are three easy-to-make moves — really two moves and one role change — and three possible upgrades that could help the Yankees sustain this recent hot stretch a little longer.