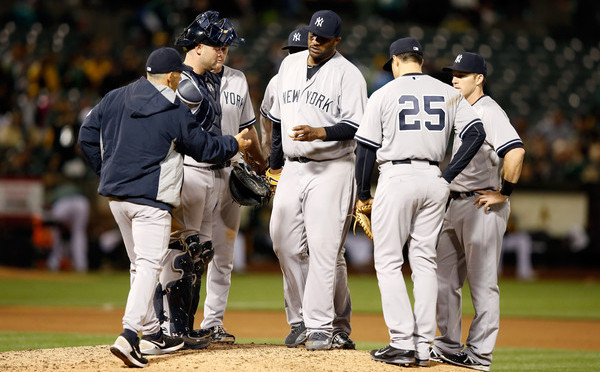 The Yankees and Athletics continue their four-game series with the third game later tonight. Saturday night games on the East Coast are terrible, but a Saturday night game on the West Coast? The worst. Whatever. Here are some links to hold you over until game time.
Pettitte working with Sabathia on confidence
Through ten starts and 60.1 innings this year, CC Sabathia has an unsightly 5.67 ERA (4.24 FIP) thanks to a seeming inability to stop the bleeding. The weapons from his peak aren't there any more and Sabathia's been unable to adjust. He has a 5.02 ERA (4.22 FIP) in his last 50 starts and 317.1 innings dating back to 2013, in fact. But, the Yankees are contractually locked in with Sabathia for another two years (at least another two years), so in the rotation he remains.
Andy Pettitte recently told Brendan Kuty he has been working with Sabathia, mostly with his confidence. "More than anything. I've been talking to him about being positive," said Pettitte. "I've been trying to encourage him, to say, 'Buddy, sometimes the numbers don't quite show how good you are and sometimes you can talk yourself into a little bit a rut … I know this is a tough stretch, but he's got too many weapons to struggle. I think over the course of a season, if he just sticks with it and mentally stays where he needs to be, then he'll get out of this."
I'm sure confidence has a ton to do with it, but man, it's pretty obvious Sabathia's troubles have to do with a lot more than that. We keep waiting and waiting and waiting for the transition from power pitcher to location pitcher a la Mike Mussina, but it's not happening, mostly because Sabathia not a legit top of the line command guy like Moose. If the Yankees continue to contend this season, it get the sense it will be despite Sabathia, not because of him.
Yadier Alvarez denied appeal for 2014-15 signing period eligibility
An appeal filed by 18-year-old Cuban right-hander Yadier Alvarez has been denied, reports Jesse Sanchez. Alvarez filed the appeal seeking eligibility for the 2014-15 international signing period, but he will instead have to wait for the 2015-16 period to start on July 2nd. The Dodgers are considered the favorites to sign him, mostly because all the other big market teams exceeded their spending pools this year and will be penalized going forward.
The Yankees scouted Alvarez, who has reportedly run his fastball up to 99, a few weeks ago, but they won't have a chance to sign him due to the lost appeal. They will be unable to sign any prospect to a bonus larger than $300,000 during the 2015-16 and 2016-17 signing periods as a result of the penalties stemming from last summer's international spending spree. The Yankees can sign anyone for any amount prior to June 25th, though there really aren't any high-end international players on the market right now.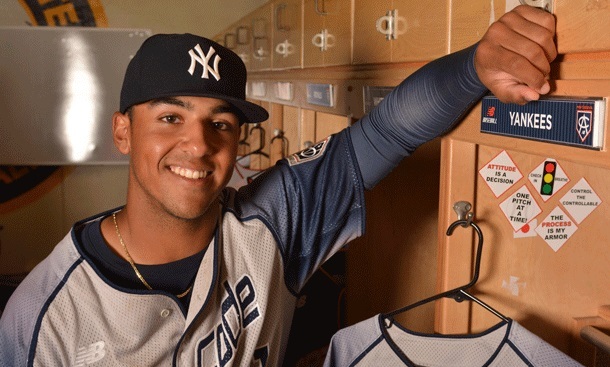 FanGraphs Mock Draft v2.0
Kiley McDaniel posted his second mock draft a few days ago. He has the Diamondbacks selecting Vanderbilt SS Dansby Swanson with the first pick, and it seems like that is the consensus right now. McDaniel has the Yankees taking New York HS OF Garrett Whitley with their top pick, 16th overall. (McDaniel didn't cover the Yankees in his first mock draft.)
Whitley's a tool shed. Raw, but he might have the most offensive upside in the draft. Here's my profile. McDaniel also hears the Yankees have some interest in Michigan HS OF Nick Plummer (sweet swingin' contact machine with okay power potential) and Kentucky RHP Kyle Cody (6-foot-7, 245 lbs., has touched 98 in the past but been inconsistent this spring). Plummer could go anywhere from about 10th overall through 50th overall, but Cody's more of a second or third rounder.
MLB.com's Mock Draft v3.0
Meanwhile, Jonathan Mayo published MLB.com's third mock draft of the season yesterday. Like McDaniel and a few others recently, he has the D'Backs taking Swanson first overall. Mayo projects the Yankees to select Cincinnati OF Ian Happ with that 16h pick. Here's my profile. Mayo also reiterates the team's interest in California HS C Chris Betts and says the Yankees "are looking for bats and might go for one of the high school hitters available." That's basically the exact opposite of what we heard from Baseball America's John Manuel yesterday, thus confirming no one knows anything about anything.
Reggie Jackson, Troy Afenir to represent Yankees at 2015 Draft
MLB announced each team's 2015 Draft representative earlier this week, and the Yankees will have Reggie Jackson and Troy Afenir on hand during the MLB Network broadcast on June 8th. Here's the full list of representatives. Reggie is Reggie, and Afenir has worked in the team's amateur scouting department for years and years. I know he covered Southern California a while back, but I'm not sure if that's still the case.