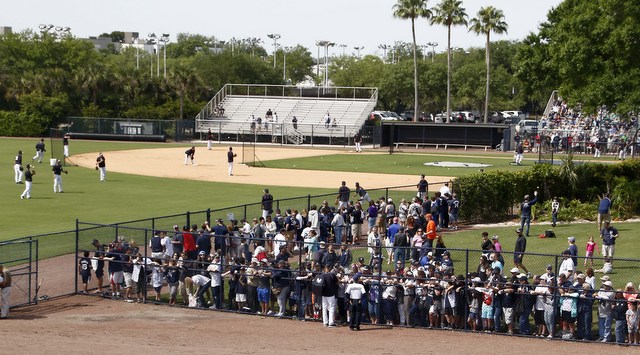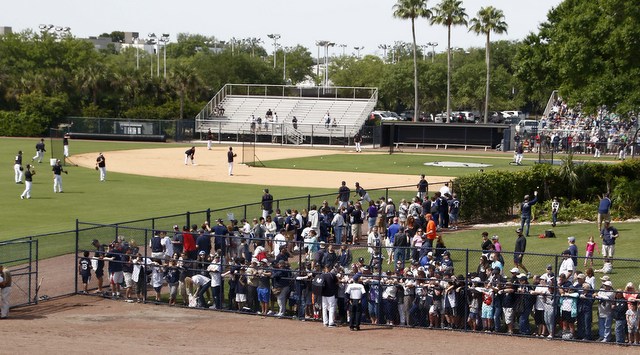 The Yankees are playing the Astros this afternoon (Nathan Eovaldi vs. Scott Feldman), but there will be no video broadcast, so we won't have a game thread. Instead, here are some miscellaneous links and notes.
MLB, MLBPA considering pre-draft medical combine
According to Jeff Passan, MLB and the MLBPA are expected to discuss the idea of a medical combine for draft prospects during the next round of Collective Bargaining Agreement negotiations. The current CBA expires after 2016. This comes after the Astros declined to sign California HS LHP Brady Aiken — the first overall pick in the 2014 draft — after an issue with his elbow popped up during a physical. Aiken had Tommy John surgery a few days ago.
It's easy to understand why teams would be in favor of a medical combine, but the players have little to gain from this. Of course, draft prospects are not MLBPA members, so the union is free to negotiate away their rights, which they've been doing for decades. A medical combine would bring a ton of logistical issues — who is eligible/required to participate? who are the doctors? how will this impact college players given the clown show that is the NCAA? — though I fully expect one to implemented at some point, if not 2017. The MLBPA has shown time after time they will sell out amateur players for the betterment of union members.
Hensley healthy and participating in all workouts
After being viciously assaulted in December, RHP Ty Hensley reported to Spring Training this year as a healthy player and has been able to participate in all workouts, according to Brendan Kuty. "If you didn't know something had happened, you wouldn't know from watching him. He's been working hard," said minor league pitching coordinator Gil Patterson.
Hensley, 21, has had a lot of physical setbacks in his career. The Yankees found an "abnormality" in his shoulder during his pre-draft physical and reduced his bonus from $1.6M to $1.2M. Then he missed the entire 2013 season after having surgery on both hips and to correct a hernia, and then he was assaulted in December. Hensley is really easy to root for, he's been very upbeat while dealing with all this adversity, though the fact of the matter is he has thrown only 42.1 innings since being the 30th pick in the 2012 draft. That's a lot of missed development time. I expect Hensley to start the season with Low-A Charleston and hopefully he plays a full, healthy season.
Felix Lopez out of the picture due to "family issue"
Executive Vice President/Chief International Officer Felix Lopez is out of the picture now, reports Bill Madden. George King says Lopez was not fired, but he is no longer on the team's masthead after being listed there as recently as March 16th. "It's a 'family issue," said Madden's source. Lopez is married to Jessica Steinbrenner (George's daughter) and was responsible for overseeing the day-to-day operations at the club's complex in Tampa, though reportedly he often overstepped his bounds and dabbled in the team's Latin America operations.
Madden says Lopez had an "unauthorized heavy hand" in negotiations with Yoan Moncada and effectively ended the club's chances of signing the Cuban infielder. Who knows if that's true — David Hastings, Moncada's agent, told Nick Cafardo he gave the Yankees a chance to match the $31.5M deal the Red Sox offered, for what it's worth — it seems like everyone in the organization has tried to pass the Moncada blame onto someone else, but either way Lopez is out of the picture. It really seems like no one is on the same page at the top of the organization. Everyone is going in a different direction.
Yankees have scouted Yadier Alvarez
The Yankees are among the many teams that have scouted 18-year-old Cuban right-hander Yadier Alvarez, reports Jon Heyman. Alvarez has been working out for teams in the Dominican Republic and has consistently sat 94-97 mph during workouts while touching 99. He  can not sign until the 2015-16 signing period opens on July 2nd, though Heyman says Alvarez is petitioning MLB to allow him to sign before then.
New York exceeded their international bonus pool during the 2014-15 signing period, so they can't sign a player for more than $300,000 during the 2015-16 and 2016-17 signing periods. So if Alvarez can't sign before July 2nd, the Yankees have no chance at him. They won't be able to make a competitive bid. If MLB allows him Alvarez to sign before then though, the Yankees can get involved and offer him whatever they want, which I'm sure will be just enough to fall short.
Jeter looking to open restaurant in Tampa
According to Eric Snider, Derek Jeter is looking to open a restaurant in the Tampa International Airport, but faces stiff competition from more established brands for the 3,439 square foot space. The restaurant, which is tentatively named "The Players' Tribune Bar & Grill," was billed as having a "VIP atmosphere" in the bid documents. Here are some more details:
The Player's Tribune menu skews upscale (no prices are listed), ranging from Buffalo Chicken Wings to Braised Porchetta, Spanish Garbanzo Bean soup to Roasted Pear Salad. There's only one athlete-branded item, unusual for a sports-themed restaurant: the Jeter Burger. (Photographs of Jeter, (Blake) Griffin and (Chris) Paul decorate the menu.) The only other fame-named entree is the Salvador Dali Egg Breakfast.

iPads will be made available at "virtually every seat" so customers can peruse The Players' Tribune website. High-def big screens will favor games by Tampa Bay teams.
Jeter made it no secret he wants to focus on his business ventures after retiring as a player, and, well, he'll hardly be the first ex-athlete to open a restaurant. If he misses out on the airport space, I'm sure Derek and his people will continue to look for a location elsewhere in Tampa. Seems like The Player's Tribune — the website, by the way, is about a million times more interesting than I (and many others) expected — is the brand Jeter is pushing.