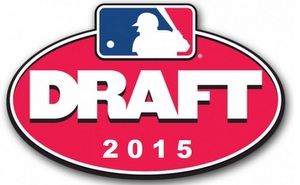 The Yankees have an off-day today, so instead we'll get to focus on a pretty important day in franchise history. Important in the history of every franchise, of course. Today is Day One of the 2015 amateur draft, and there will certainly be several future All-Stars will be selected today. Maybe a future MVP or a Cy Young Award winner. Maybe even a Hall of Famer or two. Careers have to start somewhere, and for many, they will start these next three days.
A total of 75 picks will be made tonight. That covers the First Round, Supplemental First Round, Competitive Balance Round A, Second Round, and Competitive Balance Round B. The Yankees have three picks tonight: 16th, 30th, and 57th overall. That's their first and second rounders sandwiched around the compensation pick for David Robertson. The Braves lead the way with five picks on Day One. Here's the full draft order.
Depending on who you ask, the Yankees are looking for either a bat or an arm with their top pick. Who knows? There were a lot of conflicting reports this year, even more than usual. That's fine, I like surprises. The strength of this draft is right-handed pitching, both high school and college, and the Yankees could use some arms for their position player farm system. Of course, teams don't draft for need. At least not the smart ones.
"We have worked on this a long time and are ready to take advantage of all our observations," said amateur scouting director Damon Oppenheimer to Zach Braziller recently. "All the info we got is that we are going to go after the best available player. It doesn't have to be a pitcher or a player, a high school player or a college player. It will be the best available guy.''
For the first time basically ever, I don't really have a preference for whom the Yankees draft tonight. This isn't a particularly strong draft class and I didn't get attached to anyone. New York HS OF Garrett Whitley would be cool though, mostly because he is considered to have a tremendous amount of upside. You can read my profile on Whitley and 23 others in our 2015 draft coverage archive.
The draft broadcast will begin at 7pm ET and you can watch live on both MLB Network and MLB.com. There will be a one-hour pre-draft show starting at 6pm ET as well. Here are Baseball America's Top 500 Draft Prospects and MLB.com's Draft Tracker for reference. We'll have posts covering each of the Yankees' three picks tonight, of course. Use this thread to talk all things draft. Enjoy.