After three days, 40 rounds, and 1,215 total picks, the 2015 amateur draft is complete. The Yankees wrapped up their draft haul with rounds 11-30 yesterday, and once again they focused on college players with higher probabilities, same as Day One and Day Two. Day Three was … not all that exciting. But who knows how this will work out? The draft is totally unpredictable. You can see all of the Yankees' picks at Baseball America. Let's review Day Three.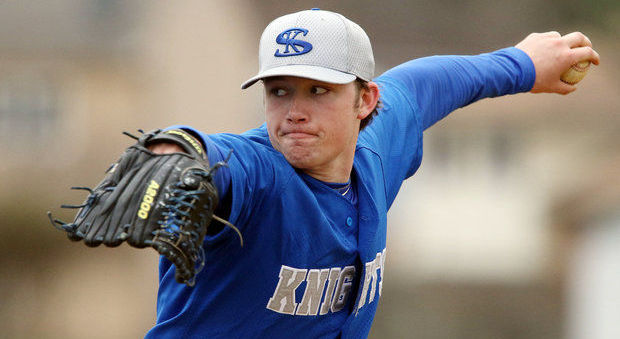 Youth & Upside
The Yankees made 30 picks on Day Three and only five (five!) were high school players. The two most notable are New Jersey LHP Andrew Miller (34th) and Florida SS Deacon Liput (39th). Yes, the Yankees actually drafted a lefty named Andrew Miller. Like the other Andrew Miller at the same age, this version throws hard (low-to-mid-90s) but doesn't have much of an idea where it's going. Unlike the other Andrew Miller, this one lacks a defined breaking ball and an intimidating frame (6-foot-3 and 195 lbs.). Still, lefties who throw hard are always worth a late round pick.
Liput is committed to Florida and is the kind of player who could wind up coming out of college as a top three rounds pick in a few years. He's a sound defender with great instincts and good speed, and he's able to slash the ball all over the field from the left side of the plate. Liput is very similar to current Yankees farmhand Tyler Wade, though Wade was a better bet to stay at shortstop long-term when he was drafted out of high school. The Yankees figure to have some pool money available to sign Miller or Liput to above-slot bonuses, but it might be one or the another, not both. Whoever takes the money first gets it.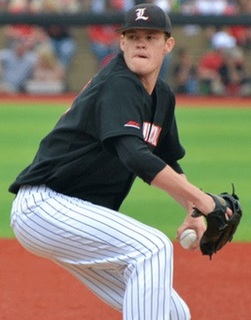 Tommy John Surgery Veterans
The Yankees selected a pair of college hurlers on Day Three who had their careers interrupted by Tommy John surgery: Louisville LHP Josh Rogers (11th round) and Southern Mississippi RHP Cody Carroll (22nd). Both had their elbows rebuilt as high school seniors — Rogers in 2013 (he's a draft-eligible sophomore) and Carroll in 2011 (he's a senior). Neither has had any elbow trouble since.
Rogers shows three pitches (fastball right at 90, slider, changeup) he can throw for strikes, giving him back of the rotation potential, though one of those offerings will have the develop into an out-pitch at some point to reach that ceiling. Carroll is more of an arm strength guy — he sits low-90s and will touch 95 while also throwing a good changeup and a meh slider. He doesn't throw enough strikes though, likely limiting him to the bullpen long-term. Like many of the team's pitchers, Carroll is a big dude (6-foot-5, 200 lbs.).
Unproven Thump
Despite spending a year in junior college, Chipola 1B Isiah Gilliam (20th) is still only 18 years old because he graduated high school early. He's a switch hitter with a ton of power from both sides of the plate — Eric Longenhagen says Gilliam once hit a ball over the Western Metal Supply building at Petco Park, which, uh, is a bomb — who doesn't have a set position and hasn't yet learned how to take his power into games. Still, power from both sides of the plate? That's never a bad skill to take in the 20th round.
The Yankees also selected Lehigh 2B Mike Garzillo (38th) after teams continued to shy away from his right-handed power bat. Garzillo went from zero home runs as a freshman and sophomore to 13 as a junior, in part because he learned how to pull the ball with authority when the opportunity presented itself rather than be content with sitting back and serving everything the other way. Garzillo hasn't faced the greatest competition and it's fair to wonder just how legitimate his power spike really is. He could opt to return to school, prove himself further, then try his hand in the draft again next year.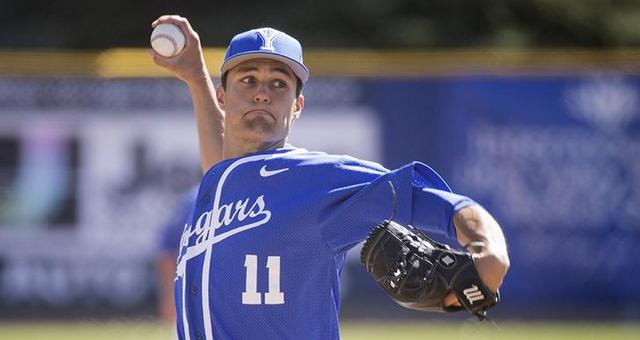 The Atypical Prospect
BYU RHP Kolton Mahoney (16th) had his draft stock held down by three factors beyond his control: he's already 23, he doesn't have much of a track record, and he's on the small side for a right-hander (6-foot-1 and 195 lbs.). Mahoney went on a Mormon mission from 2012-13 and only threw 135 innings in college. That said, he chewed up wood bats and was named the Cape Cod League Pitcher of the Year last summer, a league the Yankees scout very heavily because it's basically a collegiate All-Star league. The best of the best. Mahoney has a fresh arm, repeats his delivery, and sits low-90s with three offspeed pitches (slider, curveball, changeup). He's lacking command, which isn't surprising given his lack of experience, though it's starter stuff. Mahoney is older than the typical prospect, sure, but they don't check IDs on the mound.
Swing Adjusted
Last year Cal Poly OF Zack Zehner (18th) was a seventh round pick by the Blue Jays, but he didn't sign, returned to school, made some swing adjustments, set career highs in doubles and walks, and … fell eleven rounds in the draft? Zehner is a righty swinger with power but he can be overly aggressive at the plate, sabotaging his offensive ability. He's also a sound defender with a good arm, though for some reason the Yankees announced him as a left fielder rather than a right fielder. Zehner is a college senior, though his new swing mechanics are just a year old, and the Yankees used a late round pick see if the power spike is something more than a fluke.
Arms, Arms, Arm
As always, the Yankees loaded up on college arms on Day Three, simply because they need warm bodies to soak up innings in the lower levels of the minors later this summer. Among this year's haul of Day Three arms are Alabama RHP Will Carter (14th), Tennessee RHP Bret Marks (15th), San Diego State RHP Mark Seyler (19th), Nebraska RHP Josh Roeder (21st), Fresno State RHP Garrett Mundell (23rd), Cal State LA RHP Icezak Flemming (26th), Pittsburgh RHP Hobie Harris (31st), West Point RHP Alex Robinett (32nd), and Sam Houston RHP Alex Bisacca (35th).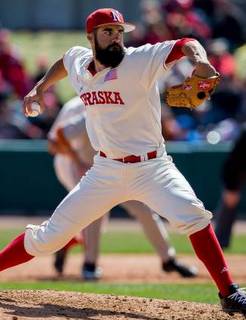 First of all, yes, the Yankees drafted a dude named Icezak. Secondly, all nine of those guys are college seniors, which means they are extremely likely to sign and begin their careers. Carter is the best prospect of the bunch and not just because he was drafted the highest — he stands 6-foot-3 and 190 lbs. and sits in the 92-95 mph range with a useable curveball. He doesn't always throw strikes though, and he often falls in love with his fastball and gets way too predictable on the mound. Roeder has the best numbers of the bunch (28/3 K/BB in 20 innings) and has a low-90s sinker/slider combination. He also holds Nebraska's career saves record (33).
Among the non-senior arms are Clemson RHP Brody Koerner (17th), Georgia RHP David Sosebee (26th), Delaware RHP Chad Martin (30th), Indiana RHP Christian Morris (33rd), and Oklahoma City RHP Dustin Cook (36). Koerner had a terrible year (7.55 ERA in 62 innings!) but is the best prospect of the bunch because he has a bowling ball of a low-90s sinker. Sosebee, who returned to the mound less than a month after having surgery to repair a constricted spinal cord in March, is a super-high-makeup guy who could stick around in pro ball a very long time because of his leadership. Teams value that. They want their prospects around good guys who are driven to succeed.
The Rest of the … Rest
Arizona HS OF Terrance Robertson (12th) is a light hitting speedster who stands out most for his athleticism and, well, speed. Robertson also has a strong arm and pitched in high school, but his future is in the outfield … St. Petersburg OF Trey Amburgey (13th) is a tool shed with a ton of speed who did a nice job turning his talent into baseball skills in his two years at junior college … UCSB RHP Paddy O'Brien (24th) is both extremely Irish and a catcher the Yankees are going to try on the mound because his arm is a howitzer. He's also 6-foot-5, 230 lbs., and a draft-eligible sophomore …  Oral Roberts C Austin Afenir (25th) is the son of longtime Yankees scout Troy Afenir … Idaho HS 1B Michael Hicks is a 6-foot-7, 245 lb. high school first baseman. I mean, what? … Morehead State 1B Kane Sweeney (29th) and Catawba C Will Albertson (40th) are big time college performers. Albertson hit .467/.534/.865 with 26 homers in 62 games this spring … Colorado HS 3B Matthew Schmidt (37th) has two-way tools but is probably better off going to college (he's committed to Texas), refining his skills, and trying the draft again in three years.
* * *
I'll have some more thoughts on the draft later today. For now I'll just say the Yankees went conservative on Day Three — at least based on the tiny little bit we know right now — which is disappointing. They weren't going to have enough draft pool space to afford the higher profile high school players who fell due to bonus demands like Tennessee HS RHP Donny Everett and California HS LHP Justin Hooper, but taking more college seniors than high schoolers on Day Three seems … backwards. Teams can always sign undrafted free agents to fill out minor league rosters. The younger guys who have a chance to grow into legitimate prospects the next two or three years are much harder to come by, yet the Yankees have steered clear of those players for two drafts now.