Day One of the 2015 amateur draft was both surprising yet completely predictable for the Yankees. They used their first round pick on a player they've been connected to for weeks, and they did take three college players with their three picks. New York's second and third selections seemed to come out of left field though. At least in the sense that we hadn't seen them connected to those players this spring.
The Yankees went probability first, upside second on Day One this year. Getting safe players — safe by draft standards, which means not safe at all! — likely to contribute at the MLB level was the priority over getting players with impact potential. That's nothing fans want to hear, of course, but it's very easy to say they should take more risk when you're not the one with your neck on the line. And besides, the Yankees haven't had much success developing their risky picks the last few years. Let's review Day One.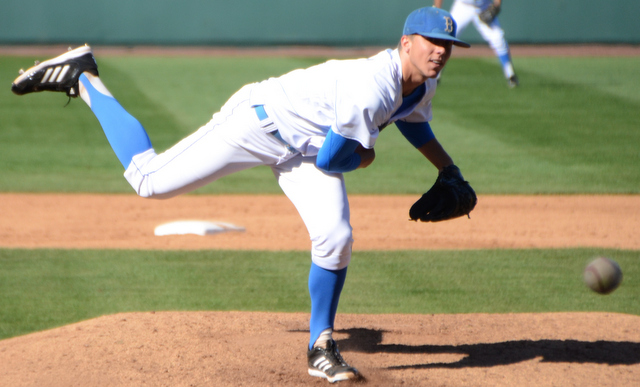 Fit The Profile
UCLA RHP James Kaprielian fit the Yankees' profile so perfectly that I'm not sure why I ever thought they might take someone else once we knew was going to be available. Deep repertoire? Check. Command? Check. Big? He's listed at 6-foot-4 and 200 lbs., so check there too. Southern California product? Also check. Scouting director Damon Oppenheimer loves his SoCal pitchers. He shows it year after year.
"Kaprielian is a guy we've scouted for a long time, and we're really happy we were able to get him," said Oppenheimer in a statement following the draft last night. "He has three quality pitches, throws strikes and generates a lot of swings-and-misses. On top of that, he has great make-up. He compiled a quality track record in a good league and performed well for Team USA."
Kaprielian, who the Yankees selected with their first round pick (16th overall), was the team's safe pick on Day One. Safe by baseball draft standards, I mean. No prospect is ever really safe. Kaprielian throws three pitches, including a fastball that jumped from 89-92 mph to 93-95 mph later in the spring, as well a very good changeup and a solid curveball. He locates all three pitches well and has even messed around with a slider/cutter at times.
Pitchers with good fastballs who can control two offspeed pitches tend to have a ton of success at the college level, which Kaprielian certainly did with the Bruins. The Yankees have had some success developing pitchers like Kaprielian, the polished college guys, though he has better command than someone like David Phelps and better stuff than someone like Adam Warren. He's someone they can just plug into the farm system and not worry a whole lot about. Safe is boring, but safe also has value.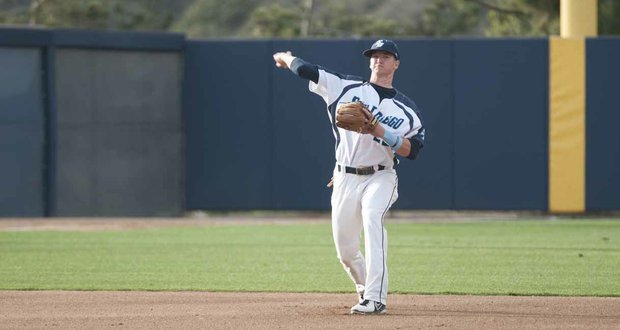 Carrying Tool
In the wake of Derek Jeter's retirement, the Yankees have gone full doomsday hoarder with shortstop prospects. They signed several top shortstops as international free agents last year, traded for young Didi Gregorius in the offseason, and selected San Diego SS Kyle Holder with the 30th overall pick last night. That was the compensation pick for David Robertson.
"Holder is about as elite a defender as we've seen come through the college ranks. He's got a tremendous glove. He also had a productive year offensively and does not swing and miss," said Oppenheimer after making the pick. Holder fits the no hit/all glove mold, which is far from exciting, but that's also Holder's starting point. He's not a finished product and he did hit .348/.418/.482 with as many walks and strikeouts (19) in a major college conference this spring, so it's not as if he's never hit.
What Holder offers more than anything is a carrying tool in his high-end defense. Quality shortstops are hard to find. There's a reason dudes like Brendan Ryan stay in the league for a decade. The Yankees have to figure out a way to get Holder to be a passable hitter — the league average shortstop is hitting .246/.297/.356 (80 wRC+) this season, by the way — to maximize his value, which won't be easy. Frankly the Yankees have kinda sucked at developing bats lately and there are reasons to doubt their ability to help Holder.
The Yankees took on a project with Holder and it's fair to question his overall upside. The best case scenario seems like a solid regular, which would be a pretty great outcome for the 30th overall pick, but Holder is also extremely likely to get to the show as a defensive specialist, even as an up-and-down utility guy. Holder is starting from a pretty high base and any sort of development with his bat suddenly puts him in the everyday player conversation.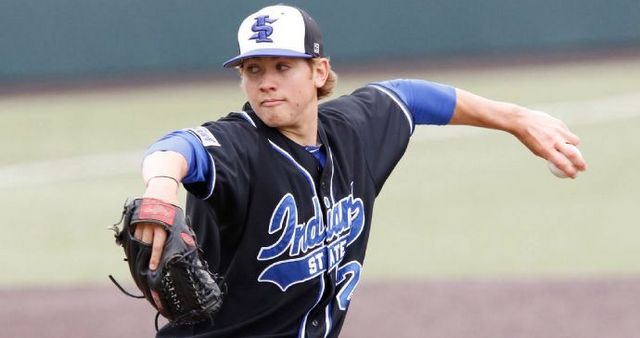 Long-Awaited Lefty
The history of the New York Yankees is littered with great left-handed starters, from Whitey Ford to Ron Guidry to Andy Pettitte to CC Sabathia. They're the Bronx Bombers first and foremost, yes, but their historic success is also built on quality southpaws. For some reason that demographic has been largely ignored in recent years, with 2013 draftee Ian Clarkin the notable exception.
The Yankees went back to their roots with their third selection on Day One, taking Indiana State LHP Jeff Degano with their second round pick, 57th overall. "Degano is a left-hander with a low-to-mid-90s fastball and a good breaking ball. He throws a lot of strikes and has a quality athletic body," said Oppenheimer of the 6-foot-4, 200 lb. southpaw. A power lefty? Where have guys like this been lately?
Of course, Degano is not without risk. He's already blown out once, having Tommy John surgery back in 2013, forcing him to miss most of that season and the entire 2014 season as well. Degano started this spring a little rusty but was much better down the stretch and climbed draft boards as he started looking more like the pre-elbow injury version of himself. The Yankees are banking on that history.
More than anything, the Yankees are rolling the dice on a big southpaw with a power fastball and a quality breaking ball. Degano missed bats all spring — he struck out 126 batters (99 innings) this year, seventh most in Division I, and he did it while walking only 28 batters — and he's a changeup away from being  a no-doubt starter, the kind of lefty starter the Yankees have lacked since Sabathia's fade started. Learning a changeup is not easy, but the guys who already have changeups go in the first round, like Kaprielian.
* * *
The Yankees had … well I'd say sort of an atypical Day One. Kaprielian is a classic Oppenheimer pick but Holder and Degano are unlike any of their recent high selections. They've gone for big bats (Eric Jagielo and Aaron Judge), raw and toolsy athletes (Mason Williams and Slade Heathcott), or prep hurlers (Clarkin and Ty Hensley) the last three or four years. Holder and Degano are none of those things.
This draft was more about probability. Kaprielian's very likely to be a big league starter as long as he stays healthy. Holder's defense at a premium position means the offensive bar is low, and Degano will get a million chances as a lefty who misses bats. Even if he doesn't learn a changeup, he goes to the bullpen to be a poor man's Jacob Lindgren. The Yankees went safe on Day One this year, safe but with two project players in Holder and Degano who have the potential to be big league regulars with the fall back option of being high probability useful players.